Fall Leaf Cake [Template]
Capture colorful fall colors with this simple and easy to make buttercream Fall Leaf Cake. This beautiful maple leaf cake is a perfect addition to Fall-inspired parties, Thanksgiving or festive anniversary celebration. Let me show you how to make it.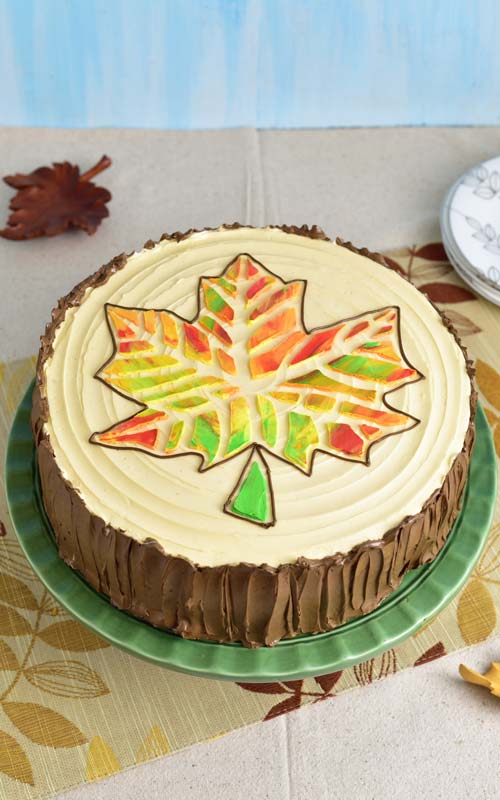 JUMP TO RECIPES AND TOOLS | PIN IT for later
As much as I'm sad to see Summer go I'm also looking forward to a new season. Cooler temperatures and days wrapped in golden hues of Fall are on the horizon. New season always makes me excited to try recipes, create new decorated cookies or cake designs.
Inspired by my Buttercream Butterfly Cake I made a maple leaf stencil in the Fall 2018. Yes, exactly. A whole year has passed since then. It happens. I have many ideas but often don't get around realizing them until months, even years later. Finally, today I'm happy to share this easy cake decorating tutorial with you. I hope you like it.
HOW TO MAKE COLORFUL FALL LEAF CAKE
To make this pretty fall cake, I used a 10-inch sponge cake. If you decide to make a smaller cake you'll, need to adjust the stencil size. You can use this stencil with an 8-inch cake. However, stencil will be a tight fit with an 8-inch cake.
I made my moist Easy Sponge Cake last week and I decided to use it make this easy buttercream leaf cake. If you rather use something more seasonal try my Pumpkin Sponge Cake or Pumpkin Pound Cake. Both are delicious.
FILL THE CAKE
1st I trimmed the top of the cake, and I also torted the cake. Then I filled it with Maple Swiss Buttercream. To flavor buttercream I used several drops of concentrated Maple Flavoring.
Next, "crumb-coat" the cake with a little bit of buttercream. And then chill the cake for 30 minutes.
WHAT IS A CRUMB COAT?
A Crumb coat is a thin layer of icing that is used to seal in any stray cake crumbs. Coating a cake with a thin layer of crumb coat prevents small cake crumbs from getting into a final coat of buttercream. We crumb coat the cakes when applying fondant, marzipan, or a second and final coat of buttercream /ganache.
ICE THE CAKE
Color about 1 and 1/2 cup of buttercream with an ivory gel food coloring. If you haven't colored Swiss Buttercream before be sure to check out my quick tip on How to Color Swiss Buttercream with gel food colors.
To fill and ice the outside of the cake I use Swiss Buttercream.
Ivory Colored Buttercream – I used ivory gel food coloring to tint the buttercream
Chocolate Buttercream – melt 1/4 cup dark chocolate, let it cool and then beat it into the light colored Swiss Buttercream. If darker color is desired you can use brown food coloring in combination with melted chocolate. Or use 1/4 cup cocoa powder and brown food coloring.
Spread ivory buttercream over the top of a chilled cake. Smooth it out with a spatula. Then with a small spatula or a spoon, create a spiral design on the top. Start in the center, and keep the tip of the spatula gently pressed against the cake while rotating the turntable. No worries if you make a mistake; smooth the top and try again.
Then ice the sides of the cake with Chocolate Swiss Buttercream – about 2 and 1/2 cups. While buttercream is soft, create a bark-like texture with a small offset spatula. Chill the cake for an hour or until firm.
LEAF STENCIL
Have the stencil ready. I used Mylar Stencil Blanks and an Exacto knife to cut out the stencil. You can find a leaf template below in the tools section.
Prepare colored buttercream, about 1/4 cup of each color. I used yellow, bright green, red, and orange buttercream. As I mentioned earlier, you can use my coloring technique to create bright Swiss Buttercream colors. Learn How to Color Swiss Buttercream.
When making green, I used leaf green gel color and to make it a tone brighter I also added some yellow to it.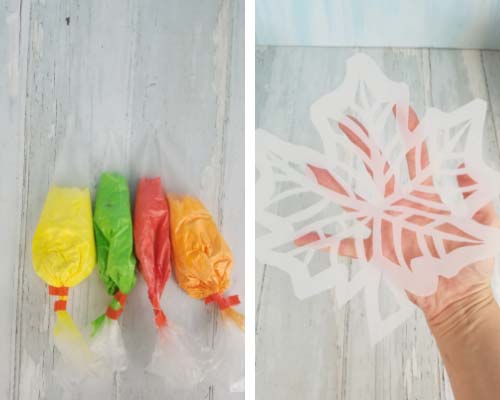 STENCILING FALL LEAF WITH BUTTERCREAM
Position maple leaf stencil on a chilled cake. Pipe orange and yellow buttercream onto the stencil. With a small offset spatula spread a thin layer of buttercream over the stencil. Paying attention not to go over the stencil's edge.
Then continue adding the remaining colors. Add green, red, and more yellow buttercream. Make short strokes with the spatula through the buttercream, creatively blending it until you are happy with the final design. Don't overdo it, or colors will become mixed.
Have a damp paper towel on hand and clean the spatula frequently.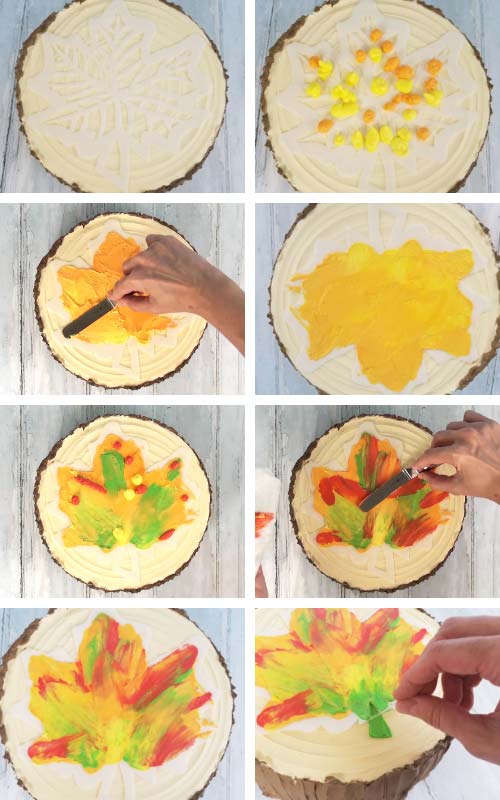 Lift up the stencil and slowly remove it from the cake.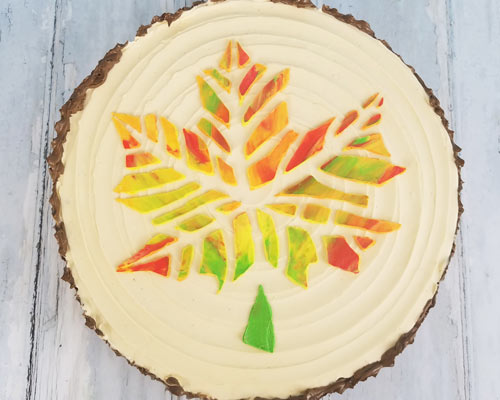 OUTLINE THE MAPLE LEAF
With some left over chocolate buttercream pipe an outline around the leaf.
Cake can be stored in the fridge for up to 2-3 days. Let it come to room temperature before serving.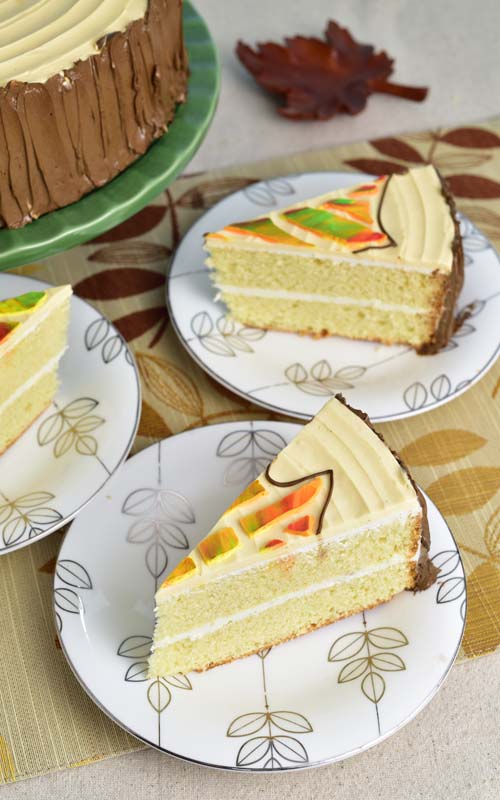 TO MAKE COLORFUL BUTTERCREAM FALL LEAF CAKE YOU NED
RECIPES
Swiss Buttercream – to flavor buttercream I used several drops of concentrated Maple Flavoring
TOOLS
Maple Left Stencil – template is sized for a 10 inch cake with the stenciled leaf having room around on the cake. You'll need to resize it to make it smaller for smaller cakes. However it will work with 8 inch cake but it's a tight fit.
Exacto Knife
Americolor Food Colors : leaf green, yellow, orange, red, ivory
PIN IT for later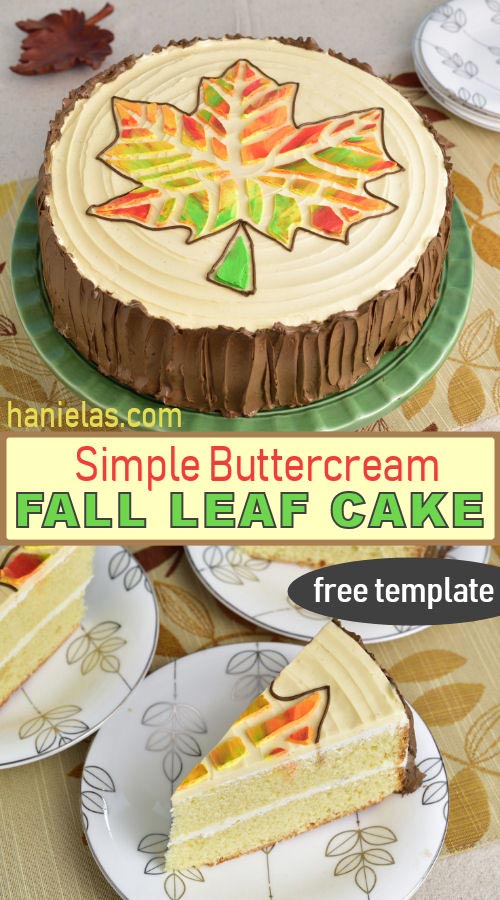 This post contains Amazon affiliate links that earn me a small commission, at no cost to you. I only recommend products that I use and love. Learn more about my affiliate policy here.