Royal Icing Daisy Flowers
Do you need edible daisy flowers to decorate a cake, cupcake or cookies? Let me show how to make Royal Icing Daisy flowers.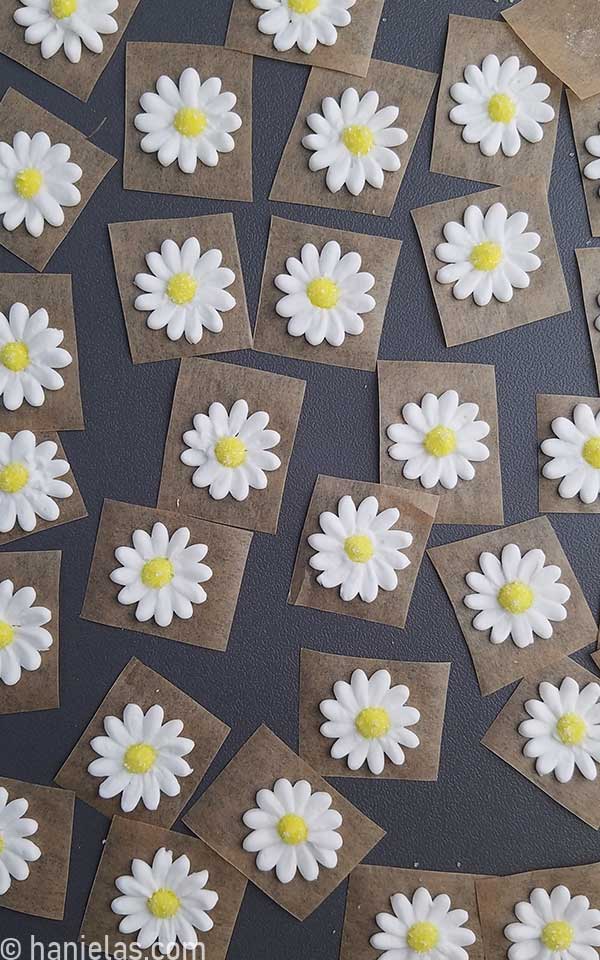 HOW TO MAKE ROYAL ICING DAISY FLOWERS
Today I'll show you how to make make daisy flowers with royal icing.
In addition to royal icing you can also use buttercream make buttercream daisy flowers. Instead of letting buttercream dry, you'd freeze it. That's how I made buttercream flowers for my Buttercream Fall Wreath Cake. I'd recommend you use Swiss Buttercream, Italian Buttercream, American Buttercream or German Buttercream.
Make royal icing daisy flowers in 3 simple steps :
Make flower centers.
Pipe flower petals.
Attach flower center onto the petals.
YELLOW FLOWER CENTERS
Let's start with yellow flower centers. I created these as royal icing transfers. However, if you don't have time to make flower centers separately you can skip to the next step of piping flower petals. Then just pipe yellow dots in the middle of piped white petals.
Color royal icing with yellow gel food coloring, (steps, 1-3). Then, if icing is stiff thin it down with water to piping consistency.
TIP : What is piping consistency? When you pull the icing up with a spatula peak will bend immediately and slowly fall, but doesn't become blended with rest of the icing.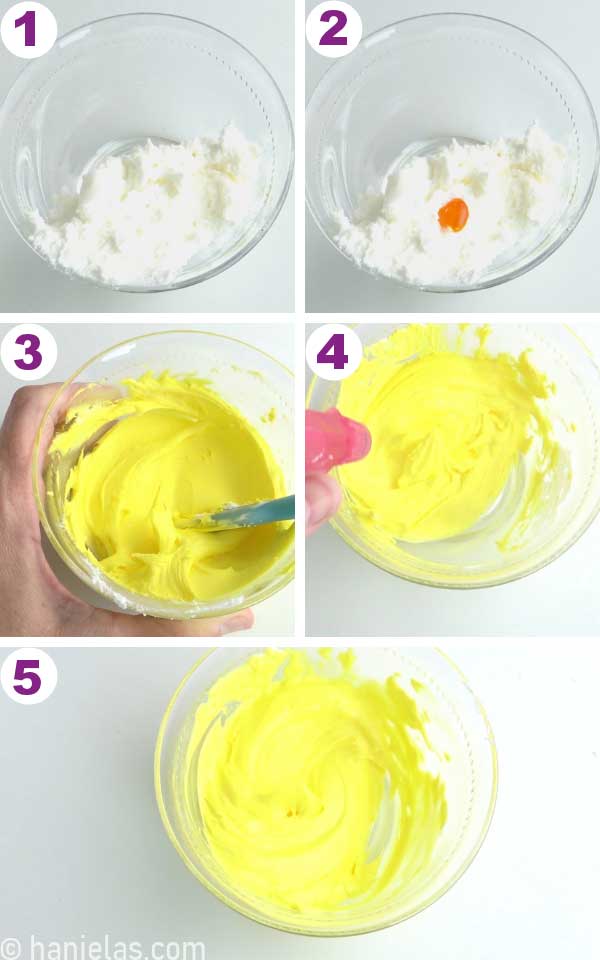 Spoon yellow icing into a tipless piping bag and cut the tip off with sharp scissors, (step 1-2).
TIP : Don't have a tipless piping bag? Use a piping bag fitted with a round piping tip #3.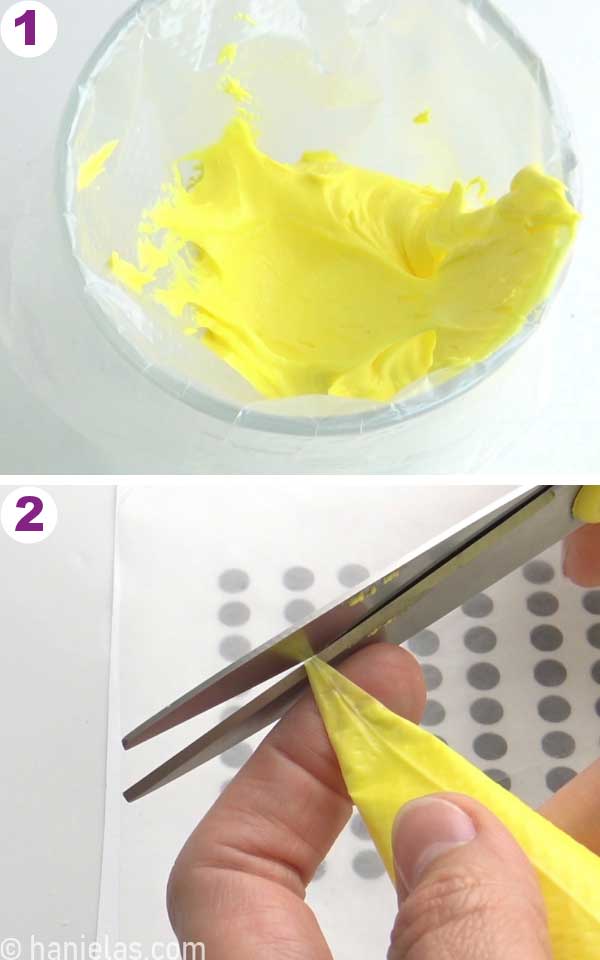 USE A TEMPLATE
Size of the flower center you need to make royal icing daisy flowers depends on the size of the petals. Larger the petals larger the center you need. My flower centers are little less than 2/8 inch (5mm) in diameter.
Put your template onto a flat surface, such as tray, carboard, baking sheet. Place a piece of wax paper over the template. I like to work with a small piece of wax paper at time. Pipe rounds of yellow royal icing onto the wax paper. Then immediately dust yellow icing with white or yellow sanding sugar, or use yellow nonpareils. Carefully pick up wax paper and allow sugar to fall into a bowl or jar. Return piece of wax paper with piped flower centers onto a flat surface and allow to dry overnight, (steps 1-5)
Subscribe to Haniela's Cookie Club on Patreon and get access to exclusive and ad-free tutorials, templates, sneaks peeks and more.
Next step is to remove dry royal icing flower centers from the wax paper. Dry icing should come off easily, using your fingers to peel the wax paper from the dry icing.
TIP : Flower centers can be prepared ahead of time. Store dry royal icing decorations in an airtight containers, away from the moisture and direct sunlight.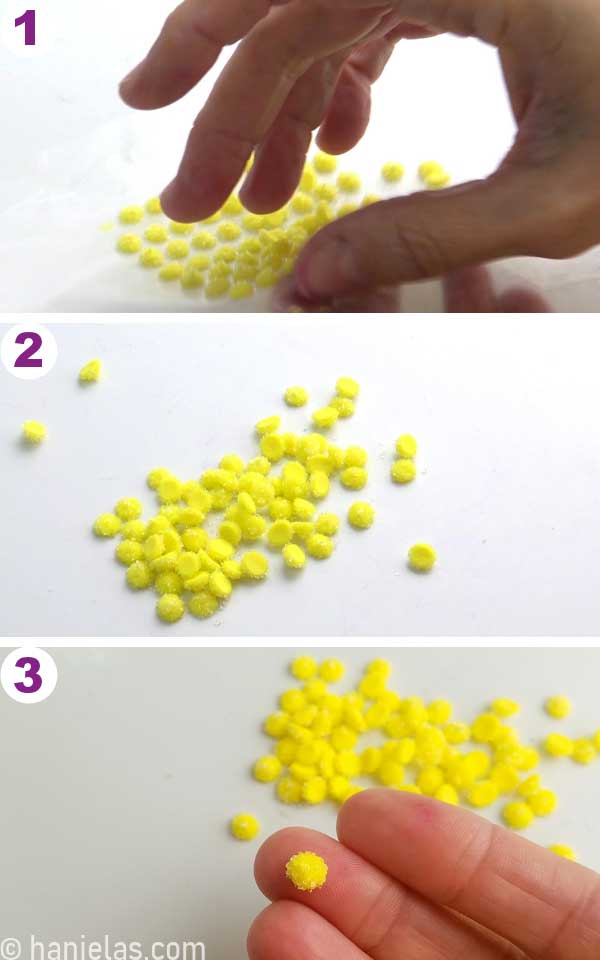 I created flower centers for my Gingham Flower Cookies, but instead of sugar I used rainbow nonpareils sprinkles.
HOW TO PIPE DAISY FLOWERS
To pipe flower petals you need:
Petal Piping Tip #101
Piping Bag
Flower Nail
Parchment or wax paper
Daisy Icing Template
PIPING PETAL TIP
To pipe daisy flowers I used Petal Tip #101. Cut the tip off the piping bag, fit piping bag with a piping tip. Fill piping bag with stiff royal icing,(steps 1-5).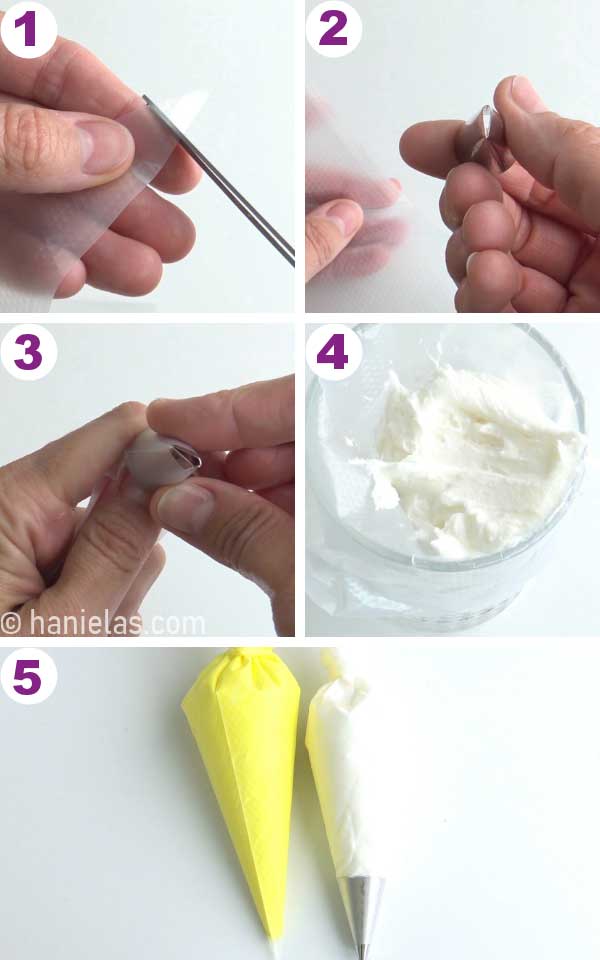 DAISY FLOWER PIPING TEMPLATE
I used a a simple daisy icing template. I printed the template onto a card stock and then I laminated it between clear tape and I cut out with scissors. To make sure my petals where even I drew another circle inside with a marker and I used the drawn circle as my guide when I piped petals.
Pipe a dot of icing onto a flower nails and secure daisy icing template onto the flower nail, (step 1-4). Now secure a parchment square or wax paper on top of the template, (steps 4-8).
TIP : Alternatively use a double sided tape instead of icing.
Hold the piping bag nearly perpendicular to the flower nail.
Wide part of the piping tip should be facing out and narrow part is facing center of the flower nail.
Nearly touch the parchment with the piping tip, squeeze the piping bag so icing comes come out.
Then move the piping tip towards the center and slowly release the pressure, (steps 1-2).
Turn the flower nail and repeat, (steps 3-8).
Follow the daisy template lines for even look of daisy flower petals.
ATTACH YELLOW FLOWER CENTERS
TIP : If you are in a rush and don't have time to make flower centers, just pipe piping consistency yellow icing onto piped white petals instead.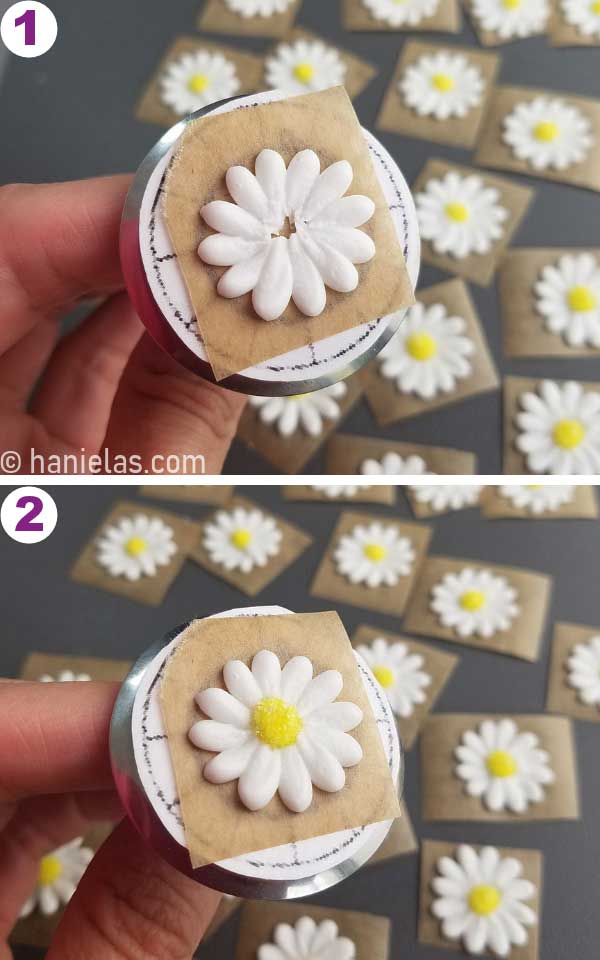 With your fingers or with dainty flower centers it's easier to use tweezers, (steps 1-2). Place dry flower center into the middle of white petals. Gently push it down with your finger or a scribe tool. Carefully remove parchment/wax paper square from the flower nail and place flowers onto a flat tray. Allow to dry overnight, (steps 3-+5).
It's important that you let flowers dry on a flat surface or underside of dry flowers is going to be uneven.
Next day or in 7-8 hours carefully peel off baking paper (wax/parchment paper squares) from the dry royal icing flowers.
HOW TO USE ROYAL ICING FLOWERS
Sugar flowers can be used to decorate cookies, cupcakes, cake and other desserts.
Here I used daisy flowers to embellish my Marbled Easter Egg Cookies.
HOW TO STORE SUGAR FLOWERS
Store royal icing flowers and decorations in an airtight container, away from direct sunlight and moisture. Learn more about Royal Icing Transfers.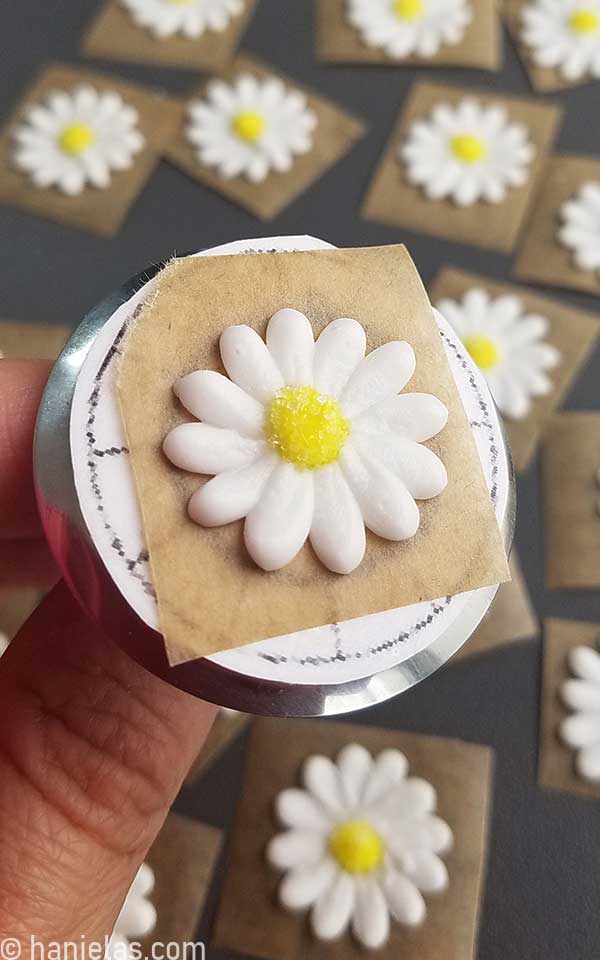 MORE ROYAL ICING FLOWERS
TO MAKE ROYAL ICING DAISY FLOWERS YOU NEED
RECIPES
TOOLS
Get all the supplies in my Amazon Shop
Parchment or Wax Paper Squares
Flower Nail
Petal Piping Tip #101
Food Gel Color : Lemon Yellow
White, Yellow Sanding Sugar or Yellow Nonpareils
Tweezers
Scribe Tool
Templates (sign up for Haniela's Cookie Club on Patreon and have access to exclusive and ad-free tutorials, templates, sneaks peeks, recipes and more.)
This post contains Amazon affiliate links that earn me a small commission, at no cost to you. I only recommend products that I use and love. Learn more about my affiliate policy here.