Royal Icing Pansy Flowers
Today I'm going to show you how to make Royal Icing Pansy Flowers. These dainty icing flowers are great for dressing up cookies and cakes.
HOW TO MAKE ROYAL ICING PANSY FLOWERS
Royal icing pansies make for great accents on Spring cookies and cakes. These pretty sugar flowers are easy to make from royal icing.
PETAL PIPING TIP
To pipe flowers you'll need
Petal Piping Tip #101
Flower Nail
Parchment/Wax Paper Squares
To pipe pansy flowers I'm going to use a petal piping tip. Petal piping tip is shaped as a drop. One end of the opening is narrow and other end is wide.
COLOR ROYAL ICING
You can create sugar pansy flowers in variety of colors. I used concentrated gel food colors to color royal icing.
These are the gel food colors I used :
Royal Blue
Regal Purple
Deep Pink/Claret
Yellow
Orange
Color icing into different shades of blue. Make purplish hue – add regal purple to blue icing. To make color lighter add some white icing.
To color icing golden yellow, add a minuscule amount of orange food coloring to yellow icing.
WHAT CONSISTENCY DO YOU NEED TO MAKE PIPED ROYAL ICING PANSY FLOWERS?
Use thick consistency royal icing. Icing should hold its shape but it shouldn't be overly stiff.
TIP : Icing that is is overly stiff is for one really hard to pipe. And secondly, piped petals will have bumpy, rough edges.
HOW TO LAYER MULTI-COLOR ROYAL ICING
To make 2 or multi-colored petals I'm going to utilize simple pouch layering technique. This basically means that I'll layer different royal icing colors onto a plastic food wrap to make striped pouches/royal icing bullets.
To pipe a pansy flower petals narrow opening on the piping tip is facing out and wide opening is facing in. Icing that comes out thru a narrow end of the tip is going to have a fine edge.
So if you want fine petal's edge to be for example pink you need to make sure that narrow end of the piping tip is being fed with pink icing. You also have an ability to control how much of the petal is pink. Is it just the very edge, or half of the petal that is pink?
You can control this by the amount of pink icing you layer when you make the 2 tone royal icing pouch. If you want just an outer edge of the petal to be pink you only need to layer little bit of pink icing. Amount of pink icing to contrasting layer icing will determine how much of the piped petal will be pink.
Pipe 1 or 2 lines of pink icing down the middle of the food wrap, (step 1-2). Then pipe double to triple the amount of white icing or other contrasting color over it, (step 3-5).
Fold plastic wrap over and form a pouch. Tie a knot on one side, (step 6-8).
In the layering below I also use a buffer layer – white icing. Buffer layer is an additional layer of icing between contrasting colors of icing, in this case yellow and purple. Buffer layer helps to create smoother transition between 2 contrasting colors. It's not necessary to use but I wanted to throw it out there so you know about it
First I piped purple icing then I added white icing (buffer) and then another layer of yellow icing on top of that, (step 1-3). Form a pouch, (step 4).
PREPARE PIPING BAGS
Have striped royal icing pouches ready. Trim the end without a knot, (step 1-2).
Fit the piping bag with a petal piping tip #101. Align colors in the pouch with the petal tip opening. In this case I aligned pink icing with a narrow end of the piping tip.
HOW TO PIPE PANSY FLOWERS
Pipe a small amount of icing onto a flower nail, or alternatively use a double sided tape. Attach a parchment square onto a flower nail, (step 1-3).
Hold the piping bag at about 45 degree angle. Wide part of the piping tip should be facing flower nail and narrow part of the tip should be facing out. Pipe 1st petal. Squeeze the piping bag evenly. Turn the flower nail slowly, move piping bag outwards and then bring it in to finish the petal where you started off, stop squeezing and pull away, (step 4-6). Pipe the second petal slightly overlapping the first petal, (step 7-8).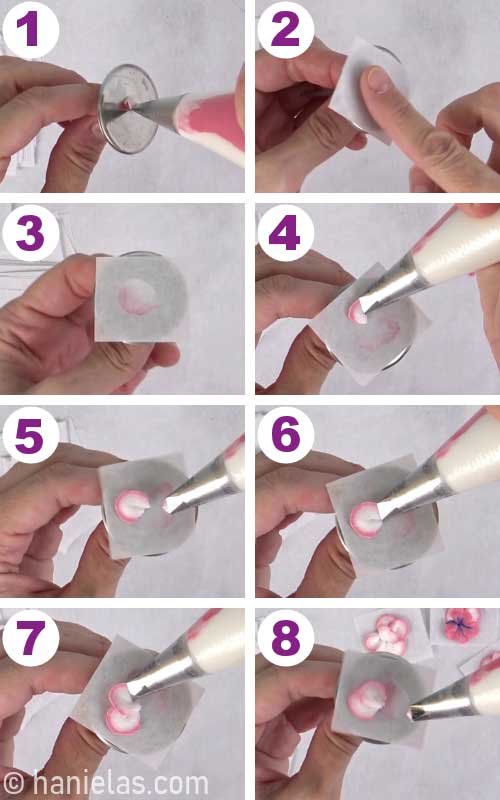 Continue piping pansy flower with a piping bag filled with a pouch of pink and striped with dark blue royal icing. Having the dark blue aligned with a wide part of the tip.
Pipe 2 more petals overlapping the first 2 petals, (step 2-4). Now with the same piping bag pipe ruffled petal along the open/bottom section. To pipe ruffled petal move piping tip back and forth as you squeeze the piping bag. Ruffled petal should be about the same width as 1st 2 back petals. Stop squeezing the piping bag and pull away.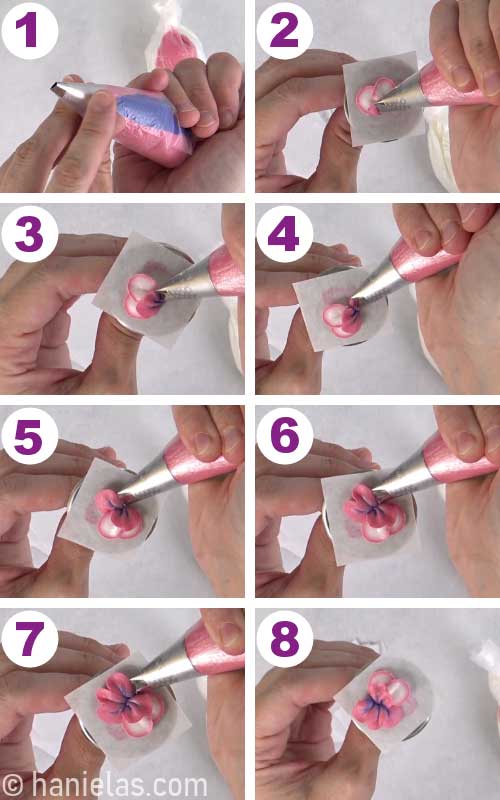 Repeat piping with different colors.
Let flowers dry overnight.
PANSY FLOWERS DETAILS
To finish pansy flowers I used a fine tip edible marker and a piping consistency golden yellow royal icing.
With a fine tip black edible marker draw lines onto the front petals. Then pipe a loop in the center with a golden yellow icing.
Remove dry flowers from theparchment.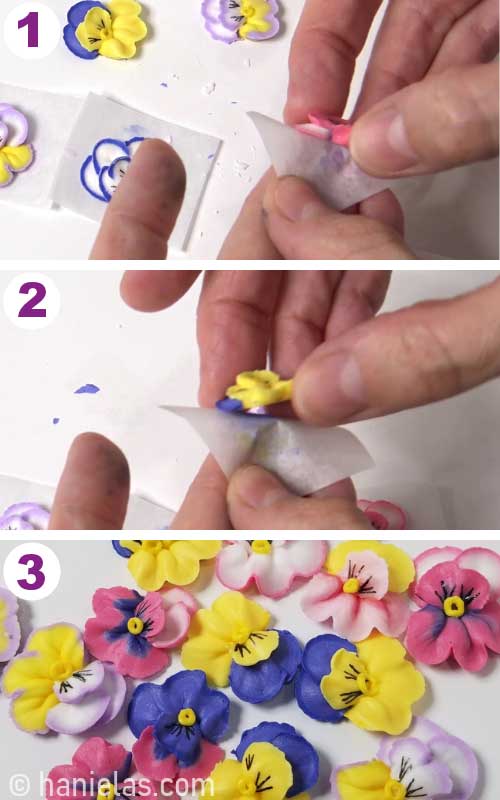 HOW LONG DOES IT TAKE FOR ROYAL ICING TO DRY ?
Allow royal icing to fully dry before removing decorations from the parchment/wax paper. Let them dry overnight. And in some cases it can take take up to 10-15+ hours for decorations to fully dry, for example, especially when decorations are very thick.
Notice in the picture below, blue flower broke in half as I was peeling off the parchment square. It broke because icing hasn't fully dried yet.
HOW LONG DO ROYAL ICING FLOWERS LAST?
Royal icing decorations when stored properly will last for years.
HOW TO STORE ROYAL ICING FLOWERS?
Store royal icing decorations in an airtight container, away from moisture and direct sunlight.
TIP : Royal icing decorations can last for years. However, color tends to fade a little over time. Especially when stored for over 2 years and more. Yes, I've had some for 5 years.
HOW TO USE ROYAL ICING FLOWERS
Use royal icing flowers to embellish Mother's Day Pansy Sugar Cookies. Or jazz up a simple cake for a Spring celebration.
Here is another example of pre-made sugar decorations. These Succulent Cookies are decorated with floral succulent decorations.
I really enjoy making piped flowers. Though I can't explain why, repetitive movement is therapeutical to me. Often I make hundred of flowers, even though I usually need only a handful. So, if you know of a flower or flowers I should make next let me know in the comments.
MORE ROYAL ICING IDEAS :
TO MAKE ROYAL ICING PANSY FLOWERS YOU NEED
RECIPE
TOOLS
Find all the tools you need in my Amazon Shop
Petal Tip #101
Flower Nail
Parchment/Wax Paper Squares
Food Gel Colors : lemon yellow, royal blue, regal purple, claret (ProGel Color)/deep pink
Fine Tip Black Edible Marker
This post contains Amazon affiliate links that earn me a small commission, at no cost to you. I only recommend products that I use and love. Learn more about my affiliate policy here.