Easy Rainbow Buttercream Cake
With my step by step cake decorating tutorial you'll be able to make this fun colorful rainbow buttercream cake for your next birthday party.
HOW TO DECORATE EASY RAINBOW BUTTERCREAM CAKE
STEP 1 – BAKE A CAKE
First, I baked a cake. I used my easy to make, delicious Sponge Cake Recipe. To make this cake I baked 2 – 6 inch cakes. Then after cakes cooled I trimmed the tops and torted the cakes so I had a total of 4 even cake layers, (steps 1-4).
Of course, you can a make a larger cake or use a completely different cake recipe :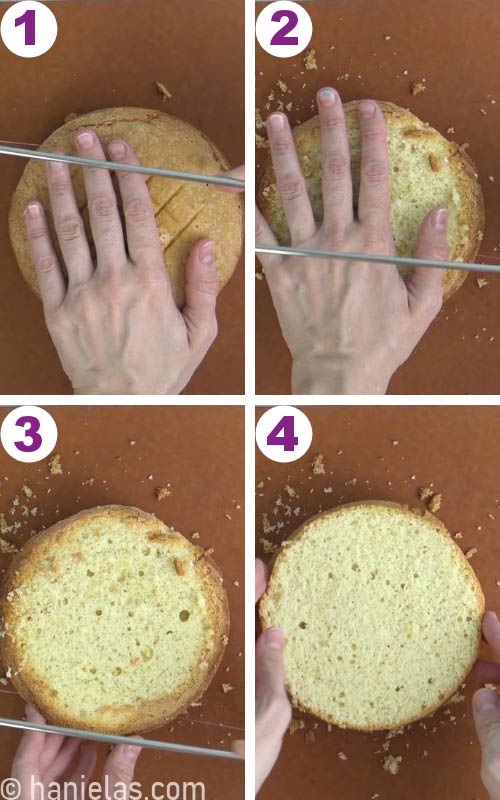 STEP 2 – PREPARE BUTTERCREAM
To fill and frost a cake I used an American Buttercream. American buttercream is, in my opinion, super easy to prepare and it's also very easy to color with food colors. American buttercream can be used to fill and frost cakes. And you can also use it to pipe swirls, pretty flowers and borders onto the cakes. Recipe for American Buttercream is listed at the bottom of this post in the recipe card.
To make American Buttercream you need :
Unsalted butter – at room temperature
Powdered sugar – for smooth buttercream it's best to use powdered sugar/confectioner's sugar. Usually marked as 10x – this number indicates the number of times it's been processed to a super fine powder
Salt
Milk, Heavy Cream, or Water
Extracts – Vanilla, Almond, Lemon extract or other flavorings
STEP 4 – COLOR RAINBOW BUTTERCREAM
As I mentioned before American Buttercream is super easy to color. Just, remember one thing. Be sure to use concentrated gel colors and avoid using liquid colors from a grocery store.
I divided prepared buttercream into 7 equal portions. 6 of them I colored with rainbow colors and 1 portion I kept uncolored – for crumb coating, (steps 1-6). I filled piping bags with rainbow buttercream and set them aside, (step 8).
STEP 5 – FILL THE CAKE WITH RAINBOW BUTTERCREAM LAYERS
To fill the cake with rainbow buttercream layers I first smeared a small amount of buttercream onto a cake board. Place first cake layer onto the cake board or a cake stand if you don't have a cake board. Using a cake board makes it easier to move the cake, for example to the fridge, out of the fridge, onto a pretty cake stand, (steps 1-3).
Cut opening on each piping bag with scissors. Try to cut approximately same size opening on each piping bag. Now, start piping rainbow buttercream layers from the outside edge.
Starting with a red circle, then orange, yellow and until you create a rainbow pattern. You'll likely need to repeat the rainbow order until you cover all of the cake space with buttercream, (step 4-8).
TIP : Use a cake turntable. It makes the process of diy rainbow cake much easier.
STEP 6 – CRUMB COAT THE CAKE
Place another cake layer onto the multi colored buttercream layer and repeat until you have used all 4 cake layers, (steps 1-4).
To crumb coat the cake I used a little bit of white frosting. Use a spatula to spread a thin layer of frosting onto the top and sides. Smooth it with a spatula. Then chill the cake for about 1 hour, until crumb coat layer is firm, (step 5-8).
TIP : Crumb-coating seals in all the cake crumbs. This is important so the cake crumbs don't get mixed into the final coat of frosting.
STEP 7 – MULTI COLORED FROSTING ON CAKE
To frost a cake with rainbow layers I first divided cake into approximately equal sections, (steps 1-2).
Measure height of the cake and divide it by 6. Make a simple paper template and then transfer the guidelines onto the cake with a toothpick, (steps 1-6).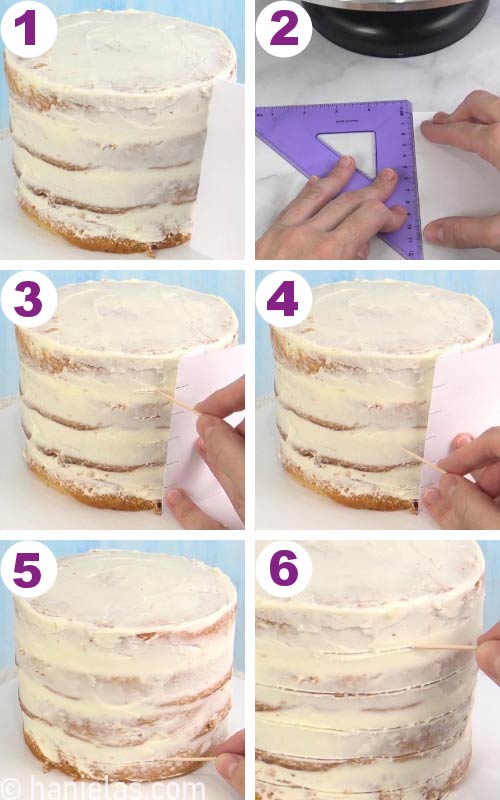 Before you start piping rainbow layers onto the cake make sure that the cake is well chilled and that crumb-coat layer is firm.
Start at the bottom of the chilled cake. Follow the guidelines made with a toothpick and pipe rainbow frosting onto each section, (steps 1-4). Then, pipe frosting onto the top. (steps 5-8).
Now you can smooth the top and the sides of the rainbow cake. To smooth piped rainbow buttercream layers I used a flat buttercream smoother and a small offset spatula. You can also use a bench scrapper if you have one. Once you are happy with the rainbow design, chill the cake for 1 hour or until buttercream is firm to the touch and no longer sticky.
TIP : Wipe the buttercream smoother clean after each time you use it. It also helps to warm the smoother a little in hot water before smoothing the buttercream. Be sure to wipe it dry before using.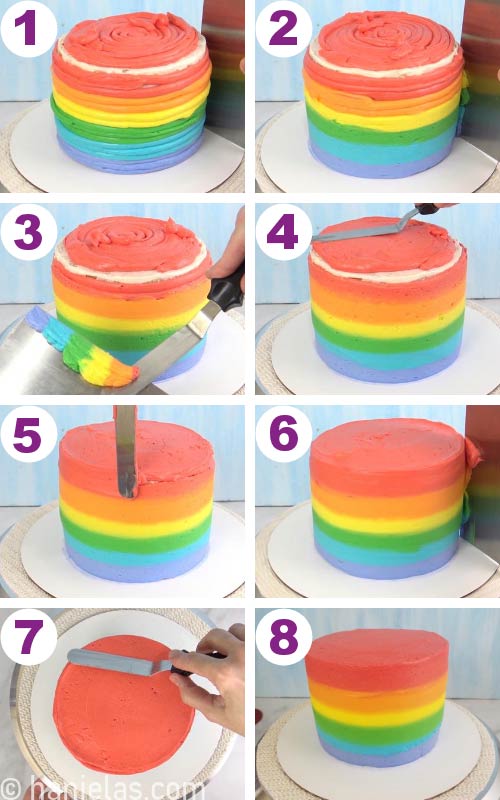 STEP 8 – STENCILING ON BUTTERCREAM
I thought the cake looked a bit boring and so I decided to decorate the side with black buttercream and a simple heart stencil.
First I colored some leftover buttercream with black gel food color, (steps 1-4).
Before you place a stencil onto the side of the cake be sure that cake is well chilled and buttercream is no longer sticky.
Place a heart stencil in place and then spread a thin layer of black buttercream over the stencil. Hold the stencil in place but don't put too much pressure on it so you don't make a dent in pretty rainbow buttercream, (steps 1-3).
Carefully peel off stencil away from the cake, (step 4).
I stenciled 4 hearts onto the sides. Before I stenciled the second heart onto the cake I took a toothpick and marked the spot opposite to the 1st stenciled heart. Then I stenciled the 2nd black heart onto the cake where I made the mark. And after I stenciled next 2 hearts between the first 2 hearts. This way stenciled hearts were evenly spaced out on a cake, (steps 5-8).
STEP 9 – HOMEMADE SPRINKLE MIX
Sprinkle mixes are super popular in cake and cookie decorating. They can be purchased pre-mixed. But if you need to make a custom sprinkles mix you can do it yourself. It's super easy.
I made my sprinkle mix using pretty heart rainbow sprinkles, rainbow and pearl jimmy sprinkles, white nonpareils, coarse sanding sugar and silver star sprinkles.
Into a bowl add equal amounts of sprinkles and stir well together,(steps 1-8).
For an extra sparkle I added silver star sprinkles. Store your sprinkles mixes in airtight containers, (steps 1-2).
TIP : Learn how to make your own confetti sprinkles with royal icing and stencils.
STEP 10 – DECORATE BUTTERCREAM CAKE WITH SPRINKLE MIX
To decorate the cake sides with sprinkles you can either let the buttercream soften a little and then apply sprinkles onto the sides. Or you can spread a thin layer of soft buttercream onto the cake and gently press sprinkles onto the soft layer of buttercream to make them stick.
Alternatively, you can secure a piece of parchment paper onto a chilled cake, (step 1). And then spread a thin layer of buttercream onto the cake (step 2). This layer acts as glue so sprinkles will stick to the cake. Now you can gently press sprinkles onto the cake. This method also avoids accidental sprinkle application in the areas you don't want sprinkles on. Carefully peel off parchment paper.
Applying sprinkles on the sides of a cake can be a messy business. Take a small dry food only paint brush or a pastry brush and brush the sprinkles away from the cake and from a cake board. Let them drop on a wax paper and pour unused sprinkles back into a bottle/container, (steps 1-5).
STEP 11 – HOW TO MAKE RAINBOW BUTTERCREAM SWIRLS
I decorated top of the cake with pretty colorful rainbow buttercream swirls.
1st I prepared rainbow buttercream pouch. Spread or pipe rainbow buttercream layers onto a food wrap, (steps 1-4). Then pick up one side of the food wrap and fold it over, into the middle and then fold the other side into the middle as well. Red and purple buttercream layers should meet in the middle, red and purple should be side by side, (steps 5-7). Twist the both ends of buttercream pouch, (step 8).
To pipe pretty buttercream rainbow swirls I used Wilton 1M piping tip, (steps 1-2). Fit a piping bag with a star piping tip. Trim one end of the rainbow buttercream pouch, (steps 3-4). Fit the buttercream pouch into a piping bag fitted with a start tip, (steps 5-6).
Pipe rainbow swirls on top of the cake. Pipe 4 opposite swirls and then pipe the swirls between, (step 1). And lastly decorate the tops of swirls with heart sprinkles, (steps 2-3).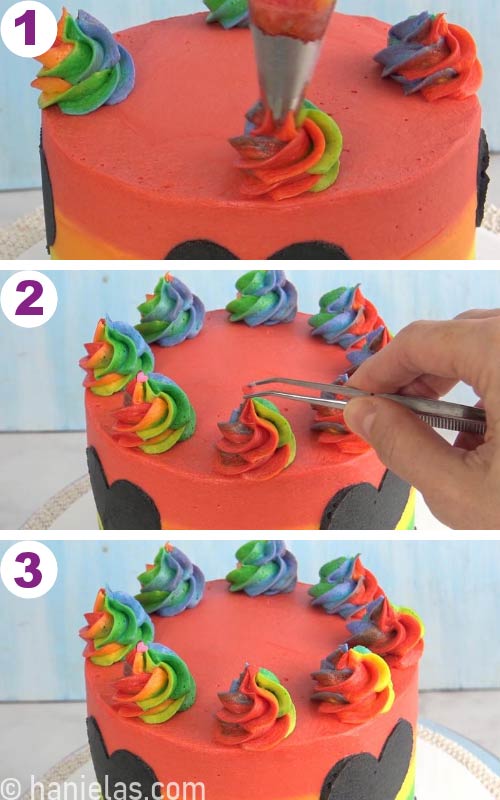 TO MAKE EASY RAINBOW BUTTERCREAM CAKE YOU NEED
RECIPES
American Buttercream
TOOLS
Cake pans – I use 6 inch cake pans
Buttercream Smoother or a large smooth bench scrapper
Decorating bowls to mix buttercream
Food Colors – I used Americolor Brand
Spatula
Piping Bags
Piping Tip 1M
Rainbow Sprinkles Mix : rainbow hearts, rainbow jimmies sprinkles, white nonpareils, coarse sanding sugar, white pearlized jimmies sprinkles, silver star sprinkles
Heart Stencil – 3 inch heart stencil from Stencibelle
MORE FUN CAKE IDEAS
Easy Rainbow Buttercream Cake
Cuisine:
American, French
Keyword:
american buttercream, pastel rainbow cake, rainbow birthday cake, rainbow cake
Ingredients
SPONGE CAKE LAYERS
4

large eggs, separated and at room temperature

1 1/2

cup

all purpose flour (200 grams)

1

cup

granulated sugar, divided (200-210 grams)

4

tbsp

oil or melted butter, cooled

4

tbsp

warm water or milk

1

tsp

baking powder

1/4

tsp

salt

1

tsp

Vanilla Extract

pinch of cream of tartar or use 1/2 tsp lemon juice or vinegar – add it to the egg whites, it helps to beat them to their full volume and also it helps to prevent over beating of meringue.
AMERICAN BUTTERCREAM
5

sticks

unsalted room temperature butter

(565 grams, 1 stick is 113 grams)

7

cup

powdered sugar

1

tbsp

Vanilla Extract

4

tbsp

milk, heavy cream, water

1/8

tsp

salt
Instructions
SPONGE CAKE
Preheat oven 350F. Butter and flour 2 – 6 inch baking pans, line the bottom with parchment. Or use nonstick spray and line the bottom with parchment.

In a large bowl whisk together flour (1 and 1/2cup), salt (1/4tsp) and baking powder (1tsp), set aside

TIP : You can also use a cake flour for a finer crumb, if desired.
Prepare Meringue
In a clean bowl, whip egg whites ( 4 egg whites) with a pinch of cream of tartar or 1/2tsp lemon juice/white distilled vinegar(optional). Beat until foamy. Then gradually add 1/2 of the granulated sugar (1/2cup). Beat until stiff, shiny and moist peaks are formed. Don't over beat of meringue will be dry.

Gently scrape the meringue into another bowl. Set aside. Now we are going to prepare egg yolk mixture, no need to clean the mixer bowl.

TIP : Wipe down the bowl with vinegar to remove any greasy residue.
Egg Yolks and Sugar – Ribbon Stage
Place egg yolks (4 egg yolks) into the mixing bowl you just used for making the meringue. It is okay, it doesn't have to be spotless. Add remaining granulated sugar (1/2cup) to the egg yolks. Beat using wire whip attachment. Beat the egg yolks at medium-high speed. Scrapping the bowl once or twice to ensure all egg yolks are well blended in. Beat until ribbon stage is reached. About 5-6 ,minutes. Mixture will be thick, doubled in volume and pale in color.

Gradually in one continuous pour add oil, mix well. The gradually add warm water. Scrape the bowl in between. Beat in vanilla extract and beat for 2 more minutes. Turn off the mixer.
Sponge Cake Batter
Using fine mesh strainer  sift about 1/3 of flour mixture into the egg yolk mixture and carefully fold the flour in with a spatula, then add about 1/3 of meringue and fold in. Continue with the rest of the flour and meringue until no streaks are visible. Then make last 3 folds, making sure you go with the spatula all the way to the bottom of the bowl. Be gentle and don't over mix. You are looking for a light and airy batter.
Bake
Fill your prepare baking pans and bake until tooth pick inserted in the center comes out clean, about 25-30 minutes.

Let the cake cool for 5 minutes in the pan. Invert it on a cooling rack and let cool completely. Wrap the in a food safe plastic wrap.
Storage
Store undecorated/unfilled cake covered in the fridge for up to 5 days until ready to use.
AMERICAN BUTTERCREAM
On low speed and with a whisk attachment beat room temperature (5 sticks, 565 grams) butter until smooth, about 2 minutes. Then gradually add powdered sugar (7 cups), 1 cup at a time.

Once powdered sugar is mixed in increase the speed to medium and beat well for about 2-3 minutes. Then add Vanilla Extract (1 tablespoon) and heavy cream/milk/water (2 to 4 tablespoons). You can add more cream if thinner icing is desired. Whip until smooth and silky.

TIP : If your powdered sugar has lumps, be sure to sift it before using.

Divide buttercream into 7 portions. Color 6 with rainbow food gel colors. And continue cake decorating process using step by step tutorial listed in the blog post or watch the video.
Recipe Notes
CAN I MAKE THIS CAKE AHEAD OF TIME?
Absolutely. Make the cake 3-4 ahead, store in the airtight cake cover in the fridge until ready to serve. If preparing cake ahead of time it might be a good idea to use some simple syrup on cake layer, to keep them moist.
CAN I KEEP THIS CAKE AT ROOM TEMPERATURE?
It can be kept at room temperature for up to 2 days.
This post contains Amazon affiliate links that earn me a small commission, at no cost to you. I only recommend products that I use and love. Learn more about my affiliate policy here.