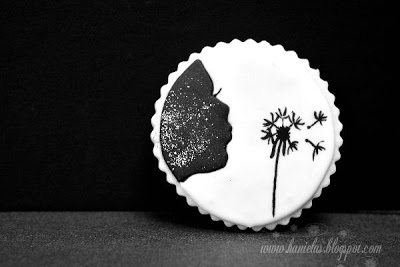 I wanted to make Dandelion Cookies ever since I saw Dandelion Wall Decals from Dezign With a Z.
Check it out for yourself, aren't they gorgeous?! I adore them.
-This was a very simple design, all I had to do is make a simple template(I made it from a piece of paper, but you can use a stencil blank if you'd like) and trace the silhouette outline onto a cookie and pipe and flood.
-Let the royal icing dry completely and once dry you can paint the details.
-Dandelion itself was painted with a Americolor Gourmet Writer Food Decorating Pen. Color Black–2 Pens
I have to admit I love this cookie's simple design and I'm glad I went for black and white, I find that 2 tones work great on cookies, and I have less mixing to do this way too.