New Year's Eve Clock Cookies
Count down to the new year with these glammed-up decorated New Year's Eve clock cookies.
updated post from 2010
HOW TO MAKE DECORATED NEW YEAR'S EVE CLOCK COOKIES
BAKE COOKIES
Prepare cut-out cookie dough, cut and bake the cookies. If you don't a have a wedge cookie cutter, don't worry. Use an 8-inch round object, like a lid from a plastic container, or a plate and cut out a large round cookie. Then cut it up into wedges, transfer wedges onto a baking sheet and bake cookies as usual. Alternatively, you can make your own cookie cutter template.
ROYAL ICING CONSISTENCIES
To decorate New Year's Eve Clock Cookies you need these royal icing colors and consistencies:
Ivory or Light Brown – 20 -second consistency and thicker piping consistency
White – 15-second consistency
Black – 25-second consistency
DECORATE COOKIES
Trace the border outline onto cookies using a simple template and an edible marker (steps 1-2). Fill the border with ivory or light brown icing 20-second consistency. Let border crust (steps 3-6).
TIP: Later, you'll paint border with gold edible paint. For the best coverage use icing tinted with ivory, light brown or mustard colored icing.
Fill the cookie with 15-second consistency white (steps 1-6).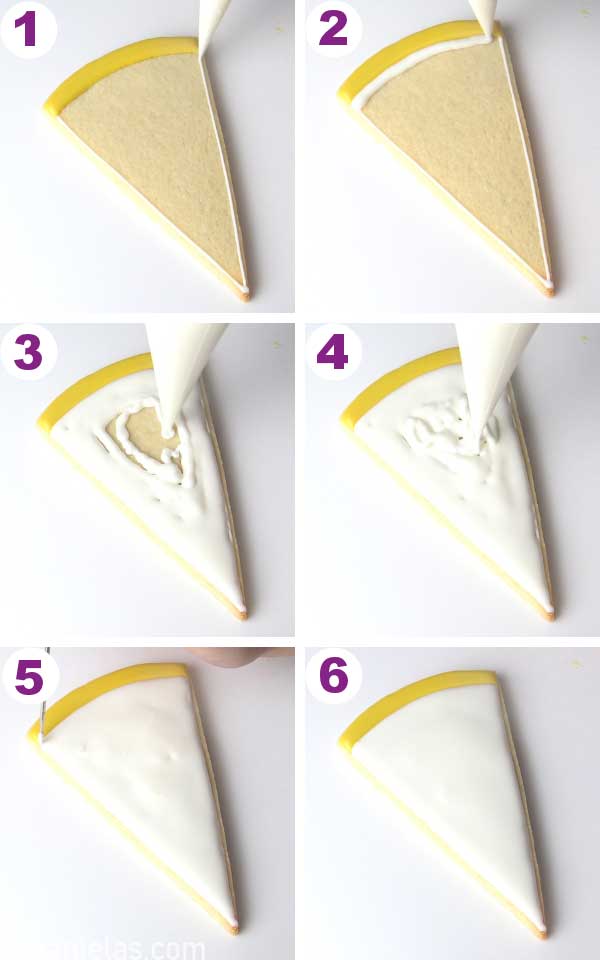 PIPE SWIRLS
Fit a piping bag with a PME 1.5 piping tip and fill the bag with a thicker piping consistency of dark ivory, light brown, or golden yellow icing. Pipe a decorative line of repetitive swirls onto the border and let dry overnight (steps 1-6).
PAINT WITH GOLD PAINT
With a dropper, pour a small amount of high-content alcohol like Everclear or Vodka into a small dish or a paint palette cavity. Add edible gold luster dust and mix well with a food-only paintbrush to make gold paint (steps 3-4). Alternatively, you can use pre-mixed edible gold paint (see details in the tools section at the bottom of this post)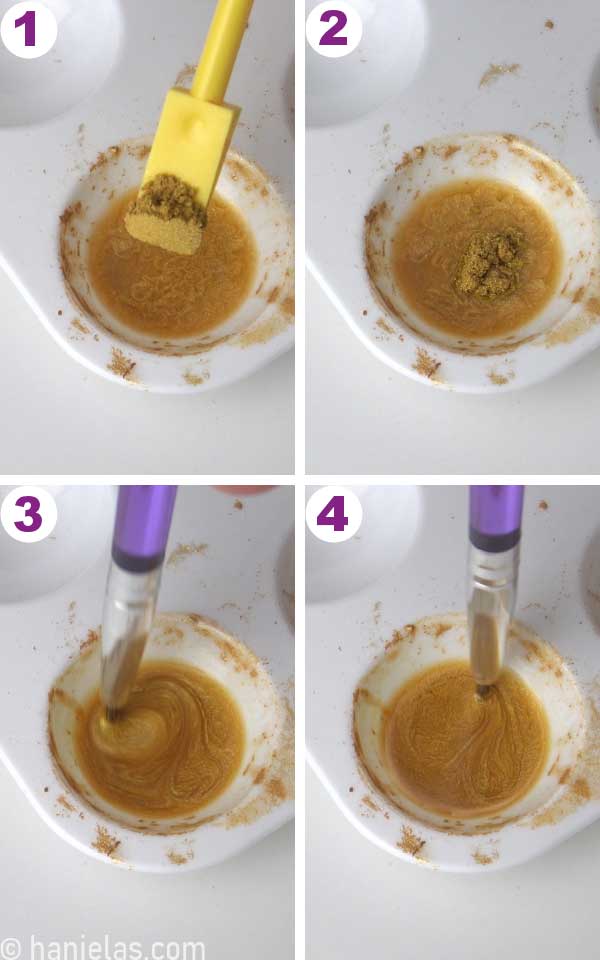 Paint dry royal icing with gold paint (steps 1-3).
DRAW WITH MARKER
Even though Roman numerals are thousands of years old, they are still popular to this day. I think they look especially snazzy used on clocks. Of course you can use decimal numbers instead.
First, use a scribe to mark where you want to draw the numbers. To write numbers, I used a black Rainbow Dust Edible Marker. This is a dual marker. First, write with a fine tip and switch to a regular tip to make thicker lines (steps 1-8).
CLOCK HANDS
In this optional step, I lightly scratched the surface of the icing to create a piping guide for clock hands (steps 1-3).
With 25-second consistency, black icing pipe large heart shape and shape it with a scribe tool (steps 1-4). Repeat with the minute hand heart (steps 5-8).
Immediately dust black icing with edible silver or white glitter. Dip a dry food-only paintbrush into the dust. Position it above wet icing and gently tap the brush to release edible glitter onto the icing (steps 1-3).
Pipe a slightly curved line, about ½ inch from the tip of the cookie. Then pipe an hour and minute handles (steps 1-8).
If you plan on displaying these festive New Year's Eve Clock cookies at a midnight party, consider placing them on a round plate, in a pizza style. If you do so, it's nice to have the inner line appear continuous (steps 1-5).
I love how these cookies turned out. What do you think? Will you give them a try? They are pretty simple to make and won't take too much of your time—ring in the new year with delicious decorated New Year's Eve clock cookies.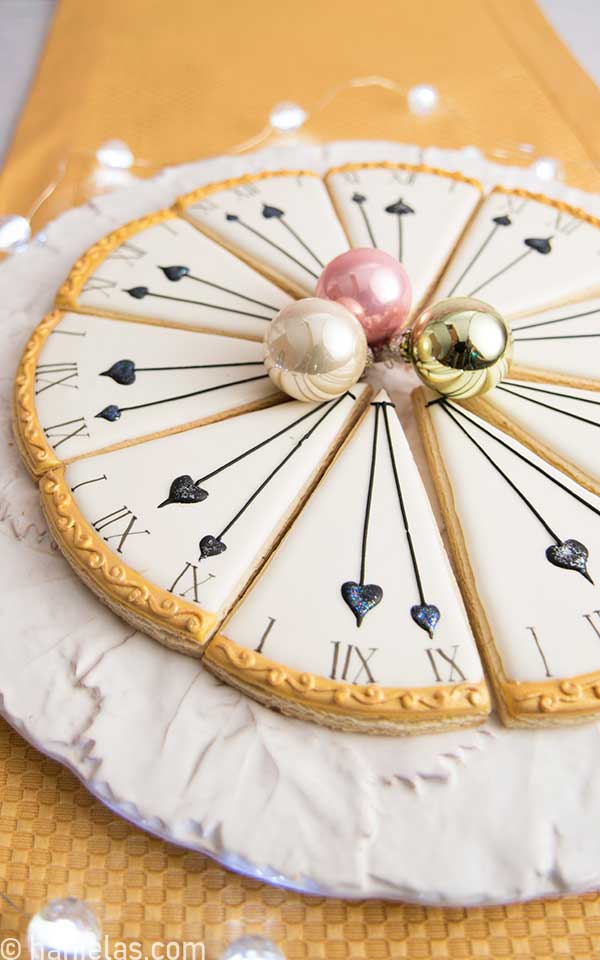 TO MAKE NEW YEAR'S EVE CLOCK COOKIE YOU NEED
TOOLS
Get all the tools in my Amazon Shop
Wedge Cookie Cutter, you can also use a Candy Corn Cutter
Metal Scribe
Concentrated Gel Colors (Americolor Brand/Chefmaster): super black, ivory
Black Rainbow Dust Edible Marker
Roxy & Rich Aztec Gold Luster Dust or Pre-Mixed Gold Edible Paint-Glamorous Gold by Sweet Sticks.
Food-only paint brush (I love Wilton 5 Brush Set)
Edible Silver Glitter via Cookie Countess
This post contains Amazon affiliate links that earn me a small commission, at no cost to you. I only recommend products that I use and love. Learn more about my affiliate policy here.
MORE HOLIDAY DECORATED COOKIE TUTORIALS
This post was originally on December 30th ,2010. On August 31st, I updated this post with new step-by-step photos and written text.