My royal icing decorated Christmas Wreath Cookies are both elegant and easy to make. This simple, festive holly leaf wreath design is perfect for Christmas.
HOW TO MAKE SIMPLE CHRISTMAS WREATH COOKIES
To make the cookies I used Sugar Cookie Recipe and Royal Icing. In case you'd like to try a different recipe or have a dietary restriction check out my Cut Out Cookie Recipe Collection. It includes Vegan, Gluten Free, Chocolate, Gingerbread Cookie Recipes.
FLOOD THE COOKIES
ROYAL ICING COLORS AND CONSISTENCIES :
Green – 15 second consistency
DECORATING STEPS :
1 : To cut out wreath shape I used 2 round cutters with a scalloped edge.
2 : Color royal icing with leaf green and yellow gel food colori until you reach desired green color. Thin royal icing to 15 second consistency. (How to thin royal icing)
3 : Start by outlining and flooding the cookie with green royal icing (15sec). Notice that I piped a zig-zag line on the outside and on the inside. It's easier and faster to pipe than scalloped edge border.
4-6 : Flood the cookie and use a needle tool to distribute the icing evenly.
7 : Gently, holding the cookie with 2 fingers tap it on a work surface. This helps to smooth out the icing.
8 : Allow icing to dry completely. 6-7 hours.
AIRBRUSHING
This design was inspired by a wreath tulle design I saw somewhere. I used my airbrush and pearl sheen airbrush colors to decorate dry royal icing.
AIRBRUSH COLORS :
Pearl, Green pearlescent airbrush colors
DECORATING STEPS :
1 : First lightly airbrush surface of the iced cookie with pearl sheen airbrush color.
2-5 : Have a small piece of card stock ready. Add a few drops of leaf green sheen airbrush color to your airbrush cup (no need to clean the airbrush after pearl sheen if you have just a little bit of pearl left in the cup. If you have a lot of it left in the cup pour it back in the color container). Position card stock onto the cookie and airbrush the edge. Continue around until the whole wreath is airbrushed.
CHOCOLATE CANDY HOLLY BERRIES
Instead of royal icing I decided to use mini M&M's candies to make holly berries.
DECORATING TOOLS :
Mini Red M&Ms Candies
Red Luster Dust or Pearl Luster Dust
Dry Food Only Paint Brush
DECORATING STEPS :
1 : Into a small dish place red m&m's candies.
2-4 : With a dry, food only paint brush scoop out a small amount of red luster dust. Brush red luster dust over red chocolate candies.
HOW TO CUT PIPING BAG TO MAKE A LEAF PIPING TIP
Don't have a leaf tip? Need a tiny leaf piping tip? Use this technique to make a leaf piping tip. I used this same technique to make fun Royal Icing Succulents.
1 : Flatten the tip of the bag, seam should be on the side.
2-4 : Cut a V shape int the tip of the piping bag.
PIPE ROYAL ICING LEAVES
ROYAL ICING COLORS AND CONSISTENCIES :
Green – medium stiff, when piping leaves, icing shouldn't be overly stiff. When icing is too stiff the tip of the leaf will most likely break off.
DECORATING STEPS :
1 : Remember the V shape we cut into the piping bag? Before you start piping leaves flatten the V shaped tip of the piping bag so the seam is now in the middle, facing the ceiling. Hold the bag at about 45 degree angle. Touch the surface of the cookie put pressure on the piping bag and start piping.
2-3 : To achieve the same curvy shape on the leaves as you see in the picture you need to slightly move piping bag up and down as you are piping the leaves.
4 : Release the pressure on the piping bag and slowly pull away the piping bag creating a tip/point of the leaf. If icing is too stiff most like this tip will break off. And if it's too soft leaf will not hold its shape.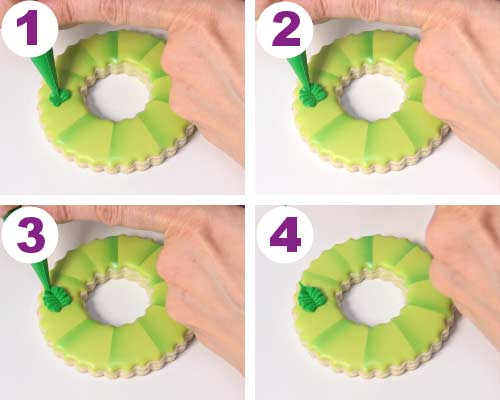 DECORATE CHRISTMAS WREATH WITH CANDY HOLLY BERRIES
DECORATING STEPS :
1-3 : Pipe 3 green leaves with royal icing.
4 : Pick up one candy holly berry at a time with tweezers.
5-8 : Place red holly berry candies onto the leaves, gently press candies into the icing to adhere.
TO MAKE FESTIVE CHRISTMAS WREATH COOKIES YOU NEED
RECIPES
TOOLS
Get all the tools at my Amazon Shop
Cookie Cutters – 2 round cutters with scalloped edge
Airbrush
Red Luster Dust or use Pearl or Pink Luster Dust
Food Only Paint Brush
Needle Tool
RELATED TUTORIALS
Ultimate Guide to Royal Icing Consistency (How to thin Royal Icing)
HOW CAN I DECORATE THESE COOKIES WITHOUT AN AIRBRUSH?
To achieve similar effect on your wreath cookies without an airbrush you can use dry Edible Luster Dusts.
Use pearl and dark green luster dust. 1st brush pearl luster dust all over the dry royal icing.
Then use a small food only dry paint brush and brush green luster dust on the edge of the card stock. Move the card stock around and apply green luster dust on the wreath cookie. Creating similar design like with an airbrush.
MORE SIMPLE CHRISTMAS TREATS :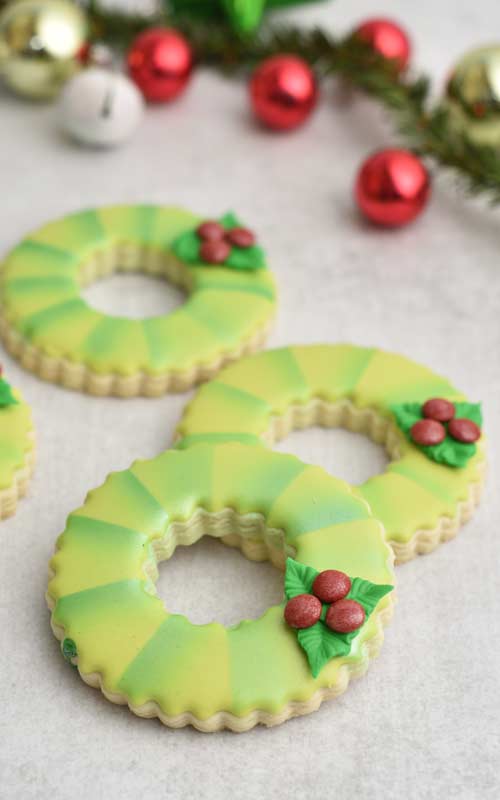 This post contains Amazon affiliate links that earn me a small commission, at no cost to you. I only recommend products that I use and love. Learn more about my affiliate policy here.