Decorated Hamburger Cookies
These decorated Hamburger Cookies are a perfect addition to your summer BBQ. They are fun to make and with my step by step cookie decorating tutorial you can make them, too.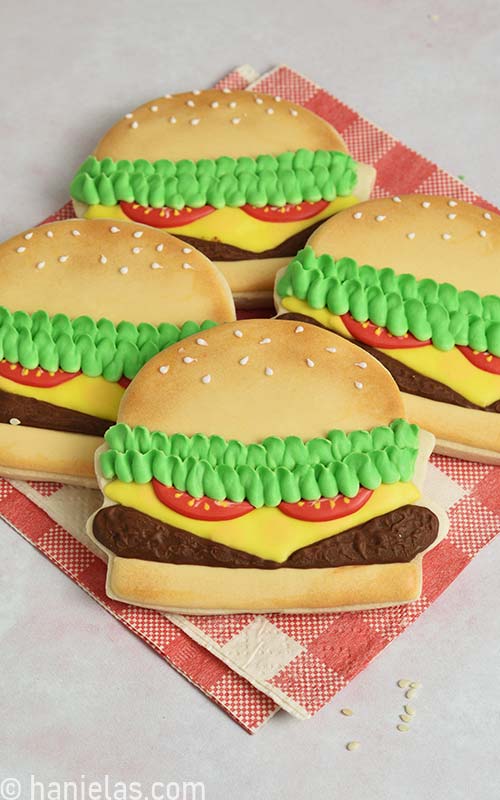 HOW TO MAKE DECORATED HAMBURGER COOKIES
To make the cookies you can use any of my Cut Out Cookie Recipes along with Royal Icing. You'll also need couple of food gel colors :
Ivory
Brown (or use Red and Green to make brown)
Red
Yellow
Leaf Green
STEP 1 – HAMBURGER COOKIE CUTTER
I was gifted Hamburger Cutter by my friend June. And though I can't find this exact cutter listed anywhere online it doesn't really matter what hamburger cutter you use. You can even hand cut your own hamburger cookie using a template (check the tools section at the bottom of the post for a template)
STEP 2 – HOW TO MAKE TOMATO SLICE ROYAL ICING DECORATIONS
I decided to make tomato slices as royal icing transfers. It's not necessary for this design but it sure makes decorating hamburger cookies faster.
ROYAL ICING COLORS I USED TO CREATE TOMATO SLICES :
Deep Red
Medium Red
Lemon Yellow
Ivory – with a touch of pink color
Draw a small moon shape onto a paper. Layer a piece of wax paper on top of it. Then pipe the outer bottom curved outline with a deep red royal icing (20 second consistency). Outline the top and fill the shape with lighter shade of red royal icing (20 second consistency), (step 1-6).
After, take ivory icing colored with just a hint of pink and pipe 3 small lines in the center. Then marble them into the red icing with a scribe needle tool.
Immediately pipe yellow seeds onto the marbled icing, (step 7-8). Allow tomato slices to dry completely. These are rather small pieces so they maybe dry in as little as 2-3 hours. However if you are not in a hurry to use them it's always better to let them dry for longer just to be sure they are completely dry.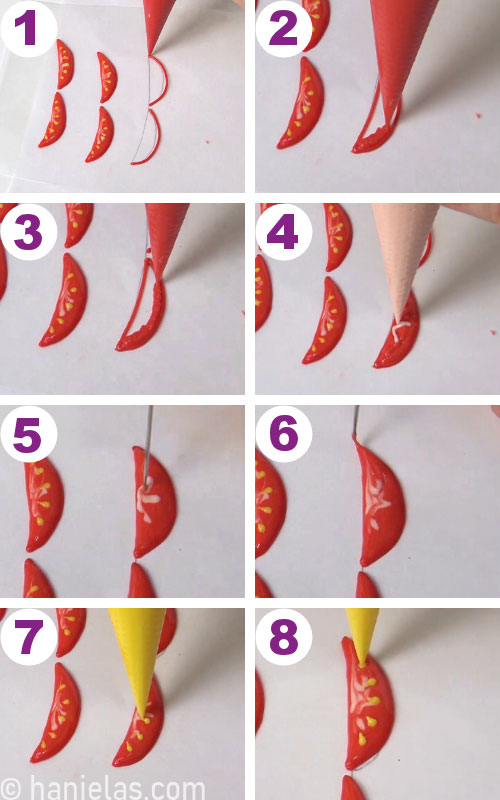 To remove slices from the wax paper fold the wax paper under decorations and carefully peel it off from the tomato slices.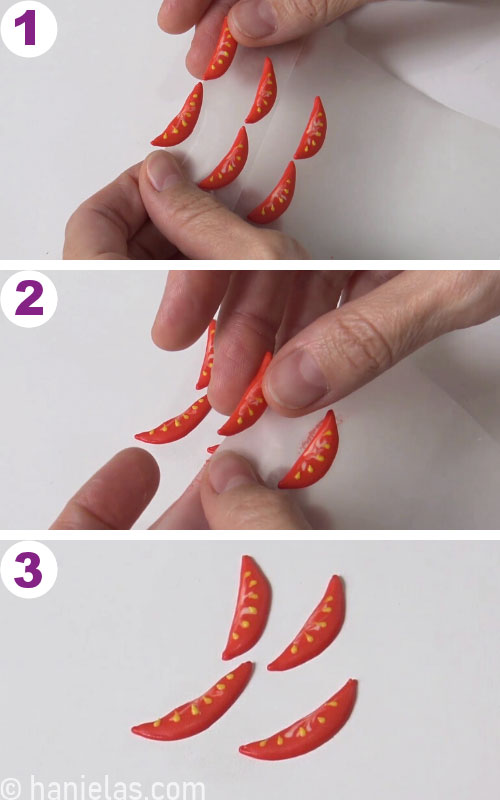 STEP 3 – ICE HAMBURGER BUN
To decorate the hamburger bun I used 2 shades of ivory royal icing of 15 second consistency. If you have an airbrush you can just use one shade of ivory to ice the buns.
Using 2 shades of ivory and marbling them together creates a shading effect without an airbrush, for those who don't own one. Read more about alternative ways of creating similar airbrushing shading effect below under airbrushing step.
Let's start with the outlines. Draw the outlines for each section with an edible marker (step 1). Then use 2 shades of ivory royal icing (15 second consistency ) and ice the bottom and top hamburger bun section. Marble the icing together with a scribe needle tool. (step 2-8). And allow icing to crust for 20-30 minutes.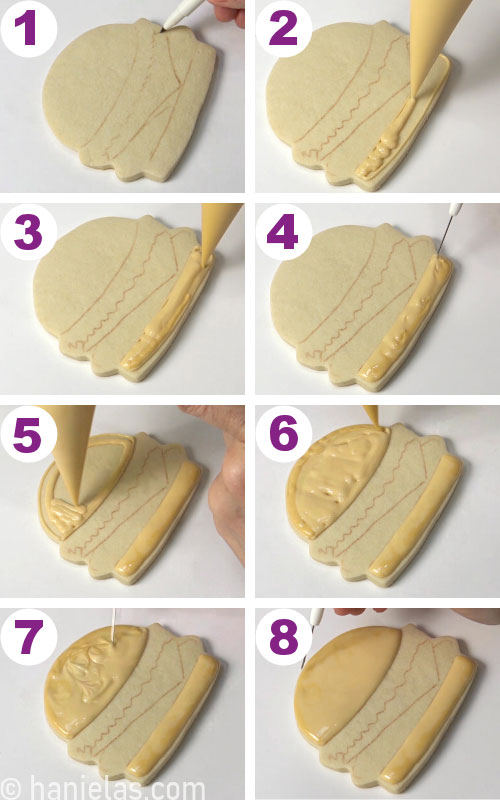 STEP 4 – MEAT PATTY
Outline and flood the meat patty section with brown royal icing (20 second consistency). Shape the icing with a scribe needle tool while wet. And allow to crust well before piping the cheese (step 1-3).
TIP : Don't have brown gel food color? Use red and green to make brown.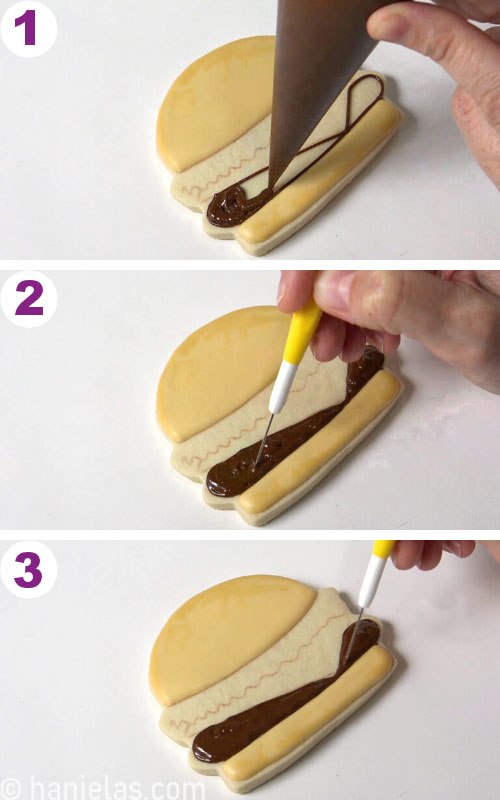 STEP 5 – CHEESE SLICE
To decorate the cheese slice section I used 2 shades of yellow royal icing (20 second consistency) : lemon yellow and golden yellow. To make golden yellow royal icing you can either use ready to use golden yellow gel color or you can add a minuscule amount of orange to lemon yellow royal icing to make golden yellow.
TIP : Using 2 yellow shades is not necessary to make this design. You can make it with just one yellow if you wish to. I was just experimenting with the design.
Outline and flood the cheese section with lemon yellow royal icing, (step 1-3). Then use golden yellow pipe rounds into the lemon yellow layer while still wet, (step 4-6). Both should be about 20 second consistency.
STEP 6 – ADD TOMATO SLICES
Carefully place prepared tomato slices royal icing transfers onto the wet yellow cheese slice section. They can sit little bellow the top yellow edge. Press them gently into the yellow icing with a scribe needle tool.
TIP : Don't have a scribe needle tool? Use a toothpick instead. Learn more about Cookie Decorating Tools.
STEP 7 – HOW TO MAKE GREEN LETTUCE FOR HAMBURGER COOKIES
To make the lettuce I uses a Petal Piping Tip #101 and 2 shades of green royal icing (stiff consistency). Though it's necessary 2 shades, you can use 1 shade of green with no problem.
TIP : Reason I used 2 shades of green was to create some highlight in the piped lettuce design.
Fit the piping bag with a petal tip #101. Then fill the piping bag with 2 shades of green (stiff consistency). You can marble them before hand in a small bowl, or pipe them directly into the piping bag alternating the colors. And then gently massage the bag to marble them (step 1-3).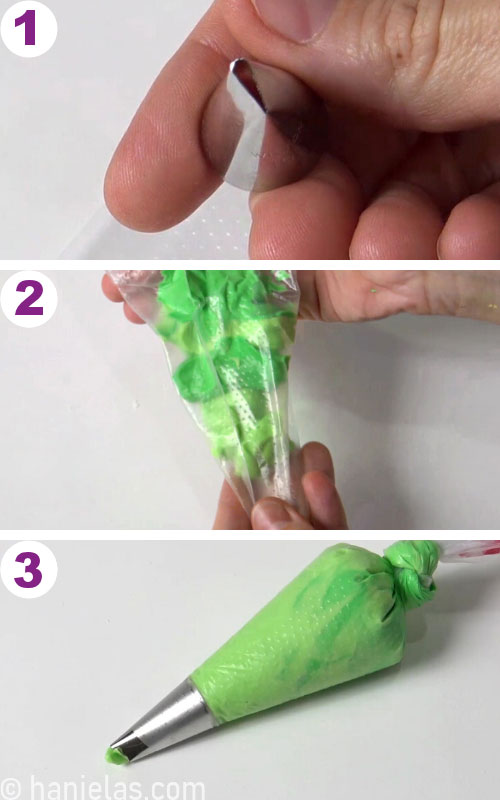 TIP : If you are not sure about the right consistency of your lettuce icing be sure to test it out before you pipe directly on the cookie.
My icing was a little too runny to my liking and so emptied the bag and I mixed in more stiff icing to make it thicker.
There are number of ways you can pipe the lettuce onto the burger with the petal tip. In this tutorial I used a straight forward zig-zag design.
Hold the piping bag so the narrow end of the petal tip is facing out (facing top bun) and wide end is facing you, (step 1). Hold the bag at about 45 degree angle. Squeeze the bag and move the piping bag back and forth while you are also moving to the right or left (depend if you are right or left handed) piping the line. Can you see the zig-zag line? Awesome! Repeat the same thing again and pipe another line bellow the first ziz-zag line, (step 2-6). Allow to dry.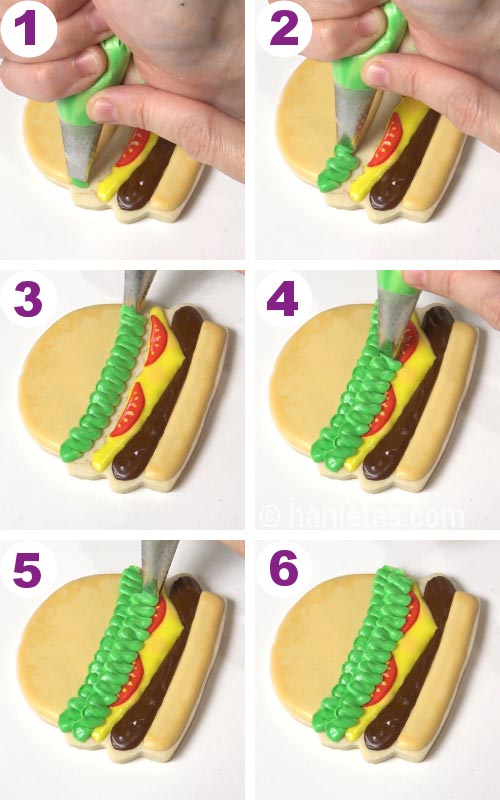 STEP 8 – ADDING TEXTURE TO MEAT PATTY
Creating texture on a meat patty section is super simple. Pipe some leftover brow icing onto the dry icing. Then with a dry food only paint brush using a dabbing painting technique texture royal icing (step 1-5).
STEP 9 – AIBRUSHING BURGER BUNS
If you own an airbrush, feed your airbrush gun cup with a few drops of brown airbrush color. Airbrush the top and bottom of the hamburger bun, (step 1-5).
HOW TO ACHIEVE SIMILAR RESULTS WITHOUT AN AIRBRUSH
Using 2 shades of ivory (or ivory and brown for more dramatic results) royal icing and marbling them when icing the cookie.
You can also use dry brown color dust and a fluffy dry food only paint brush to create shading on the buns. Or use little bit of cocoa powder mixed with corn starch. Icing has to be dry to use this technique.
Another option is to use edible paint (in my tutorial how to make pansy cookies I also share how to make edible paint). Icing has to be dry for you to paint it.
STEP 10 – PIPE SESAME SEEDS
These royal icing decorated hamburger cookies wouldn't be complete without sesame seeds. Use white royal icing (piping consistency) and pipe tear drop shapes on top of the bun, (step 1-3).
WHICH ONE IS BETTER? 2020 or 2016?
You probably don't know this but I've already shared a tutorial on how make decorated hamburger cookies on my YouTube Channel in 2016. However as you can see I've made several changes in my 2020 design. No more purple thing – it's an onion, btw. And I've added piped lettuce, and also tomatoes were made as royal icing transfers. So, tell me which one do you like better?
MORE FUN DECORATED FOOD COOKIE IDEAS :
TO MAKE DECORATED HAMBURGER COOKIES YOU NEED
This post contains Amazon affiliate links that earn me a small commission, at no cost to you. I only recommend products that I use and love. Learn more about my affiliate policy here.