Christmas Buttercream Cookies
Are you looking for a last minute idea on how to make decorated cookies for Christmas in a jiff? With the help of my tutorial you can make delicious, festive Christmas Buttercream Cookies. These simple tree, snowflake, star and mitten cookie designs take only minutes to create and will surely brighten your holiday table.
Updated post from 2013.
HOW TO MAKE CHRISTMAS BUTTERCREAM COOKIES
If are not a fan of royal icing and you prefer buttercream this recipe is for you. My crusting buttercream recipe is super easy to make. You can whip it up in a matter of minutes. It's favorite with kids and adults like. And a great bonus is this buttercream crusts so you can stack your pretty cookies or wrap them in a pretty bag for a gift giving. Anyway, I hope you'll have fun decorating Buttercream Christmas Cookies with my delicious buttercream recipe.
SUGAR COOKIES
To bake sugar cookies you can use any of these popular Cut Out Cookie Recipes :
CRUSTING BUTTERCREAM FOR COOKIE DECORATING
Beat butter, powdered sugar, salt, and 5 tablespoons milk. Beat until smooth and fluffy, about 3 minutes. Add vanilla extract and beat until well combined. Gradually thin frosting with milk or water to desired consistency. Icing crusts so be sure to keep it covered.
TIP : Are you looking for a vegan buttercream? Use Vegan Butter instead.
This is a crusting buttercream, be sure to cover it with plastic wrap or a damp kitchen towel when not in use.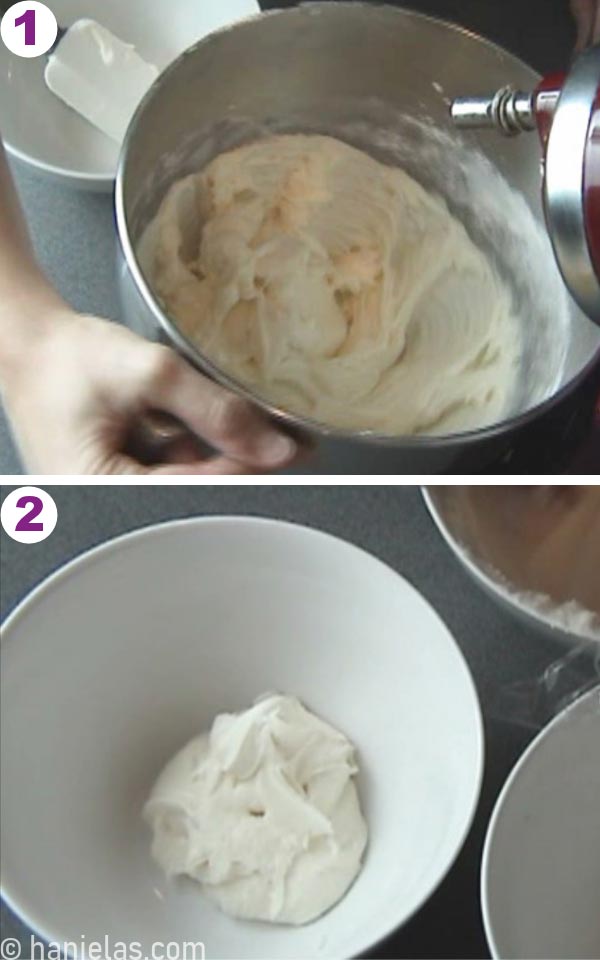 COLOR FROSTING
Divide buttercream into bowls and color it with gel food colors.
Color little over ½ cup with green, blue and with red, leave some buttercream uncolored, (steps 1-4).
Fill 2 piping bags with about ¼ cup of red and ¼ cup of blue buttercream, (steps 5-8).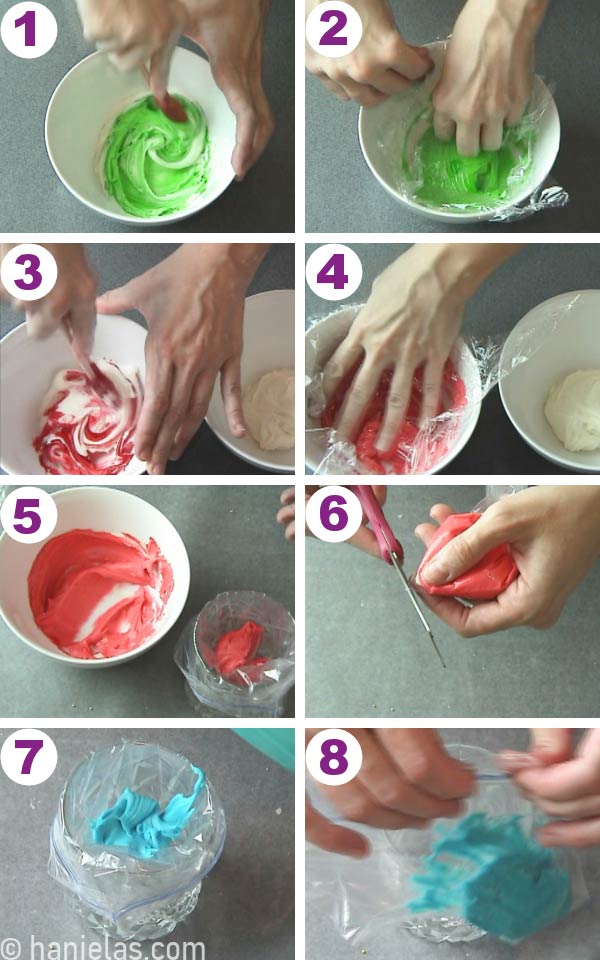 TREE COOKIES
With a spoon or a small spatula spread green buttercream onto the tree cookies. Sprinkle with white nonpareils, (steps 1-4). To make textured buttercream use a fork or if you have a frosting comb you can utilize it, too. And if you have other festive sprinkles on hand use them to decorate tree cookies.
MITTEN COOKIES
Decorate mitten cookies with green and white buttercream. First spread green buttercream on the bottom of the mitten. Use a fork or icing comb to create texture in the icing. Then decorate buttercream with sprinkles, (steps 1-6). Now you can spread white buttercream on the top of the mitten, (steps 7-8).
Pipe red star snowflake onto the white buttercream.
STAR COOKIES
Spread red buttercream onto a star cookie, texture frosting with a fork or an icing comb. Decorate edges with white nonpareils sprinkles.
SIMPLE SNOWFLAKE COOKIES
Decorate snowflake cookies with blue buttercream, (steps 1-5). Immediately dip or dust buttercream with sanding sugar for a frosty look, (steps 6-8).
Allow frosting to crust before layering cookies into an airtight container.
This post containsThis post contains Amazon affiliate links that earn me a small commission, at no cost to you. I only recommend products that I use and love. Learn more about my affiliate policy here.
TO MAKE CHRISTMAS BUTTERCREAM COOKIES YOU NEED
RECIPES
Sugar Cookie Recipe
Buttercream Recipe for Cookie Decorating
TOOLS
Find all the tools you need in my Amazon Shop
Cookie Cutters : Snowflake, Mitten, Tree, Star
Hand Held Mixer
Food Gel Colors : Sky Blue, Green, Red
Blue Sanding Sugar
White Nonpareils,
Snowflakes Sprinkles
Rainbow Nonpareils
Small Spatula
Icing Comb or a Fork – to create texture in buttercream
MORE CHRISTMAS RECIPES :
Did you make these Decorated Cookies? Tag @hanielas on Instagram and hashtag it #hanielas
Buttercream for Cookie Decorating
Easy to make, delicious crusting buttercream, perfect for cookie decorating.
Makes about 2 cups of buttercream.
1 serving is about 3 tablespoons.
Ingredients
CRUSTING BUTTERCREAM FOR COOKIES
5

tbsp

butter, melted, cooled

3 1/2

cup

powdered sugar

1

tsp

Vanilla Extract (almond, lemon)

5-7

tbsp

milk or water
Instructions
CRUSTING BUTTERCREAM FOR COOKIES

Beat butter (5tbsp, melted and cooled), powdered sugar ( 3cups and 1/2 cup), milk or water (5-7 tablespoons) until smooth. Beat in Vanilla extract I(1teaspoon). Store frosting in airtight container to prevent crusting. Frosting won't crust hard like royal icing, it crusts on the surface.
Notes
1. CAN I USE VEGAN BUTTER? Yes, absolutely.
2. CAN I USE OTHER FLAVORINGS? Absolutely. My favorite to use are Vanilla, Almond and Lemon.
3. HOW LONG DOES THE BUTTERCREAM KEEP? About a week, stored in the fridge.
4. CAN DECORATED COOKIES BE STACKED? Allow buttercream to crust and harden a bit, then you can stock them.
DID YOU MAKE THIS RECIPE?
Tag @hanielas on Instagram and hashtag it
#hanielas
This post was originally published on December 21st, 2013. On November 7th, 2020 updated this post with new step by step pictures and written text.