Candy Cane Fondant Toppers
We moved last year just before Christmas so I didn't have much time do decorate cookies( I was unpacking etc), so I thought I could make Cupcakes instead. I couldn't bare the though giving out just plain cupcakes, that is so not me!
I decided to make Fondant Candy Cane toppers, along with snowflakes and other decorations. Candy Canes where such a big hit that I'm making them this year again, but this time way ahead of time so they have time to dry and I don't have to stress about it right before Christmas.
I used a very traditional color combination RED – WHITE, but I suppose you could try other colors as well.
Today I prepared a tutorial on how to make them, it is rather easy and even kids can help to make these.
Hope you'll find this helpful.
Candy Cane Cupcake Toppers
Fondant – I used Marshmallow Fondant(recipe follows)
Rose Food Coloring (optional) – I used Wilton Brand *
Red Food Coloring – I used Wilton Brand*
Clean work surface( I used silicone cutting board)
Knife
Gloves( to prevent color staining when coloring fondant red)
Crisco shortening, if needed
Corn Starch, if needed
* ( you can also use Americolor Gel paste)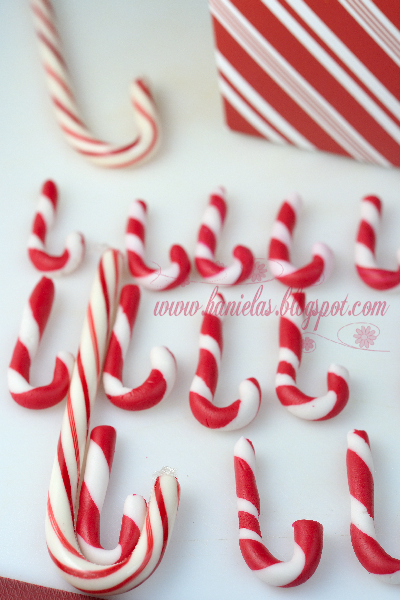 Marshmallow Fondant Recipe
16 ounces/453grams/ small white marshmallows
2-5 tbl of water
2 (907)pounds of powdered sugar, sifted
1 Tbl corn syrup
1/2 cup crisco
1tsp Flavorings
Coat one big wooden spoon with crisco, lower part of the handle too.
Coat the inside of the heat proof bowl with crisco/this will help you later, you'll see/. Place marshmallows in the bowl, add 2tbl water and using microwave, in 30 seconds intervals melt the marshmallows, if needed add more water. If you are using marshmallows that are not super fresh and really soft and moist, you may need to add more water, up to 5 tbl.Take caution mixture will be hot, this should take about 2 1/2 minutes.
Once marshmallows are melted, stir in 1 Tbl corn syrup and flavorings, if using.
Place all the powdered sugar in the large bowl, make a well in the center and pour the marshmallow mixture on the top of the sugar, it should be rather easy to do/ here the crisco coating your bowl will pay off/. Now take the wooden spoon you coated with some crisco and roughly combine the powdered sugar with marshmallows, then using your hands /lightly coated with crisco too/ knead the Marshmallows like you would bread dough, until nice and smooth, about 8-10 minutes.I haven't weighted how much fondant will yield this recipe but I gather it could be somewhere around +/- 3 Pounds.
I recommend "aging" your fondant in the fridge overnight, or at least for a few hours. Coat the fondant with crisco and wrap it in the plastic wrap and seal in the ziploc bag. Place in the fridge. Keep in mind that fondant will absorb any strong odors, so try to keep it away from foods that could possible "smell contaminate" your fondant.
I have also halved and 1/4 this recipe, depending how much fondant I need.
COLORING TIPS :
when coloring already made white fondant to red color, I find that it helps to color it vivid pink first, like rose color, and then color it with red. Make sure you use gloves to prevent staining.
you can also color your fondant while in the melted marshmallow stage, this will safe time on all the kneading.
1. Form a ball from white and red fondant, approximately the same size
2. Roll both balls into a medium size rope
3.Pinch two ends and braid two ropes together
4. Slightly press down braided fondant and roll with your hand, until is smooth
5. It is easier to work with medium size pieces, so if your braided piece is too long, cut it in half and cover with plastic foil to prevent drying while you are working with another piece
6. Using your both hands very gently twist the ends of your braided rope, going opposite directions, then roll the fondant to smooth it out, continue with twisting and rolling until you achieve your desired thickness and distribution of stripes. It may take several twists to get more stripes in. Be careful not to over twist, or fondant piece will tear. If you see that your fondant piece is getting long again and it is becoming too hard to work with, simple split it , reserve one piece under the plastic foil to prevent drying , and continue working with one piece at a time.
7.Once you achieve your desired design, simply cut the candy cane rope into section and using your hand form a candy cane. Leave to dry completely, best at least few days, or even several weeks prior using.
8. TROUBLESHOOTING – make sure your fondant is smooth and flexible, you want it to be sort of like a play dough, if necessary add a little bit of crisco to your hands when you work to prevent sticking. Sometimes during the coloring process of already made fondant I find that coloring gel can somewhat dilute the fondant( if that is the right term for it), if this happens, I usually use a little bit of cornstarch and crisco it helps to absorb excessive moisture that was added to the fondant with the food coloring, Crisco keeps is smooth.
9. STORING : Once your decorations are dry you can store them in an airtight container with a few packets of Food Grade Silica gel.