These Chocolate Lace Cookies are equally delicious as they are beautiful.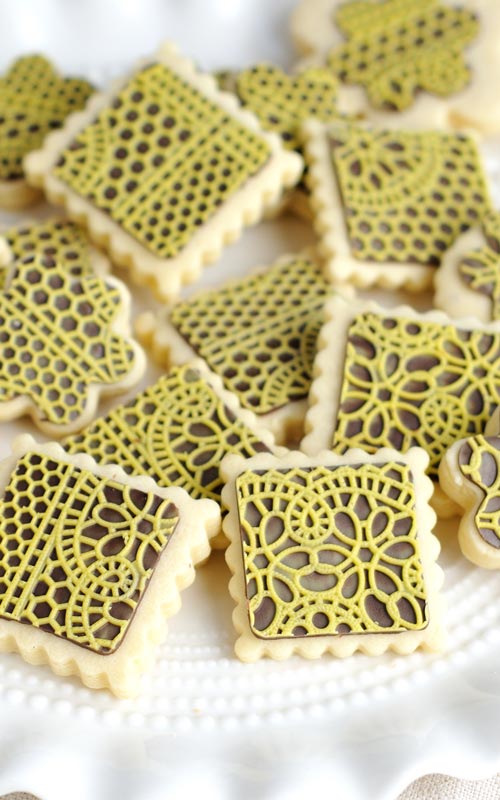 CHOCOLATE LACE COOKIES
Have you ever thought of using chocolate to decorate cookies? These chocolate lace cookies are so easy to make.
Sure, you can use royal icing or edible lace products to create delicate and eye catching lace designs. They are beautiful but they can be so time consuming to make.
SILICONE LACE MATS
In the past I've used SugarVeil Silicone mats to create beautiful edible lace. Today I'm going to share with you how you can use lace silicone mat to make stunning chocolate lace.
There are number of silicone mats with lace designs available. Some can be rather expensive. If you don't want to invest in a lot of different patterns choose the one you think you'd use the most.
This SugarVeil Silicone Doily Mat is the one I used for most of my projects.
CHOCOLATE LACE
To make chocolate lace I used Chocolate Candy Melts. You can also use tempered chocolate instead.
Melt the chocolate. If you need to color chocolate be sure use candy food colors.
Start with clean, dry silicone mat.
Spread yellow melted chocolate over the silicone mat.
Use a spatula or SugarVeil Tools to spread the chocolate. Large spreader is especially useful for this step.
If you notice candy melts are setting up a bit too fast place the silicone mat on a warm baking sheet. Make sure baking sheet is not hot, it should only be slightly warm to the touch. This helps to keep the chocolate more pliable so you can spread it easily.
Yellow chocolate layer should fill the lace design only. Use a spatula to clean up the edges.
Let it set, about 5-10 minutes
Continue with the 2nd chocolate layer.
Spread melted dark chocolate over set yellow layer.
Use a spatula to spread the chocolate thinly over the bottom yellow layer. You can also utilize a bench scrapper or a stainless steel ruler.
Chill for 10-15 minutes.
RELEASE CHOCOLATE LACE LAYER
Once the chocolate hardens, turn the silicone mat over onto a wax paper.
Carefully peel off the mat from the chocolate.
Gently hold the chocolate lace in place as you pull the silicone mat.
HOW TO CUT CHOCOLATE CUT OUTS
Use cookie cutters with sharp cutting edge.
To cut out shapes it is best to soften (not melt) the chocolate lace layer slightly.
Place chocolate lace layer onto a wax paper and then place it on a slightly warm baking sheet lined with a kitchen towel. Let sit for 2-3 minutes.
Heat will soften the chocolate so it's still solid but not as crisp. It is much easier to cut into shapes. Carefully cut out shapes and transfer them onto a wax paper.
DECORATE WITH CHOCOLATE
Bake the cookies.
Let them cool for 10 minutes or until slightly warm to the touch.
Place chocolate lace cut outs onto slightly warm cookies and let sit until chocolate melts slightly and as soon as it hardens again it will stick to the cookies.
What if chocolate layers are not fixed on the cookies?
There is a simple fix. Place the cookies on slightly warm baking sheet.
In any case if the chocolate becomes too soft, don't touch it. Let it set before storing the cookies in an airtight container.
TO MAKE CHOCOLATE LACE COOKIES YOU NEED
RECIPES
TOOLS
Baking Sheet
Chocolate Candy Melts :
PIN IT for later
This post contains Amazon affiliate links that earn me a small commission, at no cost to you. I only recommend products that I use and love. Learn more about my affiliate policy here.