Memory Game Coloring Page
Have fun coloring and playing a memory game with my printable Memory Game Coloring Page. Let's get coloring and playing.
HOW TO MAKE MEMORY MATCH GAME WITH A COLORING PAGE
It's really super simple. Download and print 2 sheets of memory match coloring page, using a template (scroll to the bottom where I list the tools you need). It's best to print it onto a white cardstock paper, 8.5 x 11 inch.
Then have your kids color each coloring page with colored pencils. Have fun coloring watermelons, donuts, lollipops, bacon, cupcakes etc..Color 2 matching pictures with the same colors.
Cut colored coloring pages with scissors. And now you are ready to play the memory match game.
HOW TO PLAY MEMORY MATCH GAME USING FACE TIME, WHATSAPP
Do you what to play while calling your nephew, grandchild or a friend? It's super simple. All you have to do is make a coordinate grid and secure your camera onto a stand/mount so the person on the other end can see all the cards and the grid.
Place all the cards face down into a grid layout onto a flat surface. Tape masking tape on the right and bottom of the grid, (step 1-2).
Now you need to mark corresponding rows (vertical and horizontal) of cards with letters and numbers. Write numbers and letters on the masking tape, (step 1-2).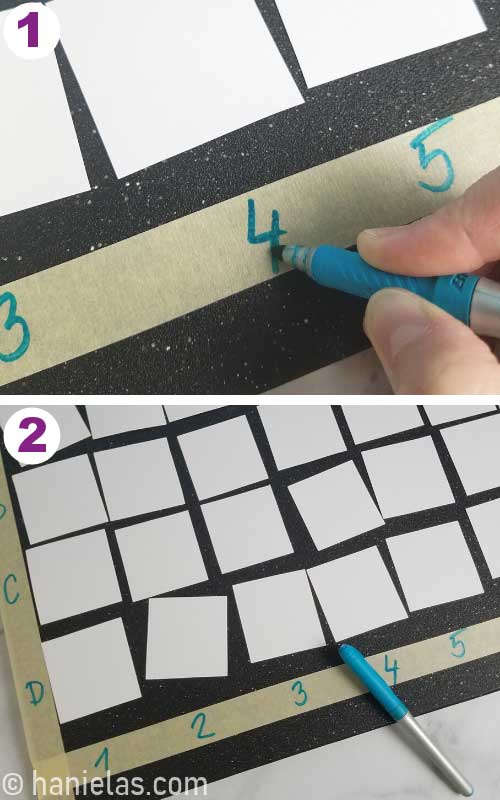 To play the game thru facetime or other app you'll need to secure your phone onto a stand/mount. You want the person on the other end to see all the cards and the coordinate grid.
I played with my niece and I had the phone on an angle so I could still see her reaction when she found a match. It was fun!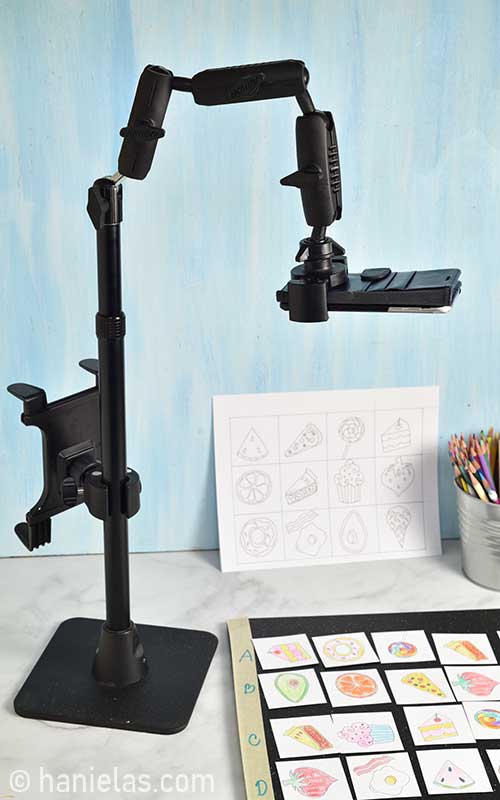 LET'S PLAY THE GAME
Shuffle the cards.
To start a game we like to play rock paper scissors. Person who wins gets to go first.
Then who ever wins flips 2 random cards. If they are a match, that person keeps the cards. And that same person turns another 2 cards. If those 2 cards are not matching, cards are placed face down on the exact spots they were taken from. And then it's the opponent's turn.
When playing via facetime or other app one person will see the game on the screen. And they can't turn the cards by themselves. Here is when the coordinate grid comes to play. They can give you the coordinates of cards they want you to flip for them.
If a child is too little someone older can help them with the card coordinates.
Repeat and have fun.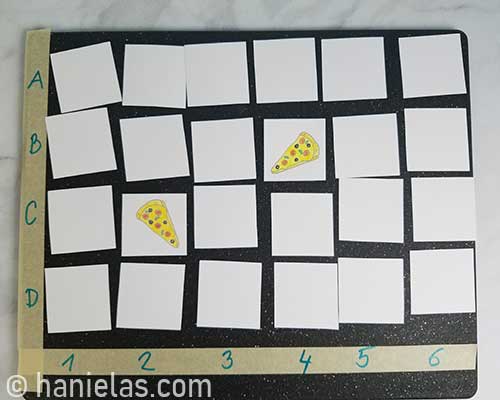 TO MAKE MEMORY GAME YOU NEED:
Find all the tools you need in my AMAZON SHOP
White Cardstock Paper, 8.5 x 11 inch
Colored Pencils
Scissors
Masking Tape
Marker
Phone Mount/Stand – I use Arkon
MORE FUN ACTIVITIES FOR KIDS:
This post contains Amazon affiliate links that earn me a small commission, at no cost to you. I only recommend products that I use and love. Learn more about my affiliate policy here.