When you want your cookies,chocolates, cakes, fondant or royal icing decorations to have a little sparkle using Luster Dust is a perfect way to achieve that. Luster dust is nontoxic, tasteless, odorless edible powder,it
comes in a form of a powder and in the wide variety of colors. I'd say most universal for me is CK Products Pearl Dust
or you can also get lustre spray, it comes in different colors as well, again most useful for me is PME Sugarcraft Lustre Spray – Pearl
LUSTER DUST APPLICATIONS:
Dry Application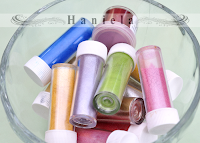 –when using dry form of powdered luster dust to achieve shimmer on fondant covered cakes, cupcakes, or even decorated cookies :
-for larger areas use larger /makeup style/ full and very soft brush to achieve maximum coverage, using circular motion apply luster dust,
-synthetic kinds seems to be less prone to "hair" loss
when applying dry luster dust to cupcakes use a smaller a bit flatter brush with longer bristles
-using lustre spray is a great solution as well
– pearl luster dust is very versatile
– when using luster dust to add shimmer to royal icing, make sure all surfaces are sufficiently dry before application.
pearl luster dust was brushed on the top of the fondant icing on the cupcake
pearl luster dust was brushed on the top of the dried royal icing on the cookies:
Wet Application
-when using wet application of powdered luster dust :
-you need luster dust of your desired color
-small brush
-alcohol:
To use luster dust for painting purposes you need to mix it with alcohol with higher alcohol content. Reason you want the higher alcohol content is that you don't want alcohol to be sitting on your painted decorations, this will cause a royal icing to melt and form unsightly looking finish. You want liquid to evaporate as fast as possible, higher content alcohol will do just that.
There are variety of products on the market that you can use, depending on where you are located and what is available to you :cake decorators rose spirit
McCormick lemon extract(alcohol 83%), orange extract and mint extract -all these extracts have high alcohol content and they will work for the wet luster dust application. I use lemon and orange most frequently..
everclear (grain alcohol – 95%) – in USA in some states it is illegal to sell.
Gin- some people use this as well, I personally haven't tested this
-I use the painter's palette tool, each cavity can hold a different color luster dust.
-when adding alcohol to dry luster dust, add only a tiny bit/by drops/, more liquid you add to luster dust, less vibrant the shimmer
-you can keep unused portions of luster dust in the painter's palette, store it away from dust and moisture when not in use, when you are ready to use it again, use the spoon to scrape the dry dust and reuse.
– when using wet luster dust to paint fondant, gum paste or royal icing, make sure all surfaces are sufficiently dry before application.
–using lustre spray is a great solution as well
Here I used gold luster dust to paint the royal icing crosses gold.
Blue luster dust was used to paint the blue fondant gem on the cookie ring
Details and tassels painted with gold luster dust
Details painted with gold, pink luster dust
Details of gum paste figure painted with pearl luster dust
Different Colors of Luster Dust can be mixed to achieve the desired color. For example, when I was making my cookie map, I wanted to use orange, but I didn't have any orange, so I mixed together some red and yellow and there was my orange, it work with other colors as well. Same mixing technique worked with grass green, I mixed dark green with yellow until I was happy with the shade of the green.
COLOR FACTS
Just remember PRIMARY COLORS : RED,BLUE AND YELLOW can not be mixed from any other
colors.
SECONDARY COLOR: Violet = blue + red, Orange = yellow + red, Green = yellow + blue
TERTIARY COLOR : these are created by mixing primary color with secondary colors