Let's make mini Raspberry Meringue Tarts adorned with Chocolate Flamingos nested in a soft, delicious rose meringue topping.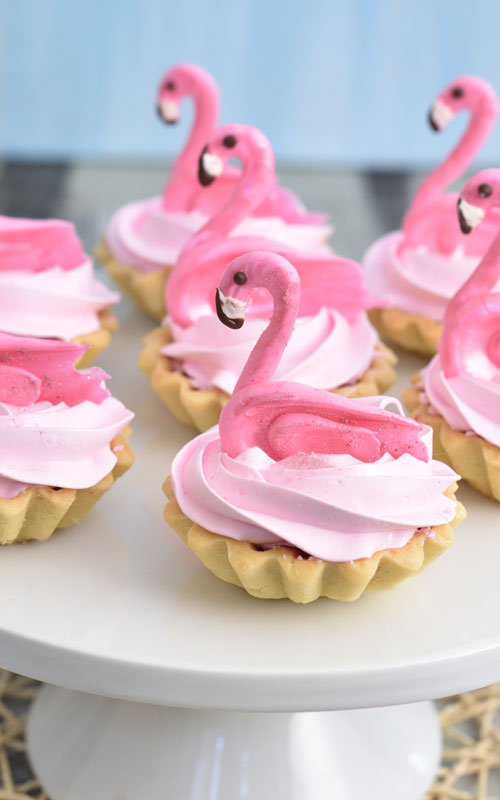 This Raspberry Tart recipe combines 5 of my favorite things. Mini tarts, raspberry curd, billowy meringue, pink and flamingos.
I've always been a huge fan or Meringue desserts. They are one of my favorites.
RASPBERRY MERINGUE TARTS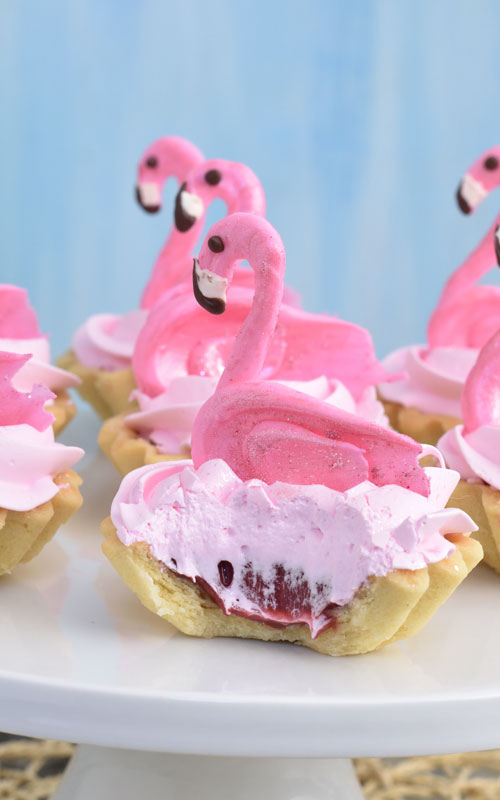 MINI TART SHELLS
You can either use store bought tart shells or make your own. Follow my DIY Mini Tart Shells Tutorial.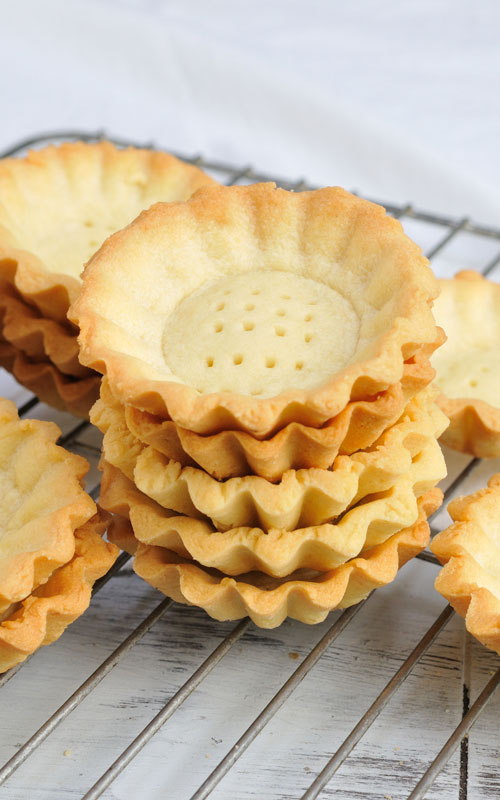 CHOCOLATE FLAMINGOS
Flamingo chocolate decorations are simple to make. I used pink candy melts to make the wings and the neck.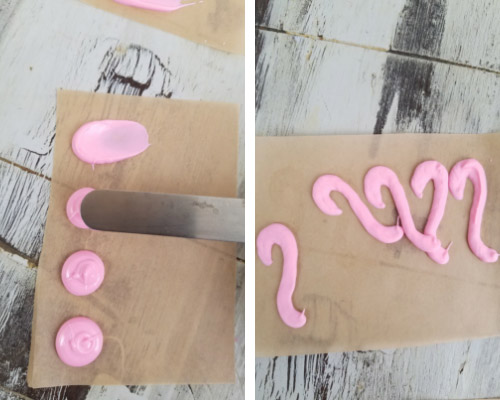 Fill the piping bag with melted pink chocolate candy melts.
Pipe a large dot onto a parchment paper and then with a small spatula or a spoon shape the wings.
Make 2 wing sizes. One should be slightly smaller.
Pipe the neck and the head.
Let the chocolate harden. I put in the fridge to set for couple of minutes.
Glue the wing and the neck together with chocolate.
Attach second smaller wing on top of the larger wings
Brush Pink Luster and Pink Jewel Dust onto the chocolate
Use melted white and dark chocolate candy melts to make the beak and the eye. Let chocolate harden.
Carefully remove Pink Chocolate Flamingos from the parchment.
Store them in an airtight container layered between
Use toothpick to shape the chocolate while melted.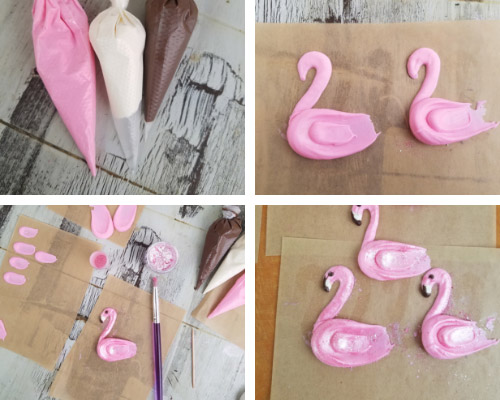 RASPBERRY CURD FILLING
Fill the tarts with Raspberry Curd. Fit the piping bag with a large star tip and fill it with pink Swiss Meringue. Pipe a pretty rose swirl onto each tart.
MERINGUE TOPPING
Prepare Swiss Meringue.
In case you haven't made Swiss Meringue before I'm including a step by step recipe below. In addition to having pink chocolate flamingos I also colored meringue with a little bit of pink food coloring.
Then dust the meringue with Jewel Dust and attach shimmery chocolate flamingos onto the meringue rose swirls.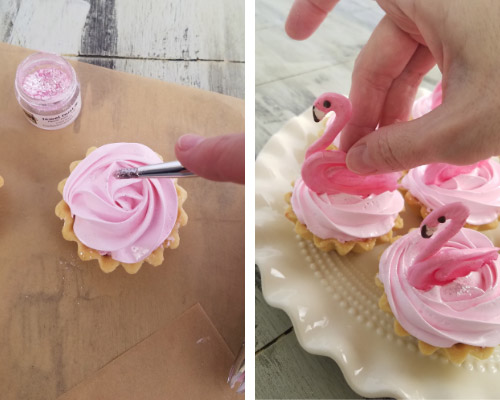 Raspberry Meringue Tarts can be prepared up to 2 days ahead. Store tarts in the refrigerator in an airtight container. Attach chocolate flamingos before serving.
TO MAKE RASPBERRY MERINGUE TARTS YOU NEED
MORE RASPBERRY DESSERTS :
Swiss Meringue
Make about 4-5 cups meringue
Ingredients
4

egg whites

1

cup

granulated sugar

pinch of salt

1

tbsp

vanilla extract

1

tsp

vinegar or lemon juice
Instructions
In a bowl of your mixer whisk together egg whites (4), sugar (1cup), salt ( pinch) and vinegar (1tsp).

Pour water into a sauce pan, few inches in enough. Bring water to simmer. Place a bowl with egg whites and sugar over the simmering water. Stir with a whisk. Stir constantly.

Sugar will gradually dissolve and you will be left with white soapy mixture. It will take around 4-5 minutes. You can test if all of the sugar is dissolved by dipping your finger into the mixture and rubbing it between your fingers. If it's smooth sugar is dissolved.

Now we need to bring egg white to safe temperature. Attach a candy thermometer on the bowl continue stirring, till thermometer reads 160 – 170F Stir for additional 2 minutes.

Remove the bowl from the simmering pot and immediately start beating with a wire attachment. Start on medium speed and gradually increase the speed. Beat until thick, glossy peaks are formed. Beat in Vanilla Extract. Color as desired with gel food coloring.
Notes
How to Use Swiss Meringue
You can use Swiss Meringue to make meringue cookies.
Pipe it onto a tart, cupcake or a cake.
Serve it with fresh fruit and chocolate. 
PIN IT for later
This post contains affiliate links that earn me a small commission, at no cost to you. I only recommend products that I use and love. Learn more about my affiliate policy here.