Chocolate Caramel Coffee Cupcakes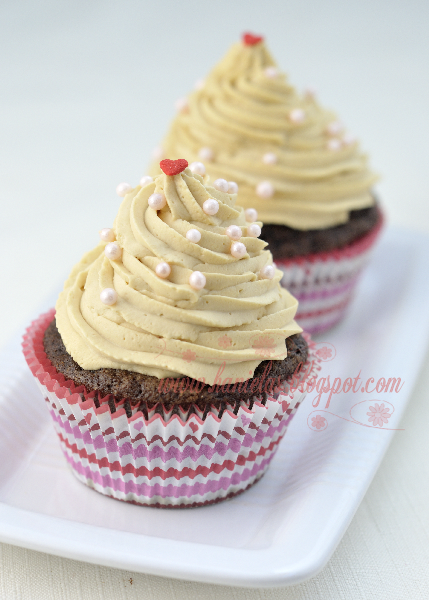 love coffee flavored desserts, imagine adding chocolate, caramel and a little cinnamon.
I'm madly in love with cinnamon, everything tastes better with it, don't you think? :-))
I made these cupcakes for a friend and for our mailman; we started to shop for my SIL and her baby to come.Yes!!! I'll be a triple auntie( got her a T-shirt "My Auntie is Awesome", I thought that was just appropriate, don't you think? ;-). As you can imagine there are packages coming, I think there are10 more left, so I thought a little sweet bribe never hurt anyone, in my opinion.
I went to pick up the mail, they don't deliver here where we live, but believe me I don't live in the desert, understanding as of why they don't deliver mail here escapes me, as they deliver one street down, but nevertheless I had to pick up the mail and what do you know 2 packages were waiting for me there, I gave Kenny his little cupcake treat, he couldn't wait, opened it and said.."This looks really good, I'll have it right now."
Chocolate caramel coffee cupcakes(makes 18 standard size cupcakes)
Cupcakes
1 1/3 cups all-purpose flour
2 teaspoons baking powder
1 teaspoon baking soda
1 teaspoon salt
1/2 cup unsweetened cocoa powder
1 cup light brown sugar(packed)
3 tablespoons instant espresso powder,
1/2 cup butter (113grams,1stick) unsalted butter, melted and cooled ( my microwave melts 1stick of butter in about 1minute)
2 eggs
1 cup low fat Greek yogurt
2tsp vanilla extract
Cinnamon Sugar : 2tbl sugar +1/4tsp cinnamon
Filling
(make at least one day a head, can be made several days before and stored in the fridge,
1can of sweetened condensed milk
Large pot
water
Caramel Frosting
(part of the frosting has to be prepared day ahead)
2 1/2 cup heavy cream
3/4 cup granulated sugar
1 cup mascarpone cheese
CUPCAKES
Preheat oven to 350°
Line your muffin pan with cupcake liners.
In a large bowl, sift flour, baking soda,baking powder,salt,cocoa powder, add brown sugar and stir with whisk to break any lumps.Set aside
In another medium size bowl,using a whisk mix melted and cooled butter, eggs, vanilla extract and yogurt together. Pour wet ingredients into dry ingredients, rapidly mixing with a wooden spoon or whisk, until batter is smooth.Batter is pretty thick
. Spoon batter into cupcake papers, filling cups about 2/3 full. Sprinkle top with cinnamon sugar. Bake for 15-20 minutes or until a tester inserted into the center comes out clean. Remove from oven and cool.
FILLING (DULCE DE LECHE)
Put one can of sweetened condensed milk into a pot with water, can has to be completely covered with water. Bring to boil, let boil for 2 hours. Remove from heat, let cool completely.Open the can and spoon the filling out into a airtight container, store in the fridge until ready to use.
FROSTING
This part has to be prepared day ahead.
In a medium sauce pan, make caramel from 3/4 sugar, stir until caramel reaches amber color, remove from heat and pour all the heavy cream into the pot, be careful not to splatter hot caramel on yourself, it is extremely hot. Mixture will sizzle, and it may foam. Return on the heat and cook until you have a smooth mixture. Remove from heat, let cool, store in the fridge. Let rest overnight.
(If you are a big coffee lover, you can add 1 tbl espresso powder to the hot heavy cream caramel mixture, for extra coffee flavor)
On the day when you make cupcakes
Scrape the caramel heavy cream mixture into a bowl and using a hand held mixture whip the cream until thick and stiff, add mascarpone cheese and whip until well combined. Taste, if you like it sweeter add a bit of powdered sugar. I like my sweets to have contrasting levels of sweetness.
CUPCAKE ASSEMBLY
-cut the cone into a cupcake using a sharp knife( you can also use
Cuisipro Cupcake Corer and Decorating Set
)
-if necessary make a deeper cavity
-remove excess from the top part. Taste.;-)
-fill in the cavity with 1 heaping tsp of dulce de leche filling,
-fit each top
-frost with caramel frosting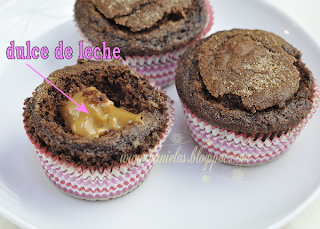 Here is an example of the filling process: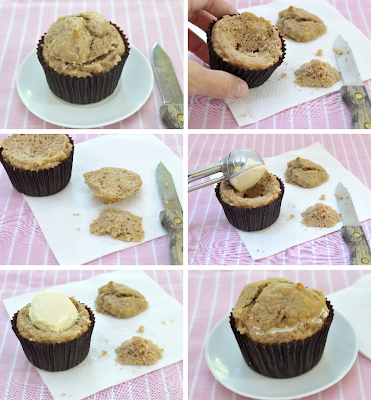 Using a pastry bag and a star tip pipe the frosting onto the cupcakes.
Decorate with simple sprinkles, pearls. I used
Wilton Pearlized Sprinkles, Pink