Today I'm going to share with you how to make Decorated Rooster Cookies.
I have 2 rooster related memories. First one is from my childhood and not so fun. I was about 3 years old, playing in my grandparents' backyard when an aggressive rooster attacked me. I don't recall seeing him after that incident.
Second one is from that time while vacationing in Ohio. We came across a bright colored and notoriously loud rooster. The Big Foot as locals called him. He really was such a gorgeous bird.
Then, the first morning he woke us up at 4 am. Majestically standing on a giant boulder by the gravel driveway, he was crowing. It was so difficult to stay asleep while the rooster crowed and crowed and crowed.
Every day, at the same time, early in the morning in attempts to keep him quiet hubby would chase him down half asleep while I was laughing on the porch. It was hilarious.

ROOSTER COOKIES
Ok, so let's start with the cookies. Notice the feet section on the
Rooster Cutter is really narrow. I'd recommend using pliers to make it a little wider. It's easier to cut out cookies.
COOKIE CUTTER
Start by drawing outlines on the cookies with an edible marker.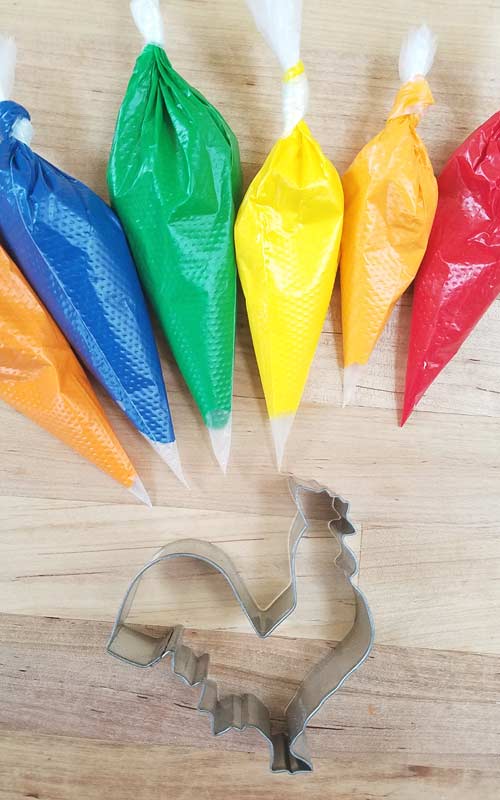 It is important to flood sections in steps. Making sure area located right next is crusted first. This is especially important when creating dimension.
For example look at the rooster's tail.
Let's talk wet on wet technique. I used it to create breast and hackles sections. Be sure to watch this part in the video as it clearly demonstrates this technique.
Rooster's hackles and the comb sections have to be crusted before adding the read wattle.
Lastly, pipe the beak, eyes and outline with red royal icing.
TO MAKE ROOSTER COOKIES YOU NEED
ROYAL ICING CONSISTENCIES
Navy Blue (royal blue + black color, or use navy blue food color), green : 15 second consistency – to make the breast
Navy Blue and Green : 20 second consistency – tail feathers
Orange and Yellow : 15-20 second consistency – hackles, wet on wet wing, beak
Red : 20 second consistency – wattle, comb
Red : 15 second consistency – wing
Orange : piping consistency – legs
White, Black : 20 second – eye
Red : piping consistency – red wing outline
MORE ANIMAL COOKIES :
PIN IT for later
This post contains Amazon affiliate links that earn me a small commission, at no cost to you. I only recommend products that I use and love. Learn more about my affiliate policy here.