Chocolate Tart Shell Recipe
This easy-to-make Chocolate Tart Shell Recipe is perfect for making tart crusts and cut-out cookies.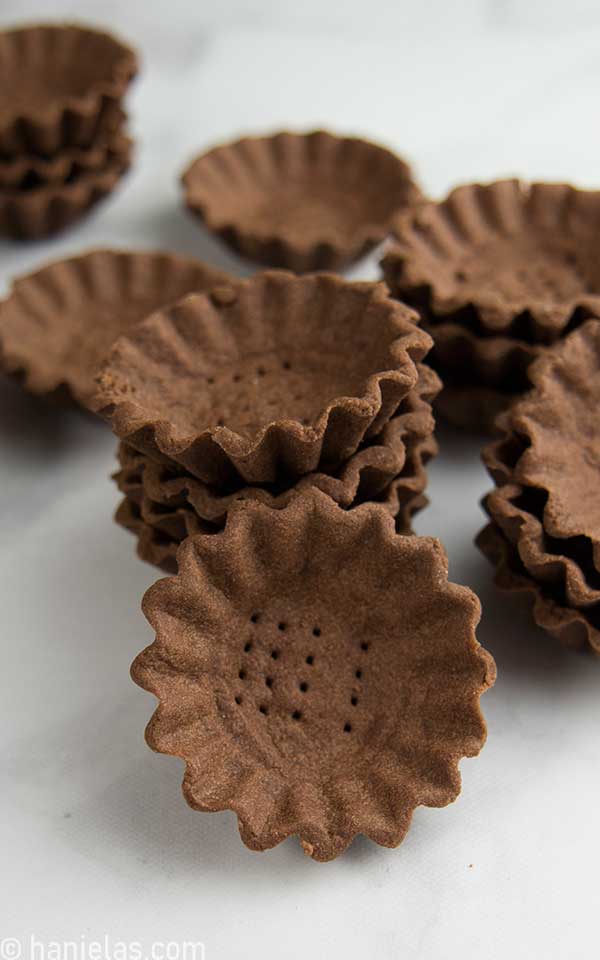 HOW TO MAKE CHOCOLATE TART SHELLS
I love bite-size desserts. And these mini tart shells are perfect for making finger food desserts.
Mark my words! Mini tart shell desserts are special little treats that will have your guest admiring your baking skills.
Freeze tarts shells for those last-minute parties or unexpected guests. An impressive dessert is only a few minutes away with already baked tart shells. Use whipped cream and fresh fruit for the filling.
INGREDIENTS
All-purpose flour
Unsweetened Cocoa Powder or Dutch Processed
Powdered sugar
Room temperature butter
Eggs (1 whole egg and 2 egg yolks OR 2 whole eggs)
Vanilla Extract
EASY CHOCOLATE TART SHELL COOKIE DOUGH
This easy-to-make chocolate cookie dough comes together quickly. To make the dough use a stand or handheld mixer. The process involves creaming room temperature butter with powdered sugar, and beating in egg and egg yolks. Yes, this recipe uses egg yolks and one whole egg. I love using egg yolks because they help make the cookie dough that bakes tender with a much sought-after melt-in-your-mouth feel. Don't you love that when cookies just melt in your mouth?!
I use good quality Vanilla extract and unsweetened cocoa powder to flavor the cookie dough. And dry ingredients are added last; at the lowest setting, beat flour, unsweetened cocoa powder, and salt into the butter (steps 1-8).
Gather chocolate dough into a ball and flatten it into a disk. Wrap it into a food wrap and refrigerate for 30 minutes to an hour and up to 3 days (steps 1-3).
CUT OUT ROUNDS
If the dough is too hard to roll, cut it in half and let it soften for 5-10 minutes. It shouldn't take long (steps 1-2). I roll the dough to 1/8 inch (3mm) when making mini chocolate tartlets. You can eyeball it, but I recommend using rolling guides to ensure even thickness throughout (steps 3-6). I make mini tart shells using small metal molds. I use 3-inch tart molds, and to cut out cookie rounds, I use a 3.5-inch cutter (steps 7-8).
SHAPE MINI TART SHELLS
Carefully pick up cookie cut out and start shaping the tart shells (steps 1-3).
Grease tart molds with nonstick spray. Gently press cookie round into the mold (steps 1-3). Place a piece of folded food wrap over the filled tart (steps 4). Use a second tart mold to shape the cookie layer inside of the first, bottom mold. Align the fluted edges with bottom, filled mold, and firmly but gently press the top mold into the bottom, filled one (steps 5-8).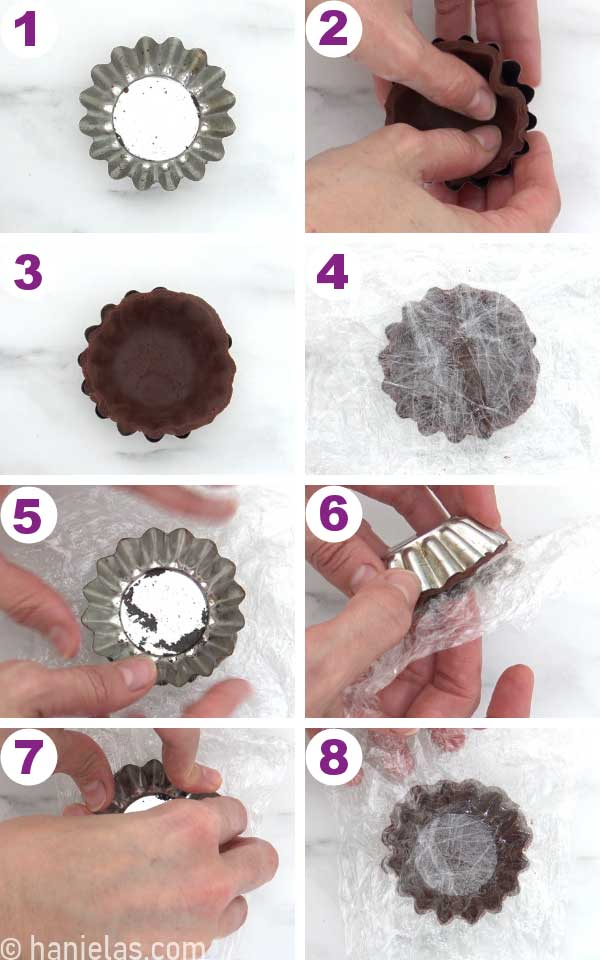 Remove the food wrap (step 1). When you press the mold into a cookie dough, it pushes some of the dough up the sides, and over the edge (steps 2-3). To remove the excess cookie dough, run a rolling pin over the edge and then with your fingers remove trimmed cookie dough pieces (steps 5-6). Place filled and shaped tarts onto a baking sheet (steps 7-8).
PRICK COOKIE DOUGH
To stop the cookie dough from puffing up while baking, prick the bottom with a fork (steps 1-3). Chill filled and shaped tarts for 10 minutes.
BAKE MINI TART SHELLS
I bake mini tart shells at 350F (180C) for 12-13 minutes. It's best to let baked tarts cool before attempting to unmold them.
You can use this chocolate tart shell cookie recipe to make larger tart shell. Follow the shaping and baking step in my recipe for Almond Tart Shell.
UNMOLD CHOCOLATE TART SHELLS
Turn cooled mold over. To release the tart shell, gently tap the edge of the mold on the surface, and the chocolate tart shell should pop out of the mold. Repeat with the remaining shells (steps 1-4).
CHOCOLATE TART FILLINGS
Look how pretty they look! If you are wondering what fillings to use with chocolate tart shells, here are a few ideas to get you excited about making your tart shells.
CAN LONG DO BAKED TART SHELLS LAST?
Baked shells can be stored in the fridge for up to a week. You can also freeze them for up to 3 months. Mini tarts, I freeze stacked in a freezer-safe container. 
Chocolate Tart Shell Recipe
Ingredients
CHOCOLATE TART SHELL RECIPE
1

cup

unsalted butter (2 sticks, 226grams)

1¾

cup

powdered sugar (210 grams)

2

egg yolks

1

whole egg

2

tsp

Vanilla Extract

2½

cup

all-purpose flour (360 grams)

10

tbsp

dark cocoa powder (60 grams)

1/2

tsp

salt
Instructions
CHOCOLATE TART SHELL RECIPE
Chocolate Cookie Dough
Into a bowl, sift or whisk together: all-purpose flour (2½cup, 360grams), cocoa powder (10 tablespoons, 60grams) and salt (1/2 teaspoon.)

On medium-high speed, beat butter (2 sticks, 226grams) and powdered sugar ( 1¾cup, 210grams) till fluffy, about 3-4 minutes.

Gradually beat in 1 whole egg and two egg yolks. Scrape down the bowl, and beat for 30 more seconds. Then beat in Vanilla Extract ( 2 teaspoons).

On low speed, in 3 additions, beat in flour-cocoa mixture. Scrape down the bowl and gather the dough into a ball with your hands.

Press the dough together into a ball and flatten it into a disk. Wrap well with food wrap and chill for 30 minutes and up to 2 days in the fridge.
Shape Mini Tart Shells or Bake Cookies
Roll the dough 1/8-inch thick. Spray mini tarts molds with nonstick spray—cut out cookie dough rounds and shape mini tarts. Prick the bottoms with a fork. I use 3-inch mini tart shells. To cut out rounds, I use a 3.5-inch cutter.

This cookie dough makes delicious cut-out cookies, too.
Bake Mini Tart Shells
Bake mini tarts at 350F (180C) for 12-13 minutes. Allow mini tarts to cool for 15 minutes before unmolding.
Notes
I don't have two egg yolks; can I still make the dough?– You can use one whole large egg instead of two egg yolks. FYI- Cookie dough doesn't bake as tender as when made with egg yolks.
How to make a larger tart shell? – If you're making large tart shells 6-12 inches, follow the steps in my recipe for Almont Tart Shell.
Can I freeze baked tarts? – Yes, you can freeze tarts for up to 3 months. Mini tarts, I freeze stacked in a freezer-safe container. 
What fillings do you recommend? – pastry cream with fresh fruit such as strawberries, blueberries, and raspberries. Fruit curds like lemon or raspberry curd topped with a swiss meringue swirl. Chocolate or fruit mousse. Drizzle over tarts using chocolate and caramel.