Mini Pink Lemonade Cheesecakes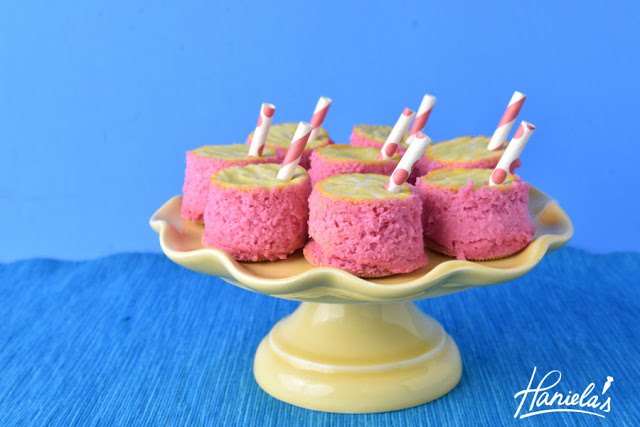 When it comes to lemon deserts I simple can't resist. I love sour sweet candies, pickles(yes I know not exactly a dessert but can't help not mentioning them as I just canned 32quarts) and of course lemon curd. Lemon curd, for me, is the queen of  lemon desserts, followed another favorite – lemon souffle.
Originally I was planning on making pink lemonade cake roll but I ran into some issues so for now I scratched it from the list. I may revisit the idea again in the future though. Not giving up on the general idea meant to look elsewhere. Today we are making Pink Lemonade Cheesecakes.
Pink Lemonade Cheesecakes (makes 12 mini cheesecakes)
STEP BY STEP VIDEO TUTORIAL
Lemon Curd
1cup granulated Sugar
6tbl unsalted butter
2egg yolks
2whole eggs
2/3 cup freshly squeezed and strained lemon juice
1tbl fresh lemon zest
In a bowl beat butter and sugar, gradually add eggs and egg yolks, gradually beat in lemon juice.
Pour mixture into a pot and heat over medium low heat. As butter melts mixture becomes smooth. Attach a candy thermometer.Stirring, wait the temperature to reach 170F or until lemon curd thickly coats the wooden spoon or spatula. Don't let it boil.
Remove from the heat and strain. Cover closely with plastic wrap and chill until cool.
Speed up chilling process : pour icy water into a large bowl, then slowly lower the bowl with covered lemon curd into the cold water, make sure water doesn't flow over into the lemon curd. Check the water frequently, keep it chilled by removing some water and adding ice chips or chilled water.
Pattern Batter for Lemon Slice
1/2cup all purpose flour
8 tbl powdered sugar
2  tbl room temperature butter
2egg whites at room temperature
splash of tsp vanilla extract
1 to 2 tbl water to thin the batter down, as needed, or use freshly squeezed lemon juice instead (optional, use if batter appears very dense and hard to pipe, spread)
You will need small parchment rounds, use metal disk from the mini cheesecake pan to cut out rounds.
Cream
butter, add powdered sugar, beat until creamy, add egg whites and beat
until incorporated, add vanilla extract and on low speed add flour. Divide batter into 3 portions. Color 2 portions with lemon, keeping one lighter than the other.
Pipe lemon slice pattern on the parchment rounds as shown in the video.Freeze for 10-15 minutes.

Cheesecake Batter/Filling
1/3 cup strawberry puree, process 1cup fresh, washed and dice strawberries in the processed in chopper, strain to remove seeds, add sugar if needed for sweetness
1 package cream cheese, at room temperature
1/2 cup granulated sugar
2eggs
1/4  plain Greek Yogurt, or sour cream
3tbl corn starch
Vanilla extract
Strawberry extract
Pink Food Color (optional)
1/2 cup lemon curd(recipe above)
Lemon Oreo Cookies, halved, filling removed
Beat cream cheese, add sugar. Gradually add eggs, yogurt, corn starch, vanilla and strawberry flavor. Lastly add strawberry puree.
Fill the Mini Cheesecake Pan
Spray the pan with non stick spray. Layer lemon slice pattern attached to the disks into the  mini cheesecake pan cavities.
Fill each cavity with 2 tbl of strawberry filling. Then add about a 1tsp of lemon curd, using a toothpick, swirl it around. Top it with additional strawberry filling.
Place an halved oreo cookie on the top. Bake at 325F for 20-22 minutes.
Remove from the oven. Cool and then refrigerate for 4 hours or overnight.
Gently push each cheesecake out, this is done by pressing onto the removable disk that is located at the very bottom of the pan.
Peel off the parchment paper and eat or you can complete them with a little straw, after all it is a pink lemonade cheesecake.
Here is a video how I made these cute little treat, video also includes how to make the lemon curd.