Asparagus Salad with Lemon Vinaigrette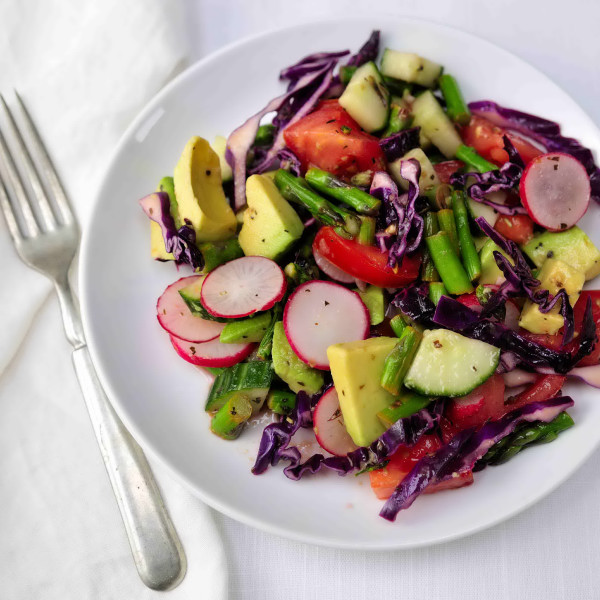 As you have probably noticed on a side of being generously obsessed with desserts, cakes and cookies I'm also a big fan of fresh meals, vegetables, and a well balanced diet in general, I love tasty salads, fresh sour sweet dressings, with lemon, garlic and basil, potatoes in skins, tomatoes and cucumber with feta cheese, zucchini, breaded cauliflower with cucumber salad, broccoli with nutmeg…
You should know I wasn't always this way, it was a rocky road for me to get where I am now, eating more balanced meals than 10 years ago; I was very close to being diagnosed with diabetes 10 years ago and it scared the hell out of me! Perhaps one day I'll share my journey of ups and down with you and what I'd learned over the years about food and what to eat and what to avoid.
Today I'm serving one delicious and a truly appetizing salad.
Lemon Garlic Honey Rosemary Spring Salad
Fresh Asparagus, about a pound or so,washed, bottoms trimmed and cut into 1 inch pieces
2medium size tomatoes, sliced
3 radishes, thinly sliced
1 1/2 cup freshly sliced cabbage, thinly sliced
1 ripe avocado
1/2 to 1 cup cucumber, quartered and sliced
Juice of one lemon, reserve one tbl for avocado
3tbl olive oil
2tsp honey or more if needed
1tsp dry rosemary
2cloves of garlic, diced
1/2tsp of dijon mustard
pepper to season
1/2tsp dry basil
In a small dish whisk together, lemon juice, olive oil, honey, rosemary, garlic, mustard salt pepper to taste
pour marinade over asparagus, let sit for 10 minutes
Cook marinaded asparagus in a skillet, cook on medium high heat, stirring, give it only a few minutes if using freshly picked asparagus, store bought may take a little longer, you are looking for fork tender asparagus not mushy, little crunch is fine too
Remove asparagus from the heat and let cool slightly
In a large salad bowl combine together radishes, cabbage, cucumbers, add slightly cooled asparagus, add tomatoes, stir gently, add 1/2tps dry basil and stir again, season to taste if necessary.
Now get ready avocado, you can do slices or large chunks, pour reserved tablespoon over fresh avocado and add it to the salad, gently stir
Serve with fish, meat, alone or with a piece of good bread.