Chocolate Brownie Raspberry Mousse Tart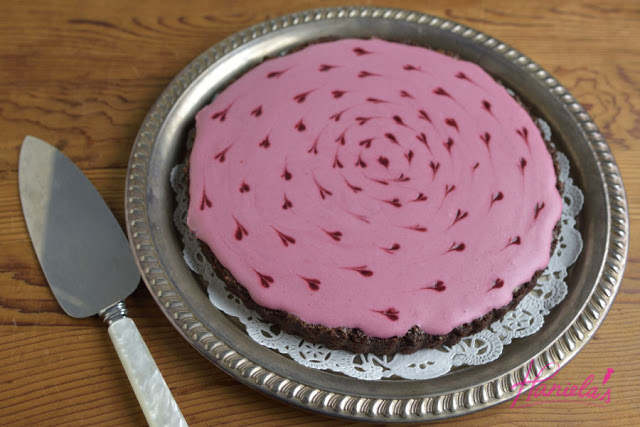 I like a lot of desserts chilled and this brownie raspberry mousse tart is no exception. If you prefer desserts at room temperature let the tart sit our for about 20-30 minutes before serving. I used a lighter recipe for the brownie base to cut some calories and a creamy raspberry mousse for the topping. I prefer using egg whites and whipping or heavy cream when making the mousse. I like how whipped meringue makes the mousse light and airy. Combination of the 2 flavors makes for a scrumptious dessert that is suit for any day.
BROWNIE RASPBERRY MOUSSE TART (step by step Video Tutorial)
1 cup flour
1/2 cup unsweetened cocoa powder
1/4tsp salt
1/3 butter or butter substitute (I used Nuviva Shortening, blend of red palm and coconut oils)
1/3 cup chocolate chips
1cup granulated sugar or use Pure Cane Sugar
1/4 cup low fat milk, or use almond milk, or 1/3 cup Greek yogurt
2 egg yolks
1 whole egg

Bake at 350F for 20 minutes or until toothpick inserted in the center comes out clean.

Raspberry Mousse
1 lb frozen raspberries
1/2 cup granulated sugar or pure cane sugar – I used Zulka Morena Pure Cane Sugar
juice of 1/2 lemon
1tbl gelatin

2 egg whites
pinch of salt
1/2 cup granulated sugar or pure cane sugar

1/2 cup heavy cream

Cook raspberries with lemon juice and sugar until soft, process in the blender until smooth, strain through a fine mesh sieve. Reserve few tablespoons. Set aside to cool. Sprinkle gelatin over remaining puree, stir gently, let gelatin bloom 10 minutes.

Over the the pot of simmering water whisk egg whites, sugar and pinch of salt, until all the sugar is dissolved, mixture should be hot to the touch. Beat on high until stiff peaks are formed.

Beat heavy cream until stiff peaks are formed.

Microwave fruit puree for about 10 seconds, until gelatin is dissolved. Let cool to room temperature. Gradually fold in all of the meringue and whipped cream.
Pour over cooled brownie base. Chill until set, 4-10 hours.
Tools
Tart pan