Pancakes anyone? Let me share with you how to make Steel Cut Oats Pancakes. These fluffy hearty pancakes make for delicious breakfast but I really don't mind eating them for dinner either.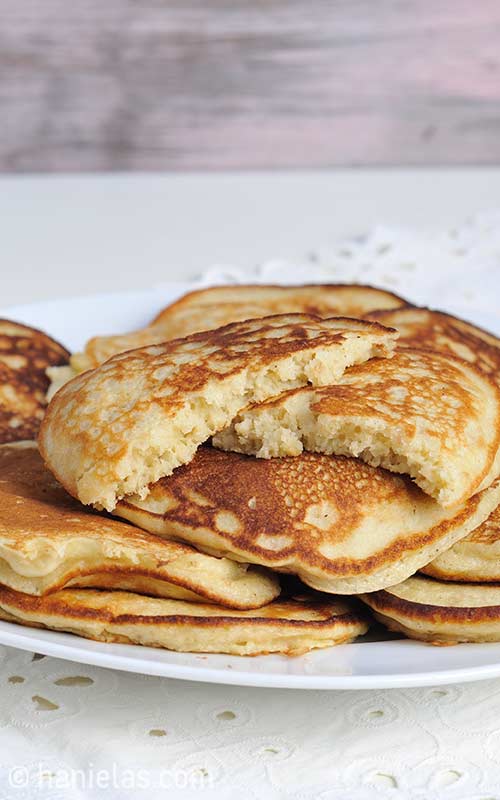 updated post from 2015
HOW TO MAKE STEEL CUT OATS PANCAKES
These hearty oat pancakes are absolutely delicious. And to make them you need Steel Cut Oats.
Preparing steel cut oats itself can be time consuming but using an easy pre-soaking method makes it a breeze to prepare steel cut oat pancakes in the morning.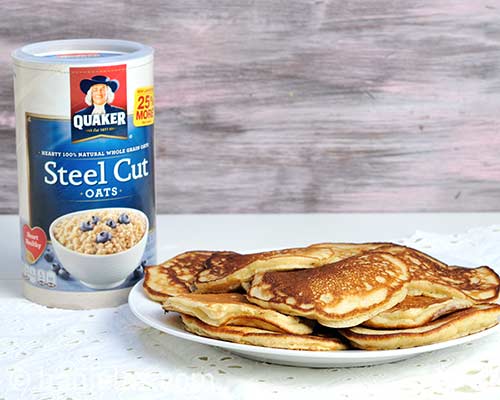 STEP 1 – PREPARE STEEL CUT OATS
To prepare steel cut oats you can either cook them on the day you make the pancakes. However you need about 25-30 minutes to cook them on the stove top. Second option is my preferred option. You can soak them overnight. Process is pretty simple and requires little time, 3 to 5 minutes.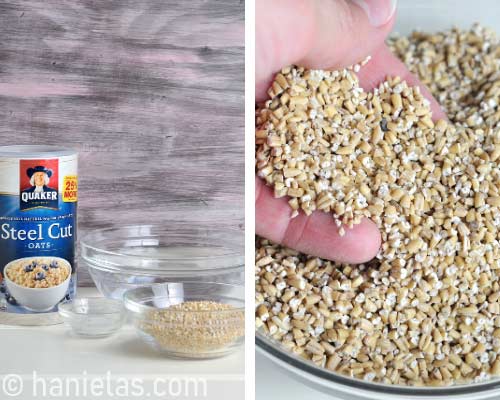 Bring water to boil add little bit of salt. To the boiling water add uncooked steel cut oats. Cook for 1 minute. Remove from the heat, cover and let sit overnight on the counter. That's it. Next day enjoy the oats for breakfast. Store soaked quick oats in the fridge.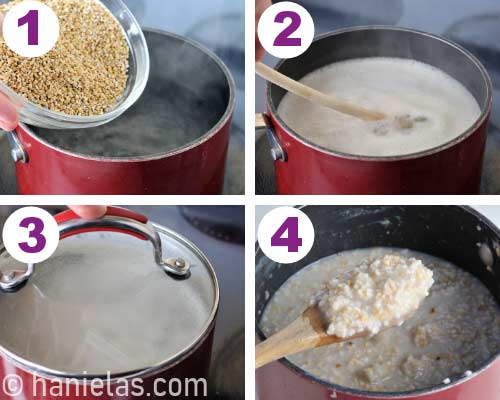 STEP 2 – INGREDIENTS
Soaked/Cookies Steel Cut Oats
All Purpose Flour
Baking Soda
Salt
Cinnamon (optional)
Milk
Yogurt
Coconut Oil ( or use melted butter, other oil)
Lemon Juice ( or use vinegar)
Honey (or use sugar)
Eggs
Vanilla Extract
Grated Fresh Ginger (optional)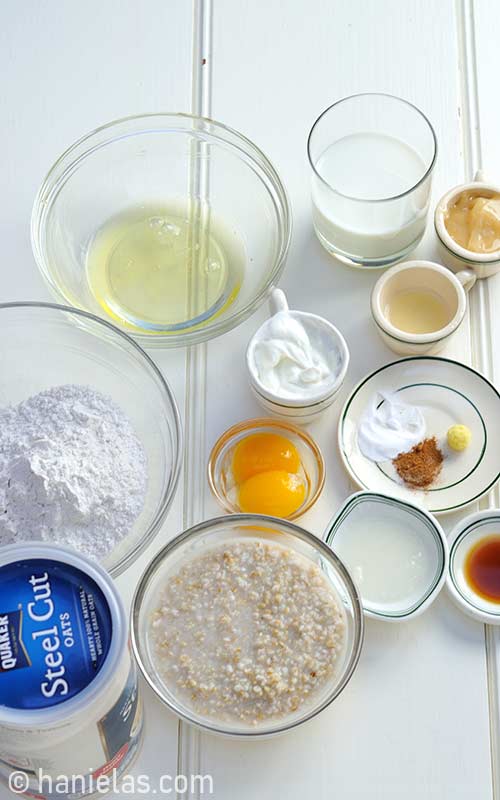 STEP 3 – MIX DRY INGREDIENTS
In a bowl whisk together dry ingredients : flour, baking soda, salt and cinnamon. I like adding cinnamon as it add extra sweetness and subtle flavor without being overpowering. You can omit it if you are not a fan of cinnamon.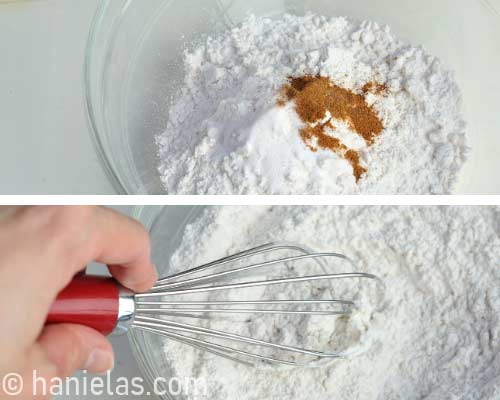 STEP 4 – COMBINE WET INGREDIENTS
I wanted to make sure that cooked steel cut oats pancakes were fluffy and light. To get the job done I employed egg whites, lemon juice and baking soda.
First, with a hand held mixer I whipped egg whites into a soft meringue with stiff peak. When beating plain egg whites they will whip fairly quickly. Try not to over beat them. You want meringue to be smooth not grainy, (step 1).
Then into a large bowl add milk, egg yolk, Greek yogurt, coconut oil, honey, lemon juice, vanilla extract and grated ginger if using. Whisk or us hand held mixer mix wet ingredients till blended well together, (step 2-3). Then you can add cookie steel cut oats. Stir well, (step 4-5).
TIP : For the best results use room temperature ingredients. Bring milk, eggs, yogurt to room temperature before preparing pancake batter.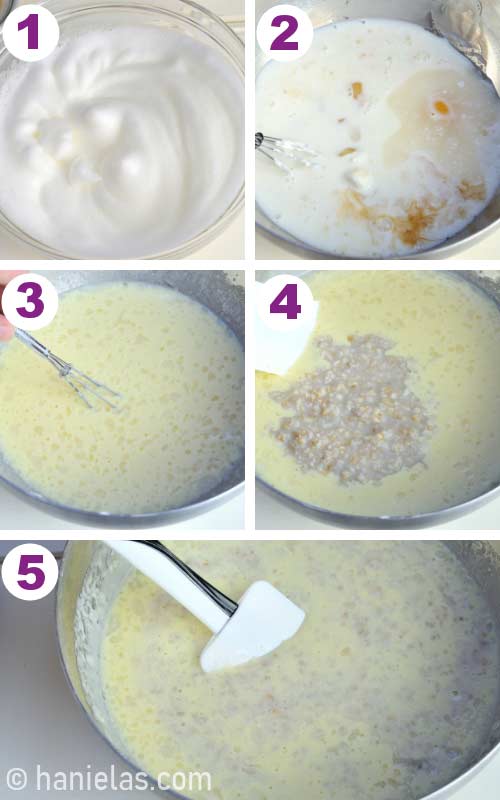 STEP 5 – PANCAKE BATTER
You should have 3 bowls :
Steel Cut Oat Batter
Meringue
Flour Mixture
Into the steel cut oats batter gradually fold flour mixture alternating with meringue. Try not to stir the batter as it will deflate meringue, (step 1-5). Pancake batter is thick and easy to work with, (step 6-8).
STEP 6 – COOK PANCAKES
Heat the skillet on medium-high, add ¼ tsp of coconut oil or butter. Measure 1/3 cup of steel cut oat pancake batter and pour into a hot skillet. Gently spread the thick into a 5-6 round. Cook for 2 minutes then flip the pancake with a spatula and cook for additional 1 minute, until golden brown. Repeat.
TIP : 1/3 cup measure yields about 5-6 inch pancake. If you want smaller pancakes use ¼ cup measure. And for mini pancakes use 2 tablespoons of pancake batter.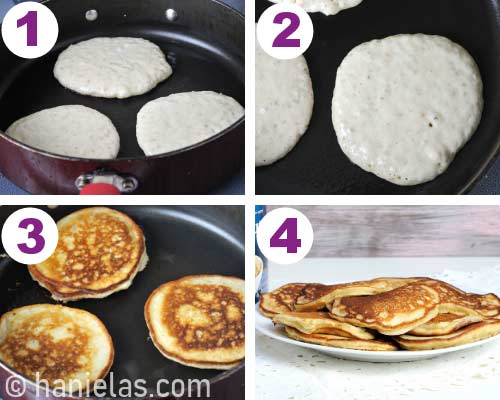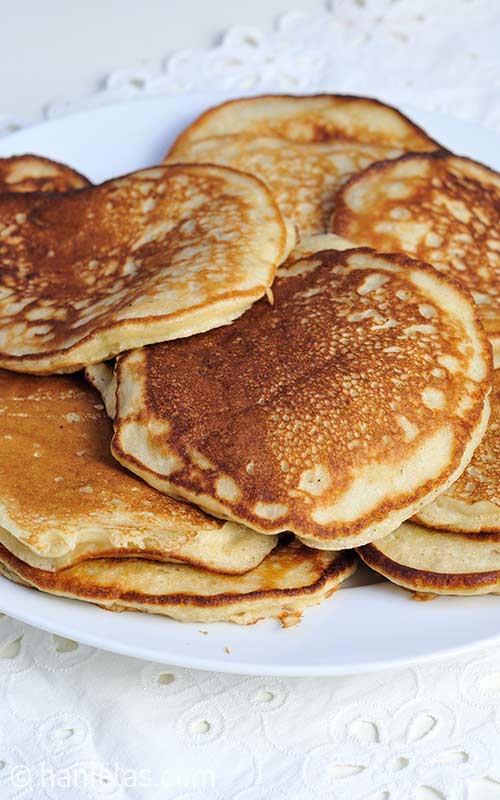 CAN I FREEZE COOKED PANCAKES?
Yes, you can freeze steel cut oats pancakes. First, layer them onto a freezer safe tray lined with parchment. Freeze them for one hour. Once solid, slide frozen pancakes into a freezer safe container or into a Ziploc bag. Freeze for 1-2 months. Allow to thaw and reheat. Or reheat in small batches in the microwave, don't over crowd the plate. 2 pancakes per lunch size plate is plenty.
PANCAKE TOPPINGS
Use your favorite toppings. Here are few ideas to get you inspired
Maple Syrup
Peanut Butter & Banana
Chopped Strawberries & Banana
Nutella or other Nut Free Spread
Peanut Butter & Jelly
Jam and dipped in ground walnuts
Cinnamon Sugar & Butter
Mashed Banana & Nuts
Apple & Cinnamon
Blueberries & Maple Syrup
Raspberries & Chocolate Shaving
TO MAKE PANCAKES YOU NEED
TOOLS
Find all tools in my Amazon Shop
Hand Held Mixer
Mixing Bowls
Spatula
Measuring Cups & Spoons
Steel Cut Oats
Pancake Griddle or Skillet
MORE RECIPE WITH OATS :
Steel Cut Oat Pancakes
Makes 10 large pancakes 5-6 inch round pancakes. Cooked pancakes freeze well, too.
2 pancakes per serving
Ingredients
STEEL CUT OATS
1

cup

Steel Cut Oats

4

cup

water

1/2

tsp

salt
STEEL CUT OAT PANCAKES
1

cup

steel cut oats, soaked overnight/cooked

1 1/2

cup

all purpose flour

1/2

tsp

baking soda

1/2

tsp

cinnamon

pinch of salt

2/3

cup

milk

1/3

cup

non fat Greek yogurt

2

eggs, separated egg yolks and egg whits

3

tsp

freshly squeezed lemon juice / or use vinegar

1

tbsp

coconut oil

3

tbsp

honey

1/2

tbsp

freshly zested roof of ginger

(optional)

1/2

tsp

Vanilla Extract

more coconut oil to cook pancakes
Instructions
STEEL CUT OATS
Pour water (4 cups) into a medium size sauce pan, add salt (1/2tsp). Bring water to boil. Pour in uncooked steel cut oats (1cup). Cook for 1 minute. Watch it closely, it can overboil if you let it without supervision. After 1 minute remove from the heat, cover and let sit on the counter overnight.
STEEL CUT OATS PANCAKE BATTER
In a bowl whisk together flour ( 1 cup and 1/2 cup), baking soda (1/2tsp) and salt (pinch), set aside.

Separate 2 eggs. Add egg yolks to one bowl and into another bowl add egg whites (2). Beat egg whites with a hand held mixer until stiff peaks are formed. Don't beat till meringue looks grainy, meringue should be smooth.

Into a bowl with egg yolks (2) add milk (2/3 cup ), freshly squeezed lemon juice or vinegar (3tsp), non fat Greek yogurt (1/3 cup ), egg yolks (2), honey (3 tbsp), grated fresh ginger (1/2 tbsp -optional), coconut oil (1 tbsp) and Vanilla Extract (1/2 tsp). Use a whisk or hand held mixer to combine all the ingredients until well blended together.

Fold soaked steel cut oats (1 cup) into the egg yolk mixture.

Into the egg yolk- steel cut oats mixture gradually fold in flour mixture alternating with meringue. Pancake batter will thick. Now you are ready to cook the pancakes.
COOK PANCAKES
To cook pancakes heat a skillet or a griddle. Add a small amount of coconut oil or use other oil, butter etc.

Use a brush to spread the oil if needed. Heat it up to medium-high and then drop 1/3 cup measure of pancake batter onto the heated pan. Pancake batter is thick, gently spread it with a back of the spoon. Cook on medium heat for 2 minutes then flip and continue cooking for additional 1 minute. Slide a spatula under cooked pancakes and transfer it onto plate. Repeat until you you are done will all of the pancake batter. Enjoy plain or with your favorite topping.

TIP – 1/3 cup of batter makes about 5-6 inch pancakes
Notes
CAN I FREEZE COOKED PANCAKES?
Yes, absolutely. Freeze cooked pancakes first in one layer on a flat freezer safe tray/baking sheet lined with parchment. Freeze for about an hour. Once frozen, slide all the pancakes into a freezer safe container or a freezer safe ziploc bag. Freeze for up to 1-2 months.  Allow to defrost and reheat in the microwave at 50% power.
CAN I USE SUGAR IN PLACE OF A HONEY?
Sure, you can use sugar.
This post was originally published on January 12th, 2015. On May 19th, 2020 I updated this post with new photos and written text.
This post containsThis post contains Amazon affiliate links that earn me a small commission, at no cost to you. I only recommend products that I use and love. Learn more about my affiliate policy here.