When you are a cookie decorator you see cookie designs everywhere around you. Just the other day I picked up a sweet, juicy and fragrant melon at the local farmer's market. And naturally I made Cantaloupe Cookies decorated with royal icing.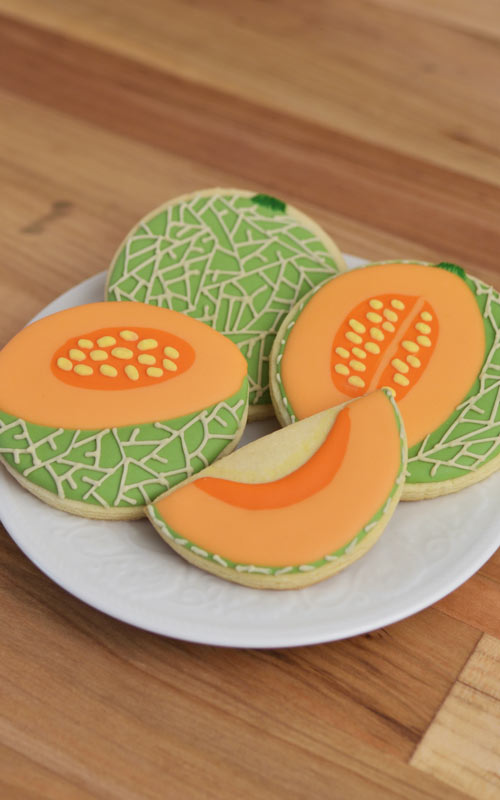 This updated post from 2017 shows how to decorate cantaloupe cookies also known as rockmelons, sweet melons, spanspecks, muskmelons or a persion melons.
Interestingly enough this sweet melon belongs to a gourd family, just like squash, zucchini and cucumbers. So it is a vegetable, even though it's referred to as sweet fruit. Who knew?
CANTALOUPE COOKIES
Today I'm going to show you how to decorate North American Cantaloupe. Yes, there is also an European Cantaloupe type.
Bellow you'll find 4 Cantaloupe cookie designs. For this project I used basic Sugar Cookies but you can definitely use other Cookie Cut Out Recipes (including Vegan, Gluten Free, Soft, Chocolate, Gingerbread or Honey Cookies) for decorating as well.
I used Fresh Lemon Royal Icing to decorate. That being said if you have egg allergies or follow a special diet you can make Vegan Royal Icing instead.
Yield: 15 Cantaloupe Decorated Cookies
Cantaloupe Cookies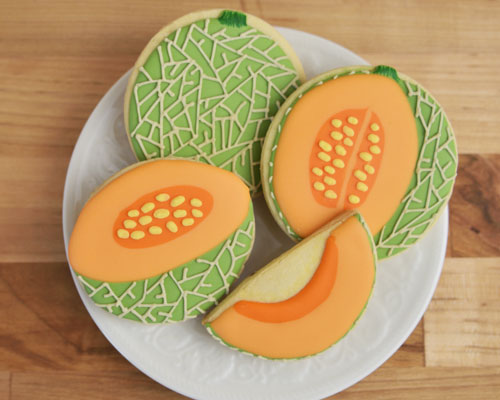 Cantaloupe Sugar Cookies decorated with royal icing.
Materials
Baked Sugar Cookies
Royal Icing
Icing Colors : light and dark orange, light green, tan, yellow
15 second consistency royal icing : light and dark orange, light green
Pinging consistency : tan, yellow
Tools
Round Cookie Cutter
Needle Tool
Food Colors
Green Edible Marker
Light Brown Marker to draw guides on cookies as needed
Instructions
In this Cantaloupe Cookie design my goal was to replicate net-like peel you see on a real North American Cantaloupe melon.
Start by flooding a round cookie with light green 15 second consistency royal icing. During this step you can also make the stem. However, this is totally optional and you can skip this detail if you wish. Let the icing dry.
Then with a tan colored royal icing piping consistency pipe the reticulated peel. Make straight lines. To accentuate the stem I used a green edible marker.
Design shows a cut cantaloupe cut across.
I cut out a round cookie and then I trimmed one side with a larger round cutter.
Start with 15 second consistency light orange royal icing.Then pipe darker orange royal icing (also 15sec. icing) in the center. Let it crust.
Finish design by piping seeds with yellow, piping consistency royal icing ( or use slightly thinner than piping). Then pipe the net-pattern on the green with tan colored royal icing.
Cantaloupe Cookie design shows a melon cut lengthwise.
Ice the round cookies with green, make the stem.
Then use light orange 15 second consistency royal icing Smooth the icing with a needle tool.
While light orange is still wet add darker orange center, don't overfill the cookies with icing.
Use light orange and pipe it across the middle of the dark orange center. This will create a separation between 2 orange sections.Let the icing dry.
And then finish by piping the seeds and the net pattern, just like in the previous design.
Cantaloupe Slice Cookie
To create this cookies shape cut a round cookie in half before you bake it.
Start by piping with green 15 second consistency royal icing. Then use a light orange icing and finish flooding with dark orange. Use a needle to shape and smooth the icing while icing is wet. Let dry.
MORE FOOD COOKIES :
TO MAKE SWEET MELON COOKIES YOU NEED
RECIPES
TOOLS
USEFUL TUTORIALS
PIN IT for later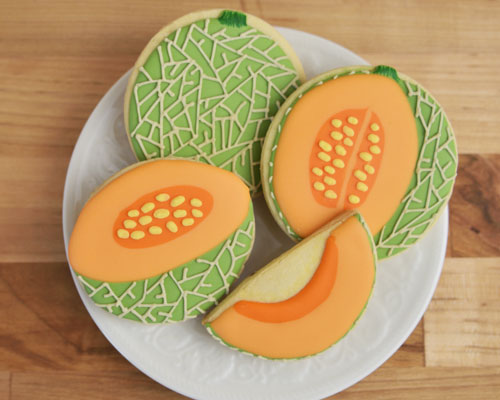 This post containsThis post contains Amazon affiliate links that earn me a small commission, at no cost to you. I only recommend products that I use and love. Learn more about my affiliate policy here.