This Construction Gingerbread Cookie Dough is perfect for making long term display gingerbread decorations and gingerbread houses. I've been using it for years. Often keeping finished pieces for up to 2 years.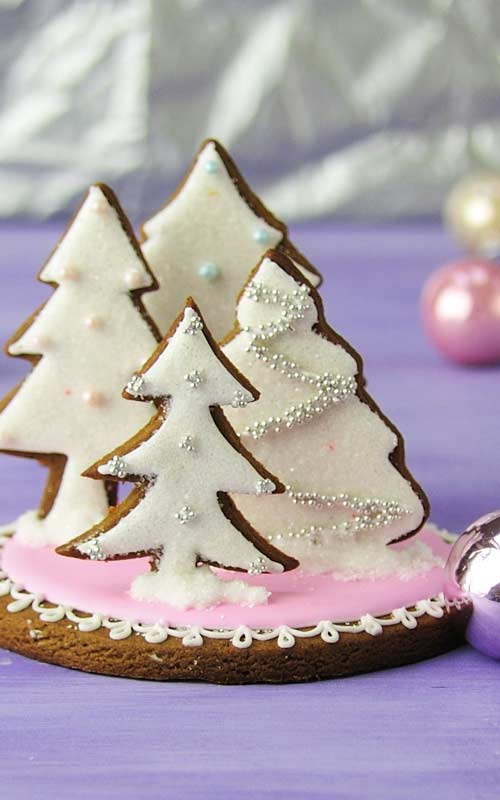 CONSTRUCTION GINGERBREAD COOKIE DOUGH
I use this basic Construction Gingerbread Cookie Dough Recipe for all my display gingerbread houses, 2D centerpieces and Christmas ornaments.
I've put together an ultimate guide on how to use this gingerbread cookie dough for variety of cookie projects. Let me show you how to make pretty things out of gingerbread.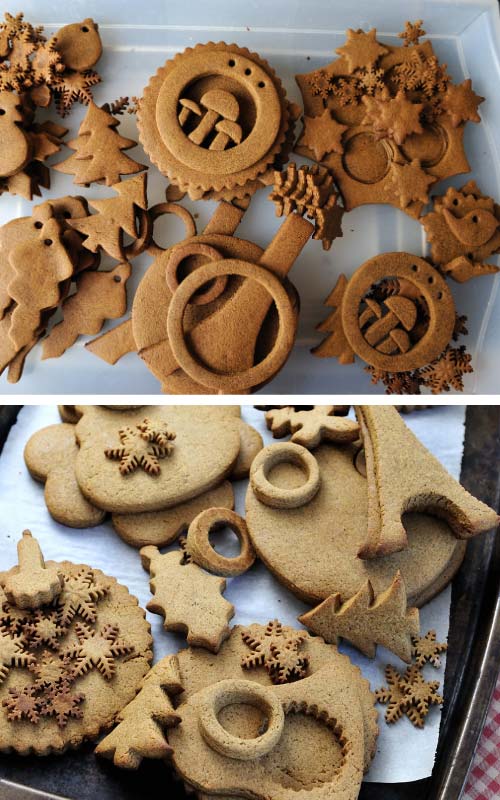 This fragrant cookie dough doesn't have any leavening agents and it doesn't spread during baking. It's especially important when making gingerbread houses or other complex structures that require precision.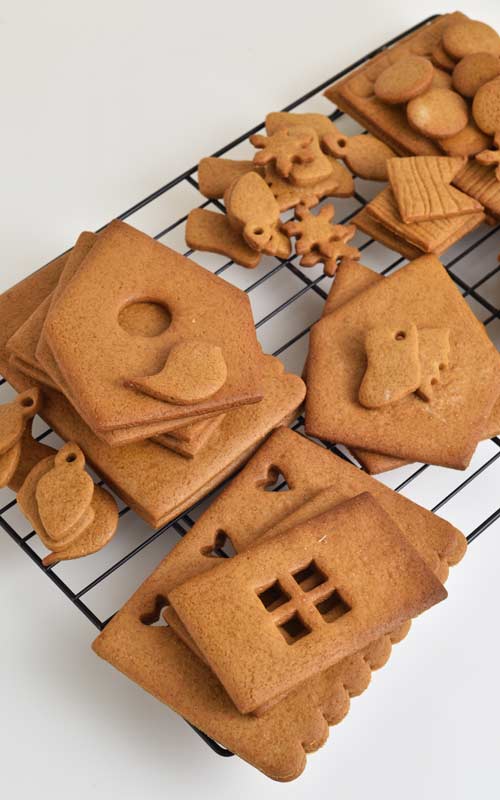 For years I've been making Christmas tree ornaments, festive centerpieces, gingerbread houses, advent candle decorations and decorated cookie wreaths using this recipe.
COOKIE DOUGH INGREDIENTS
Flour
Spices : ground cinnamon, ginger cloves, pepper, ground chili flakes(optional)
Sugar
Molasses or Dark Corn Syrup
Egg
Margarine or Vegetable Shortening ( I don't use butter as it's expensive and for gingerbread decoration that is not meant to be eaten I prefer to use cheaper alternatives)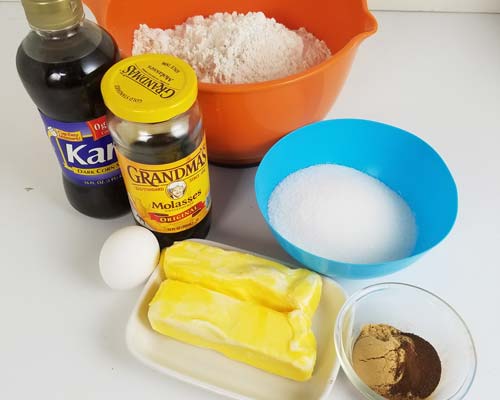 FLOUR AND SPICES
I like to use fragrant spices in my construction gingerbread cookie dough. And I use them for couple of reasons.
I love the smell and a beautiful aroma lingering around the house. It's perfect for holiday season. By all means you can omit the spices if you wish.
Spices can also help keep pests away. This might a good idea to consider, especially if you plan on displaying or keeping your decorations for an extended period of time. Cinnamon and cloves have been known to repel ants.
Into a large bowl sift or whisk together all purpose flour and spices. Set aside.
MIXING COOKIE DOUGH
On medium high speed beat margarine and sugar until creamy, about 5 minutes. Then beat in one whole egg until well combined, 30 seconds to a minute. Scrape down the bowl and continue beating. Then lower the speed to medium low and gradually pour in molasses or dark corn syrup. Beat well until combined, about a minute. Lastly, gradually beat in flour mix in 3 additions.
You can use Molasses or Dark Corn Syrup or a combination of both. Spray a measuring cup with a nonstick spray. Pour in the molasses. Nonstick spray coating helps to release sticky molasses out of the cup.
Dump the fresh dough onto a lightly floured work surface or into a large bowl. I always use a bowl I had the flour in. Knead it with your hands for about 30 seconds till it comes to a ball. If it appears too sticky sprinkle up to ¼ cup of flour over it and knead it in.
Shape the dough into a disk. Wrap it in a plastic food wrap and chill for several hours and up to overnight. Dough will keeps in the fridge for several days. Up to 3-4 days. It starts to dry out slowly if kept for longer. Freeze for up to 3 months.
HOW TO ROLL OUT COOKIE DOUGH FOR GINGERBREAD HOUSES
Employ rolling guides to evenly roll out cookie dough. Rolling guides come in different sizes. I like to use ¼ inch or 1/8 inch rolling guides.
I use thicker guides to make cookies for small centerpieces. It's easier to glue thicker cookies onto the base
And thinner guides to make house panel cookies for gingerbread houses.
Cut the cookie dough disk in half and work with half of the dough at a time.
Roll the cookie dough between 2 sheets of parchment paper. Lightly dust parchment with flour to prevent cookie dough from sticking. On each side of parchment sheet place one rolling guide. In the picture below I used painters sticks (1/8 inch/3mm thick) from a hardware store.
When rolling out cookie dough for gingerbread house panels I like to use a large rolling pin (20 inch long). This way I can roll out wide and long piece of cookie dough at once. It allows me to cut out more house panels from one piece of a cookie dough.
Remove top layer of parchment, leaving bottom parchment. With a pastry brush dust off flour residue from the cookie dough. Cut out large house panels first. Such as front and back, roof and sides. Calculate about 1/2 inch space between cookies. Remove scraps and slide parchment with house cut outs onto a baking sheet. Don't handle large cookie cut outs. Don't try to move them as they will go out of shape.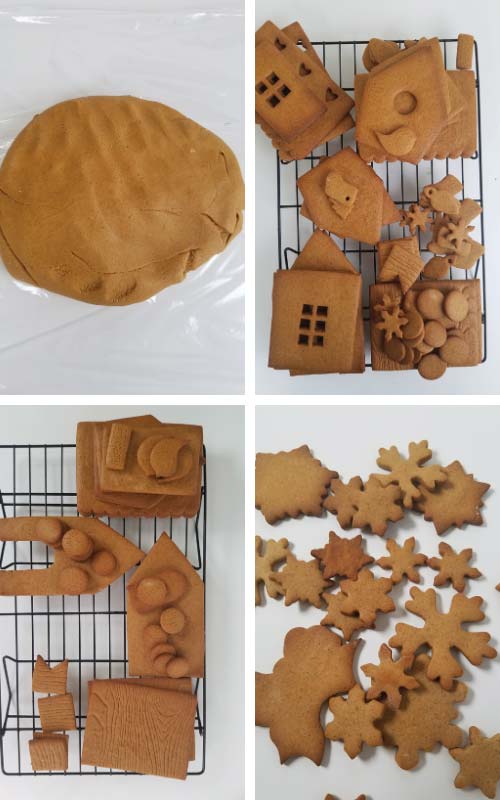 USING COOKIE CUTTERS AND TEMPLATES
To cut out gingerbread house panels you can utilize cookie cutters and/or templates.
COOKIE CUTTERS
When using cutters be sure to put enough pressure on cookie cutter so it cuts all the way through the cookie dough.
If you have small cutters use these mini cutters to cut out window panels, doors and other shapes as desired. To make small window panes use small square cookie cutter. Or get creative, use rounds, hearts, stars, rectangles. It's a gingerbread house, who says it can't have star shaped windows.
For easier cutting dust cutters with a little bit of flour.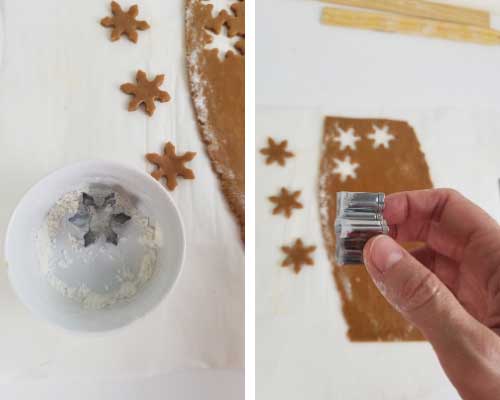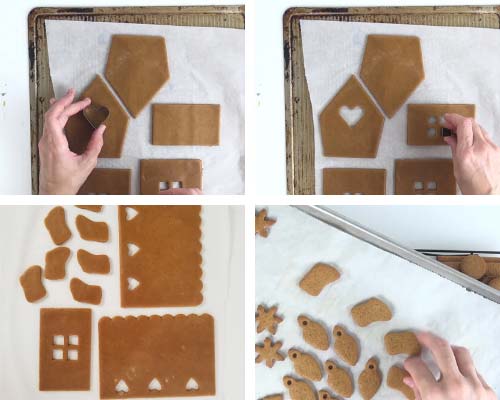 GINGERBREAD HOUSE TEMPLATES
If you don't have gingerbread house cookie cutters you can easily use templates instead. Print the templates. Trace the house panels onto a card stock or a plastic sheet. Cut the templates with scissors or and exacto knife.
You can find tall gingerbread house template in my Harry Potter Gingerbread House Tutorial
CUTTING OUT HOUSE PANELS WITH A BENCH SCRAPPER
Use a bench scrapper or a small ruler to cut out house panels with long straight edges. Dust the bench scrapper edge with a little bit of flour to prevent sticking.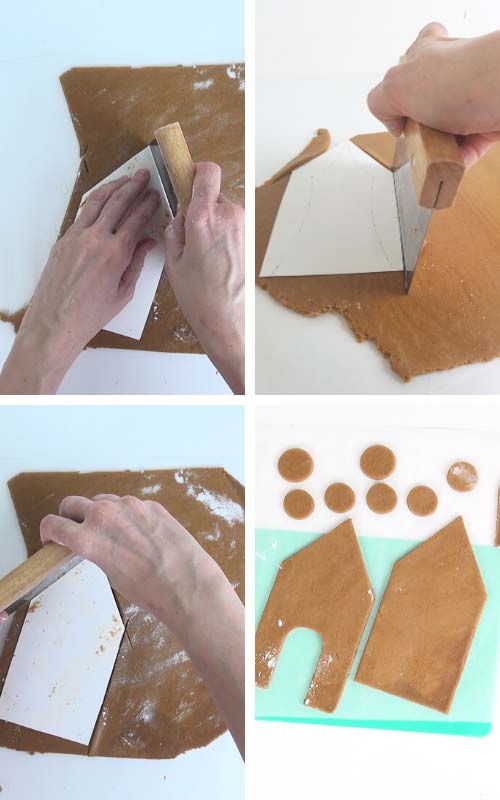 USING EXACTO KNIFE|PEN BLADE
To cut out unusual shapes such as doors you can also use an exacto knife/pen blade. When using knives I like to slide a plastic sheet (green sheet in the picture below) underneath the parchment to protect my work surface/baking sheet.
When cutting out shapes with an exacto knife or a pen blade it's best to chill rolled out cookie dough for 10-15 minutes. Chilled dough is easier to cut with a knife/pen blade.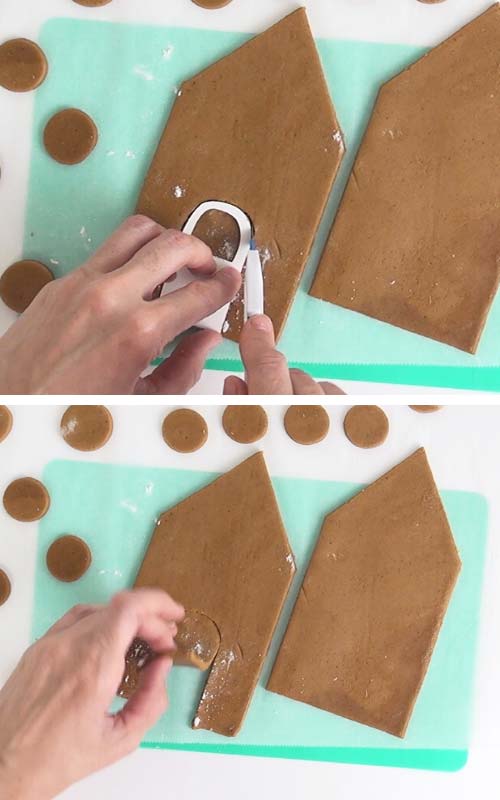 BAKING CONSTRUCTION GINGERBREAD
I bake construction gingerbread at 350F. I bake these cookies until no longer shiny in the center and till the edges are golden brown.
Bake large panels for about 16 – 20 minutes, till golden brown around the edges and no longer shiny.
Smaller cookies take shorter time to bake, 10-12 minutes.
Bake molded and shaped pieces just like you would bake flat pieces. Let molded pieces cool completely before handling.
Cookies after they are baked and cool should give a knocking noise when you tap on them.
If you live in a humid area I recommend drying out cookie panels a bit more. After their 1st bake, continue baking panels at l75F-200F for 30 minutes.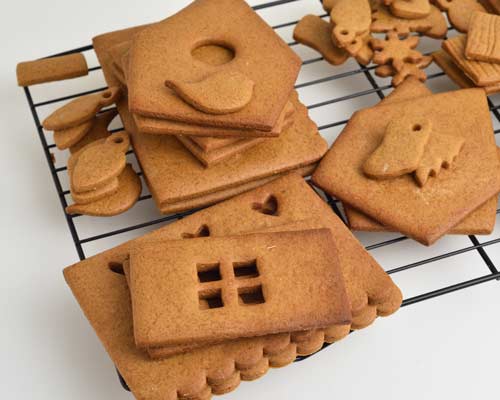 HOW TO BUILD A GINGERBREAD HOUSE
Now that you've got your house panels baked and cooled you can build a gingerbread house.
You can build a house before you decorate or you can first decorate each house panels and then build the house.
Assemble after you decorate.
If you plan on decorating each house panel with royal icing. Using flooding technique and piping delicate patterns it is best to decorate cookies first and then build the house.
Assemble before you decorate
If you are using candies, chocolates and other edibles to decorate I'd suggest to build the house first and then use thick royal icing to glue the decorations onto the house.
Here is an example – Edible Simple Gingerbread House.
This route is especially practical if you are for example having a gingerbread house decorating party. Your gingerbread house is already built and you can just have fun decorating it with candies, sprinkles and such. Ultimately this is totally up to you.
Also if your rather make a basic house that you can later nibble on. I'd recommend my Honey-Gingerbread Cookie Dough instead of construction gingerbread cookie dough. Difference is that honey cookie dough bakes very slightly domed.
I usually decorate my house panels before assembling the house.
It looks something like this before I glue the house panels together.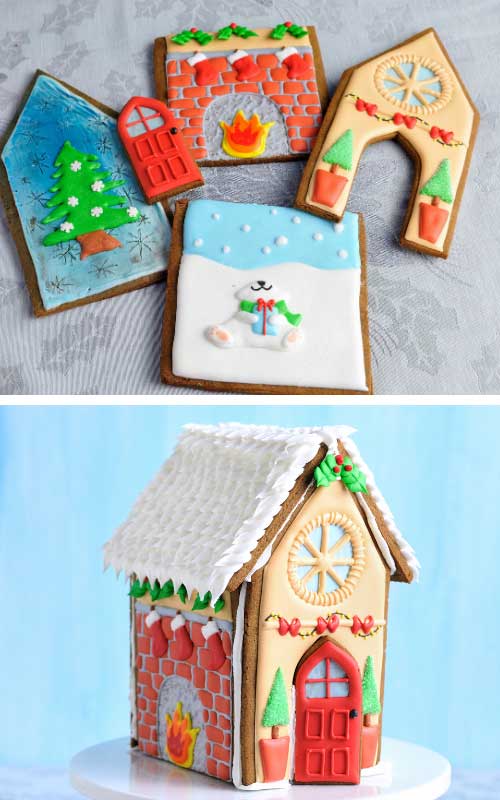 After base is glued and set then I attach the roof.
GINGERBREAD HOUSE GLUE
To glue cookies together you can use 2 edible mediums.
Royal Icing
Melted Sugar/Caramel
My preferred choice of glue to use for Gingerbread houses and decorations is Royal Icing. It creates a strong bond that can last for years.
I've tried using melted sugar on several occasions. Melted sugar bond is pretty much instant. It works well with small centerpieces and such. However for a gingerbread houses and long term displayed projects I prefer royal icing. I find melted sugar can be slightly temperamental and I only use it for projects that don't require long term display (months).
ROYAL ICING GLUE
Royal Icing – can be prepared using my Fresh Lemon Royal Icing Recipe. Be sure to use thick royal icing to glue gingerbread house panels. Royal icing doesn't harden instantly, it takes time for it to dry. This quality gives you a little more time to adjust house panels and angles of house panels as needed.
Royal icing takes 6-8 hours and up to 12 hours to fully dry. Thicker application of icing will take longer to dry. Allow this time for the icing to dry completely.
Glue Royal Icing consistency is also very important. Icing should be stiff but not too stiff. If you are using icing that is too stiff it won't stick to the panels and because of it there will be a weak bond. It should be medium stiff, with a peak that bends slightly.
It is best to glue the gingerbread house in steps. First I assemble the base house panels (front, back and sides). If the house has a chimney I assemble the chimney. I let my base dry for 4 – 5 hours. Then I glue on the roof panels and let the house dry overnight.
It is also a good idea to support house panels while icing is drying with small bottles or skewers. This ensures that panels are not leaning one way or another and roof is not sliding down.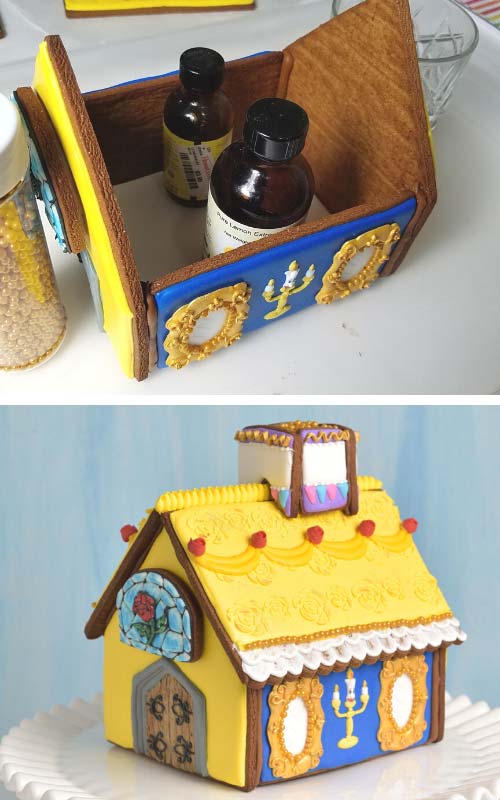 When making Mermaid Gingerbread House I attached undecorated roof panels onto the house base. Allow icing to fully dry.
MELTED SUGAR/CARAMEL
Melted sugar/caramel creates a strong bond instantly. I find this method very effective and useful for certain projects but it is not without disadvantages. Because the bond is pretty much instant there is literally no room for error when aligning the panels.
In a humid climate, overtime melted sugar glue will start to weep.
Prepare Melted Sugar Glue – pour 3 – 4 cups granulated sugar into a heavy stainless steel pot. Heat on medium heat until sugar is completely melted. Keep an eye on it as it will start to caramelize quickly.
Using Melted Sugar / Caramel – Dip the edge of the house panel into melted sugar. Immediately take connecting house panel and connect it onto the edge of house panel dipped in melted sugar. Keep in mind to keep 90 degree angles between wall panels. Sugar hardens pretty much instantly so you need work fast. And with precision.
Adult supervision required – When working with melted sugar it is important to be careful. Melted sugar is hot. Don't burn yourself.
I used melted sugar to glue my tree centerpiece onto the base.
HOW TO DECORATE THE ROOF?
When it comes to decorating the roof you can make it as simple as spreading thick royal icing over the roof panels. Dust it with sanding sugar, sprinkles or leave it plain. Or you can use piping tips. Such as leaf, petal, start tip to decorate the roof. Or use candies, cereal, chocolates and so on.
To make roof shingles on my Nightmare Before Christmas House I first made textured royal icing transfer. Then I broke up dry royal icing sheet into pieces and glued shingles onto the roof.
In my Snow White and Seven Dwarfs Gingerbread House I iced both roof panels prior attaching them onto the house base. Then I threaded red ribbon through heart cutouts and made a bow. Isn't that pretty?!
TEXTURED GINGERBREAD
This construction gingerbread cookie dough works great with textured mats. Dust rolled out cookie dough with little bit of flour. Place textured mat on the top and between rolling guides. Roll over the mat with a rolling pin. Then carefully peel off the silicone texture mat and voila.
MOLDED GINGERBREAD
You can use construction gingerbread to create molded cookies. Use silicone molds. Small molds often need to be dusted lightly with flour.
1st shape a small piece of gingerbread dough into a small ball. Then press it into a mold. Smooth the top. Carefully remove molded cookie from the mold. Either gently tap the mold while holding it upside down or remove the mold away from the cookie.
If working with fine detailed molds it is best to chill the mold with cookie inside for 10 minutes and then unmold the cookie.
You can also shape gingerbread using 3D baking molds. I used this method to create Death Star Cookie for my Star Wars Gingerbread House.
Shape gingerbread over the mold and bake it. Let cool completely. After it cools gingerbread takes on the shape of the mold.
Notice the front door, flower pot and a house sign. All these cookies were made with textured mats. And a rose and braided gingerbread were hand molded. Imagine working with fondant. Some of the same techniques can be applied to gingerbread, too. How fun is that?!
MAKING CHRISTMAS ORNAMENTS
I often hang handmade gingerbread cookie ornaments around the house. Before I bake the cookies I use a drinking straw to make a small hole at the top of the cookie. Then after cookies are decorated you can easily thread a pretty ribbon thru and hang the cookies on a Christmas tree.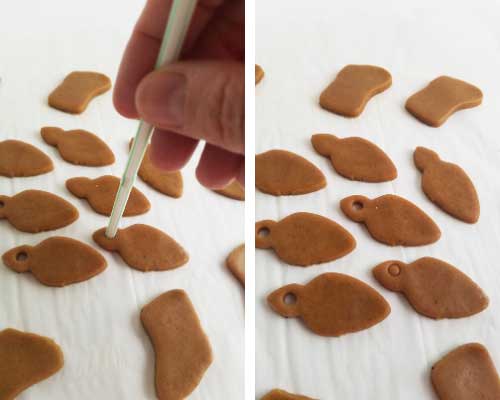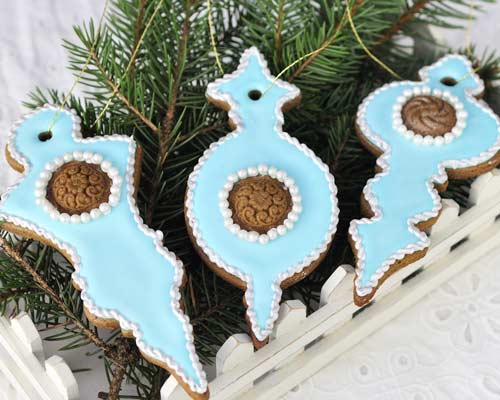 GINGERBREAD HOUSE WINDOWS | STAINED GLASS COOKIES
To make glass like windows you can use crushed hard candies, isomalt, melted sugar or gelatin sheets.
Crushed Hard Candies
Isomalt
Gelatin Sheets – simple cut to size of the window and glue on the inside before you assemble the house.
Melted Sugar/Caramel – melt sugar, let caramelize to your liking. Pour onto a parchment. Let harden. Peel off and glue on the inside of the house with royal icing. Or place baked cookies onto a parchment and pour it inside of the windows. Let harden.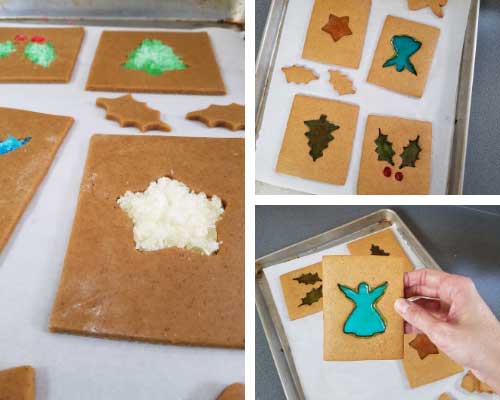 In some cases I like to pre-bake my gingerbread panels before I fill the open areas with candies. Let the cookies cool completely before adding the crushed candy and then bake the cookie at 350F for about 7 minutes, until the candies are melted. Allow cookies to cool completely before removing them from the baking sheet lined with parchment.
When using melted sugar, bake the cookies first and then fill with melted sugar. Have a piece of parchment underneath and let the sugar harden before peeling it off from the parchment.
If you can get your hands on Isomalt you can use it instead of crushed candies or melted sugar. Isomalt metls at a lower temperature than regular sugar and it will not caramelize/darken in color like regular granulated sugar. Isomalt will stay clear. You can also get colored Isomalt if you'd like to make stained glass using different colors. If the Isomalt becomes a bit cloudy you can very carefully use a blow torch and it should help and turn it into a clear glass.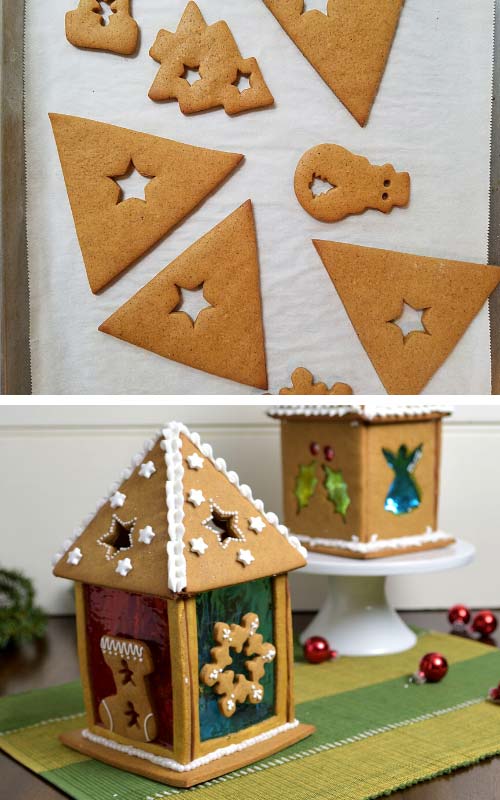 CONSTRUCTION GINGERBREAD FAQ
WHY IS MY COOKIE DOUGH CRUMBLY?
If your cookie dough is crumbly knead in 1tsp water at a time until it comes together.
HOW LONG DOES COOKIE DOUGH LAST IN THE FRIDGE?
It behaves best when used within 3-4 days. Otherwise it tends to lose its elasticity and it dries out.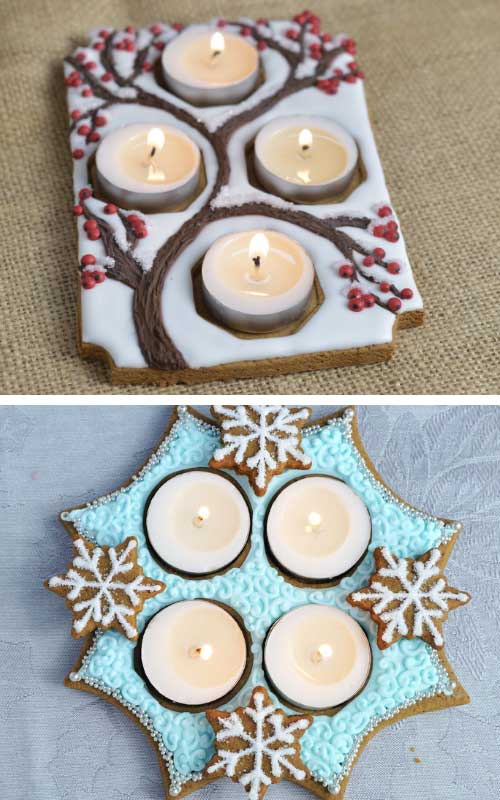 HOW TO ROLL OUT GINGERBREAD COOKIE DOUGH?
Roll out cookie dough between 2 pieces parchment paper. For even thickness throughout use rolling guides. These can be plastic, silicone or wood rods ( long thick bamboo skewers or even unused paint sticks work, too). Place one rolling guide on each side of the dough. Run a rolling pin on top of the guides with cookie dough between to ensure even cookie thickness. Try to roll out gingerbread dough to the size of your baking sheet. Peel off the parchment, slide the cookie dough onto the baking sheet. Cut out shapes, remove scraps and repeat. Don't handle unbaked house panels.
CAN I FREEZE IT?
Yes, wrap the dough well in the food wrap and store in a freezer safe bag. Freeze for up to 3 months. Let defrost on the counter or in the fridge before using.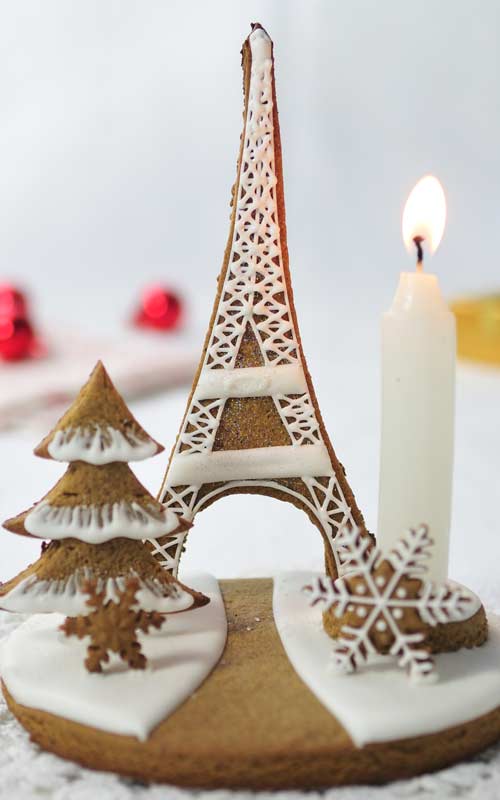 HOW SHOULD I STORE BAKED CONSTRUCTION GINGERBREAD?
Store baked and cooled cookies flat in an airtight container. Layered between sheets of parchment.
CAN I EAT THIS GINGERBREAD HOUSE?
Even though this dough is edible I wouldn't recommend munching on these. Cookies are rather hard and spicy. For tastier gingerbread for simple houses that doesn't bake so hard use my Edible Gingerbread Cookie Dough.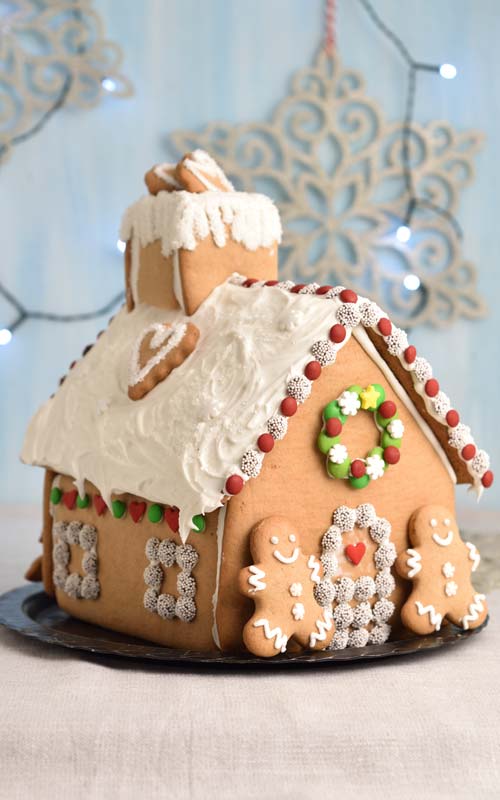 HOW TO FIGHT HUMIDITY?
If you live in a humid climate I'm sure you know sugar and humidity don't agree. What often happens is that baked gingerbread can become soft when exposed to high humidity. It absorbs moisture from the air and because of it baked cookies can become softer.
You can try this trick. Once the cookies are baked lower the oven setting to the lowest temperature. Place the cookies on a baking sheet into the oven and let the cookies dry out well, for 30 minutes and up to an hour.
Before you assemble the house you can also brush inner walls of the gingerbread house with some royal icing to create a humidity barrier.
Lastly you can place a small container with rice inside of the house.
MORE 3D COOKIE DECORATING IDEAS :
Gingerbread Construction Dough
This is a construction cookie dough for houses and centerpieces. This dough is edible but I don't recommend it for making cookies for eating. Cooled cookies are hard and very spicy.
Ingredients
7

cups

all purpose flour

1 1/2

tbl ginger

2

tsp

cinnamon

2

tsp

cloves

1

egg

1

cup

margarine

1

cup

granulated sugar

1 1/2

cup + 2 tbsp

molasses

you can also use dark corn syrup instead, or use 1 cup molasses and 1/2 cup +2tbsp dark corn syrup, they are interchangaeble.
Instructions
In a medium bowl whisk together flour, spices, set aside

Cream margarine or other shortening with sugar until mixture is light and fluffy.

Add egg, beat well, then gradually beat in molasses and dark corn syrup, and mix until smooth.

On low speed, gradually add flour mixture to the molasses mixture and mix until two are well combined.

Turn the dough onto a work surface and give it a little knead so it comes completely together. If the dough appears too crumbly, add 1tsp water.

I like to chill the dough before rolling it out, for at least an hour or so.

You are now ready to cut out your cookies.

Bake at 350 for 12-15 minutes or longer depends on the size of the cookies. Larger pieces I often bake for 16-20 minutes. Sometime during baking little bubbles can form on the surface of the cookie. Using a toothpick, make a pinhole in the cookie, where the bubble appears to be forming, while still hot to deflate the bubble. You can also flatten the cookie with a wide spatula while the cookie is still hot.

When using small pieces for your gingerbread centerpieces, you need to watch them carefully as they bake, they will be done in less time.

Thicker the cookie more time needed to bake them. I usually bake small pieces on the same baking sheet and large pieces on the another sheet.

Cool the cookies completely before decorating.
Recipe Notes
I prefer using molasses in my gingerbread, but you can substitute molasses with dark corn syrup( it has a hint of molasses). They are interchangeable.  You can substitute all or some of molasses in the recipe. For example : use 1 cup molasses and 1/2 +2tbsp dark corn syrup.
Molasses is usually more expensive than corn syrup.
I like using molasses because it contributes to the darker gingerbread and I also like the strong aroma of gingerbread when using molasses.
This post was originally published on November 23rd, 2012. I updated this post on November 12th, 2019 with new photos and written text.
This post contains amazon affiliate links that earn me a small commission, at no cost to you. I only recommend products that I use and love. Learn more about my affiliate policy here.