Calendar Cookies or Save the Date Cookies are great for bridal showers, baby showers/due date cookies, wedding showers, engagement parties or any other special occasion that you see fit.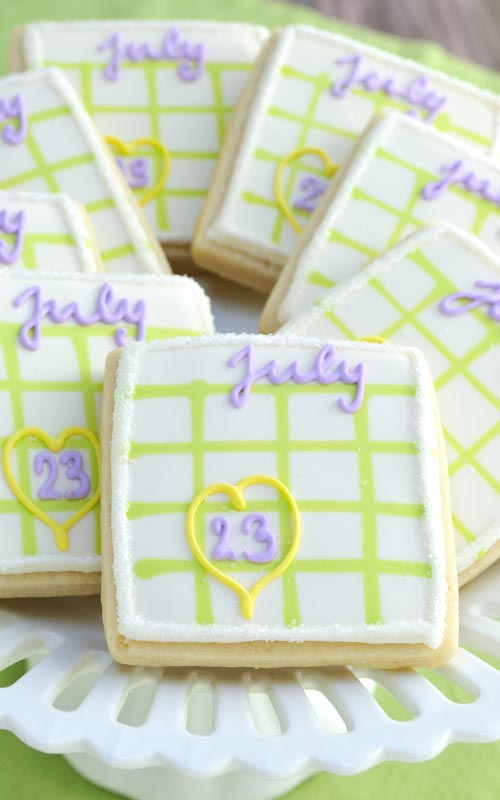 JUMP TO VIDEO | JUMP TO RECIPES AND TOOLS | PIN IT for later
HOW TO MAKE CALENDAR COOKIES
Today I'm going to show you super simple way how to create even grid pattern with royal icing in matter of seconds. First, bake cookies using my delicious Cut-Out Sugar Cookie Recipe. Let the cookies cool completely before decorating.
To decorate I used delicious Fresh Lemon Royal Icing. If you are not a fan of lemon flavor you can skip lemon juice in the recipe and use water instead. And for those of you with special diets you can use my Vegan Sugar Cookies or Gluten Free Sugar Cookies and Vegan Royal Icing to decorate.
WET ON WET GRID DESIGN
ROYAL ICING COLORS AND CONSISTENCY :
White – 15 second consistency, piping consistency (sugar outline)
Lime Green – 15 second consistency (I use electric green to color icing)
Purple, Yellow – piping consistency ( I like to mix my own purple using sky blue and electric pink gel food coloring)
DECORATING STEPS :
Print a grid guide template (see the tools section below) or make your own. Place the cookie onto the grid guide, center it .Outline and flood with white 15 second icing.
Using lime green 15 second icing pipe the grid. Use the grid template lines for the reference where to start piping the lines. Make sure to make the opening on the piping bag small and don't put too much pressure onto the piping so your grid lines are not too thick.
Let the icing dry.
With purple icing (piping consistency) pipe the month and the date. Then with yellow icing (piping consistency) enclose the date with a heart or a circle. Let dry.
I like using sanding sugar. Not only it adds a nice detail to your design. But it also hides imperfections. Using white icing( piping consistency) pipe the border around the cookie. Dip the cookie into the sanding sugar. Gently shake the container and lift the cookie. And place it onto a tray and let the outline dry for an hour or so.
HOW SHOULD I STORE DECORATED COOKIES?
Before packaging and storing cookie make sure royal icing is dry.
Store decorated cookies in the airtight container, layered between parchment paper sheets.
Cookies can also be packaged in individual poly bags and tied with a ribbon or sealed with a heat sealer. I like to use this Heat Sealer with poly bags.
TO MAKE CALENDAR COOKIES YOU NEED
MORE BEAUTIFUL DECORATED COOKIES :
PIN IT for later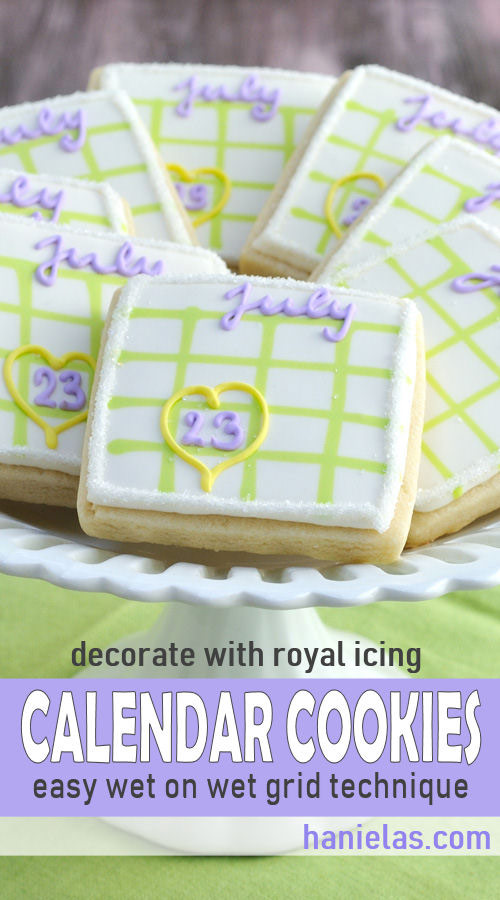 This post contains Amazon affiliate links that earn me a small commission, at no cost to you. I only recommend products that I use and love. Learn more about my affiliate policy here.