Cauliflower Asparagus Tart
Cauliflower and asparagus sing in a perfect harmony. If you haven't yet tried this combination you should, they are so perfect together. Make sure you don't over cook asparagus, you want it to be little crunchy.
Recently I've made Cauliflower Asparagus Semolina Cakes and ever since I was playing with an idea of making a savory tart. I've always loved rectangle shaped tart pan, I hunted one down at a garage sale, from a gourmet chef from Austria who decided to moved back to Vienna. I love when things in my kitchen have a story to tell so I bought it, at $4 who could resist. It was sitting on the counter for months. I had a grand plan of making my favorite red currant meringue cake, which I never got around to make, until…
Few days ago neighbor brought me asparagus. Tender and fresh, and I just happened to buy a head of cauliflower and fresh mozzarella balls at the market day before.
Cauliflower Asparagus Tart (serves 4)
medium cauliflower head
1 cup shredded mozzarella or use fresh mozzarella balls
1egg
1/4tsp nutmeg
1/4tsp red paprika
1 shallot, diced
1garlic clove, diced
1 medium Italian sausage, casing removed
2tbl chopped parsley
2tbl semolina flour
1/2 cup milk
asparagus bunch
1tsp fresh chopped rosemary
salt and pepper to season
olive oil
2tbl panko breadcrumbs
I used 14x5inch rectangle tart pan with removable bottom
Run cauliflower under water, remove leaves and separate into florets.

Steam cauliflower until knife tender but not mushy. Remove from the steam.

Let cool slightly.

Process cauliflower in a food processor until finely chopped. Cool for 10 minutes.

Sautee chopped shallot in 2tsp olive oil for about 5 minutes, until translucent. Add Italian sausage and stir well, add chopped parsley, cook for 2 minutes. Add semolina flour and milk, stir well and cooked and thicken for another 3-5 minutes. Remove from heat and let cool for couple of minutes.

Preheat oven to 450F.

Line a 9inch round or rectangle pan with removable bottom with parchment paper, spray with nonstick spray, place the pan on a baking sheet and set aside.

In a large bowl combine together, chopped cauliflower, 1/2 cup cheese, egg, nutmeg, paprika, garlic, salt and pepper to taste. Stir well. Add sausage, stir well.

Transfer to a baking pan, and layer in the pan.

Bake for 20 minutes or until golden brown on the top.

While that's baking, prepare asparagus. Wash asparagus, trim the ends and cut in half. Season with salt, pepper and rosemary. Heat 1tbl olive oil in the skillet, add asparagus, sautee for 1 to 2 minutes max. Remove from the heat.

Remove cauliflower crust from the oven, layer asparagus on top, top with remaining cheese and sprinkle panko breadcrumbs on the top.

Place under broiler for 5 minutes or until cheese has melted and panko is golden brown. If you don't have a broiler, bake until cheese is melted.
To steam vegetables I use a stainless steel vegetable steamer like this one. It stores easily and works great, too.
I really like working with these flexible chopping boards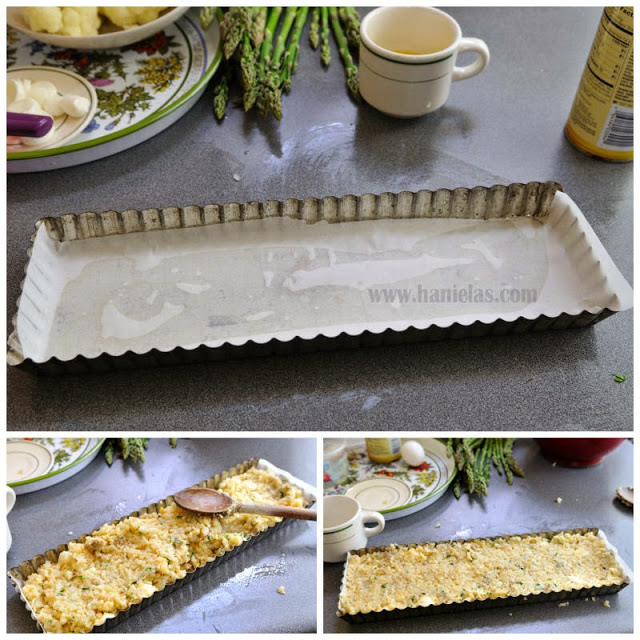 The tart was delicious, you can also make this ahead of time and just reheat it. I find that it taste even better next day.