Ballerina Silhouette Cookies & How To Make a Stencil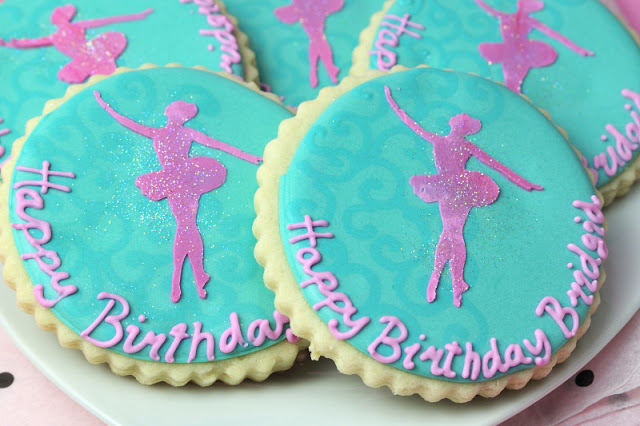 I have always adored
silhouettes.
The art of Silhouette
portrait cutting
has been around since early 1700's. And as you can imagine ever since then silhouettes have been used in different fields and art forms, including sugar.
Silhouettes make a statement with a simple image of a "shadow", "profile" or others call it "shade". Remember the famous
Abbey Road
cover by The Beatles – I made a special stencil to make this cookie as well.
I don't own a lot of professionally made stencils, only some. A lot of stencils I make myself.Those I make myself are not very complex. For more complex ones, with repetitive patterns or fine details I shop online.
If you are looking for variety of stencils already available, below I'm listing few online shops that sell these. I'm particularly fond of AH CAKE DESIGN, they have a great customer service and I'm always very happy with them.
NY CAKE STENCILS
DESIGNER STENCILS
FONDANT SOURCE
SUGAR CRAFT
GLOBAL SUGAR ART
LINDY'S CAKES -UK
Ballerina Silhouette Cookies
Bake the cookies(collection of recipes for cut out cookies).
Make Royal Icing : Stiff, Flood(video tutorial) and Outline consistency. I used 2 shades of wilton teal color. Lighter is used as a base and darker shade(flood consistency only) is used to pipe filigree rolls(video tutorial by Sweet Ambs)
Fill the cookies with the icing, immediately followed by piping filigree rolls. This is a wet on wet technique so don't let the flooded cookie crust or you won't be able to do this. You can make filigree as simple as you like or as complicated. I made the filigree pattern very simple.As you see I only piped filigree on half of the cookie. I wanted to created a different look by leaving one half blank. Let the cookies dry completely before applying the stencil.
Make a stencil
You need:
Blank Stencil Making Sheets
X-ACTO Knife or Stencil Cutting Kit
I
traced the outline of the shape onto a stencil blank and then using a stencil cutter,
using a fine tip and following a traced image I cut out a stencil. Bear
in mind that stencil cutter gets very hot, I use an old wooden cutting
board underneath when I'm working with it. You can also use an Xacto X3601 N0. 1 Precision Knife With Safety Cap
to make the stencil.
How to use a stencil with royal icing
You need:
stencil
Position your stencil onto a
cookie, holding gently in place with one hand, using your other hand
apply royal icing with a small angled spatula. Make sure you apply
icing in one direction.
When using Stencils I always like to practice before I do the application directly onto a cookie.
I practiced when I made my Beatles Cookies as well, you can see here(picture below). You can practice using a wax paper, too.
REMEMBER TO WASH THE STENCIL PRIOR USING.
You will need to wash the stencil several times while stenciling your
cookies, this is normal, it helps to get the clean stenciled design onto
the cookie.
Using a clean artist's brush dipped in Disco Dust lightly dust tops of each stenciled ballerina.Let dry.
Simple and Pretty