Inspired by the magical world of snow globe music boxes I made these adorable winter wonderland Polar Bear Snow Globe Cookies.
HOW TO DECORATE POLAR BEAR SNOW GLOBE COOKIES
You'd be surprised how versatile Snow Globe cutter is! I used it to make decorated Alice in Wonderland Cookies and even Football Cookies. Imagine the possibilities : wreath cookies, santa sleigh, moon, valentine's day, birthdays and weddings are just a few examples. Get creative!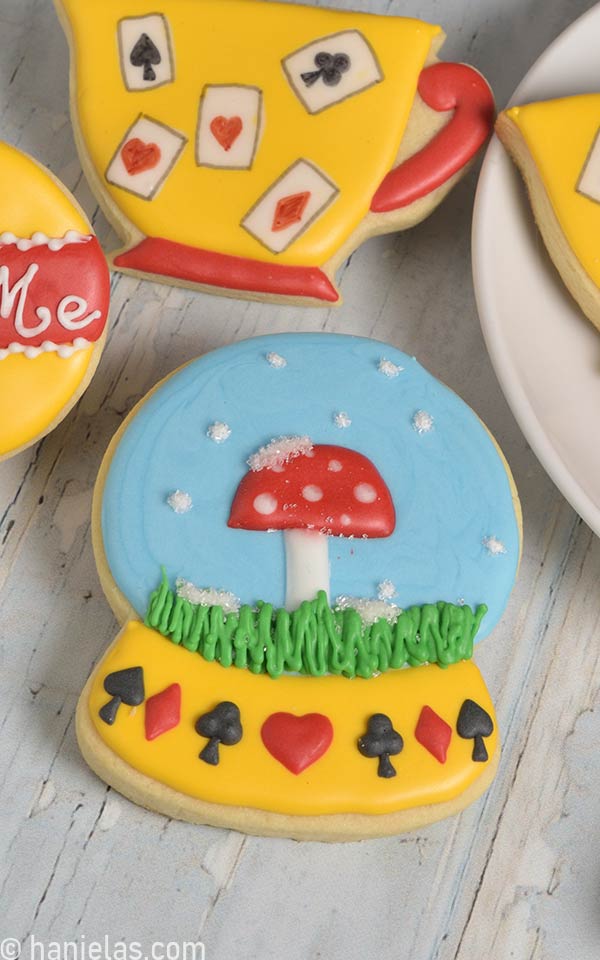 BAKE COOKIES
Prepare Haniela's Sugar Cookie dough and bake sugar cookies. Let the cookies cool completely before decorating. Store cookies in an airtight container if not using right away.
PREPARE ROYAL ICING
Prepare royal icing. You can either use meringue based icing, fresh egg icing or liquid egg whites royal icing. Or if you are vegan you can use my popular Vegan Royal Icing instead. I used my personal favorite Fresh Lemon Royal Icing.
ROYAL ICING COLORS AND CONSISTENCIES
To decorate cookies I used 3 royal icing consistencies.
15 Second Consistency : Light Blue, White Blue
20 Second Consistency : Ivory/Very Light Brown,
Piping Consistency : Red, Black
What is 15/20 second consistency?
To achieve flood consistency add few drops of water to stiff icing, stir and gradually add more water until you reach 15 consistency icing. To test if your icing is the correct consistency run a spatula thru icing. Watch and count how long it takes for the separation line to disappear. It should take about 15/20 seconds.
What is piping consistency?
Add few drops of tap water to stiff icing. Stir. Icing when pulled up with a spatula should have a soft peak that bends down but doesn't get blended with the rest of the icing.
ULTIMATE GUIDE TO ROYAL ICING CONSISTENCY
HOW TO CUT A DISPOSABLE PIPING BAG
To cut a disposable piping bag flatten the seam in the middle. Cut a small tip straight across. It's better to cut a small opening and then cut again to make it bigger.
DECORATING STEPS
Outline and flood the glass portion of a snow globe cookie with 15 second consistency light blue royal icing, ( steps 1-5).
Immediately pipe white polka dots (15 second consistency icing) onto the wet light blue icing. This technique is called wet-on-wet royal icing technique. I used this technique to make these Simple Christmas Decorated Cookies.
Now with ivory/very light brown icing (20 second consistency) outline and flood the snow globe base in steps. 1st ice the middle part, and let it crust for 15 minutes. Then ice the bottom part. Allow icing to dry overnight.
TIP : If you are not planning on using a bear template you don't need to wait for icing to dry overnight. However, make sure to let it dry for at least 3-4 hours, so icing crusts well.
POLAR BEAR DESIGN
Print a bear template. Trace bear outline onto the dry icing. Use a scribe tool to gently scratch the surface of the icing, (steps 1-2). There should be a visible line to guide you with piping, (step 3).
TIP : If don't plan on using a template to make a guide, skip the template part, and start piping a bear.
Take 20 second consistency white icing and outline and flood the bear shape. If you created a bear guide by scratching the icing follow the guide or you can free pipe the bear outline instead. Flood the bear and allow it to crust for 10-15 minutes, (steps 1-7). Then flood the remaining stand section, (step 8). Allow to crust before piping details onto the bear.
NORDIC SWEATER PATTERN
I adore nordic sweater patterns. They make for really pretty piped designs on cookies. My friend Amber of SweetAmbs used nordic patterns to create her festive set of Christmas Tree Cookies.
With a piping consistency red icing pipe a decorative pattern onto the bear, (steps 1-8).
Create tree shapes by piping small triangular shapes, layering them above each other, (steps 1-8). Allow to dry.
With a black icing, piping consistency pipe the eyes, mouth and a nose.
Lastly, pipe 15 second consistency white icing on the sides of the bear and dust icing with white sanding sugar, (steps 1-4).
This next step is optional, dip a clean q-tip into a pink or red edible petal dust and gently brush it onto the bear's cheeks.
Decorate stand with graduating ivory/light brown dots and allow to dry.
This post contains Amazon affiliate links that earn me a small commission, at no cost to you. I only recommend products that I use and love. Learn more about my affiliate policy here.
TO MAKE POLAR BEAR SNOW GLOBE COOKIES YOU NEED
MORE WINTER SWEET RECIPES