Hamburger Cupcakes and Cookie Fries
Here is a fun cupcake idea for you to try for your next party: homemade Hamburger Cupcakes and Cookie Fries. These delicious and easy-to-make mini cupcake burgers are sure to be a hit of the party. Let me show you how to make them.
HOW TO MAKE HAMBURGER CUPCAKES AND COOKIE FRIES
PREPARE BUTTERCREAM: Lettuce, Tomato/Ketchup, Mustard
To make lettuce, tomato, and mustard you can use colored American Buttercream.
Prepare American Buttercream.
To make hamburger cupcakes you need red, green, and yellow buttercream.
LETTUCE BUTTERCREAM
To make the lettuce you'll need about 1 cup of buttercream to frost about 12 cupcakes.
Color buttercream with leaf green food coloring. I divided 1 cup of buttercream and colored one portion with a leaf green gel food color and to the second half, I added some yellow to make it brighter. The reason I decided to use 2 shades of green is to create highlights. It's not necessary to use 2 shades of green (steps 1-2).
Spread two shades of green buttercream onto a food wrap and form a pouch (steps 3-4).
Trim one side of the pouch and insert it into a piping bag fitted with a coupler. Attach a Ruffle Piping Tip #070 (steps 1-5).
Piping Tip #070 is a specialty ruffle tip. If you haven't used it before I suggest testing it on an edge of a bowl (step 6).
TIP: If you prefer, in place of lettuce buttercream you can also use colored shredded coconut / via Lady Behind The Curtain
TOMATO / KETCHUP BUTTERCREAM
Use red buttercream to make ketchup or tomatoes. To frost 12 hamburger cupcakes you'll need about 1/2 cup of red-colored buttercream.
Color buttercream with a concentrated gel food color. Spoon it into a piping bag.
MUSTARD YELLOW BUTTERCREAM
To make a mustard-colored buttercream use yellow gel food color and a tiny bit of ivory gel food color. Ivory mutes down the yellow and creates a perfect mustard color.
TIP: If you don't have ivory gel color, you don't need to worry too much. Bright yellow will work great, too.
CANDY CHEESE SLICE
To make a cheese slice you can use fondant, marzipan, and even candy.
Starburst candies are perfect for making cheese slices for hamburger cupcakes.
Unwrap yellow or lightly orange-tinted candies, microwave on high for 2-3 seconds (steps 1-2). Flatten the candy with a rolling pin, and roll it out into about 2.5 to 2.75-inch square. Press onto the rolled-out candy with a cookie cutter to create an outline. Cut the cheese slice square with scissors.
PREPARE CUPCAKES
Start by baking or buying Vanilla Cupcakes. I used my One Bowl Sponge Cake Recipe to make super easy, moist cupcakes. This recipe makes about 16-18 regular cupcakes, the recipe can be halved (step 1).
I baked my cupcakes in the liners. Some suggest not to bake them in liners for a more realistic hamburger bun look. I used liners to prevent cupcakes from drying out too much. Especially if you are making them a few days in advance, liners help to keep them moist. If you decide to bake cupcakes without the liners make sure to grease the muffin pan well.
TIP: Make cupcakes 2-3 days in advance, store cupcakes in an airtight container at room temperature. Or freeze them.
Peel the liners from the cooled cupcakes (step 2). Cut the cupcakes horizontally, just below the muffin top (steps 3-4).
BROWNIE MEAT PATTY LAYER
Have a brownie layer baked and cooled. Cut out brownie rounds.
Use a round cookie cutter that matches the cupcake in diameter size, or it's slightly smaller or larger. Don't use a cutter that is too large or too small (steps 1-2).
Cut out brownie rounds and set them aside (steps 3-6).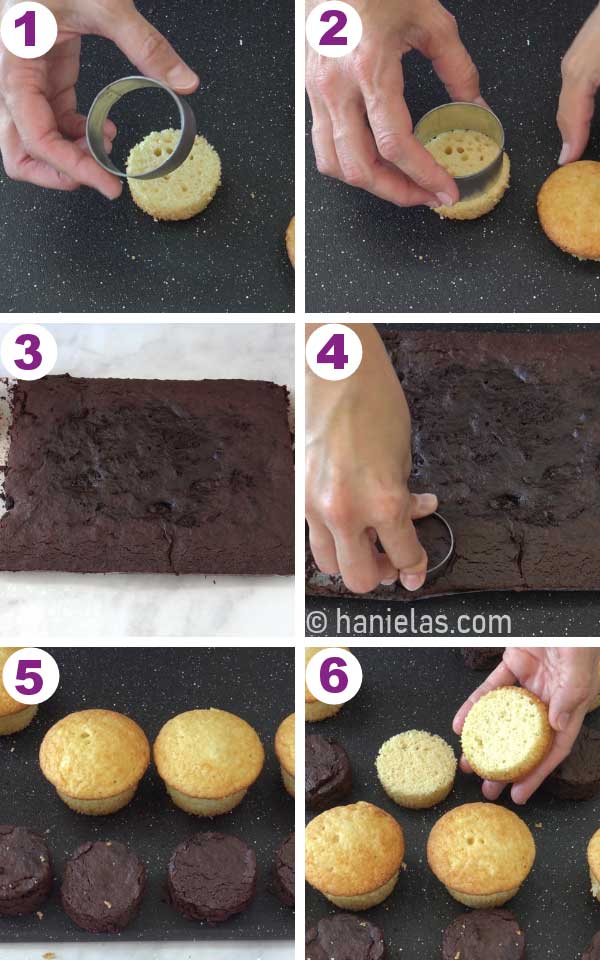 ASSEMBLE HAMBURGER CUPCAKES
Now we can assemble mini hamburger cupcakes.
Pipe the green lettuce buttercream onto the cupcake. Hold the piping bag nearly parallel to the cupcake. Squeeze the piping bag and slowly rotate the bottom part of the cupcake. Ruffled buttercream will naturally start to come out from the piping tip's narrow opening (steps 1-2). It's okay to break the ruffle and overlap ruffles a little. It creates a more realistic lettuce-like look (steps 3-4).
Continue piping and turning the cupcake until you create a full circle. Hold the piping tip slightly over the edge when you pipe the lettuce buttercream layer (steps 5-6).
TIP: If you don't have a Ruffle Tip #070, you can use a petal tip instead. When piping hold the piping bag in a way so that the narrow part of the petal tip is facing out, and move your hand up and down to create a ruffled edge.
Take the brownie round and gently press it onto the lettuce layer. Pipe a dot of red buttercream on top of the lettuce, to act as glue (steps 1-3). Then gently press down the cheese candy layer on top of the brownie layer. Press the corners of the cheese layer down (steps 4-6).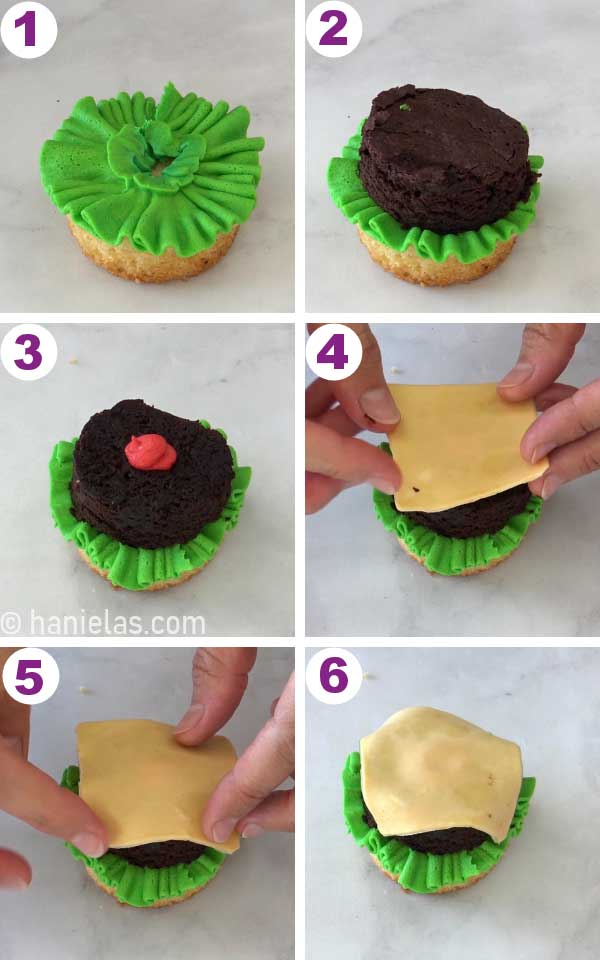 Using red buttercream pipe moon shapes (tomatoes) onto the cheese layer (steps 1-3). With a mustard yellow buttercream pipe a zic zac line across, overlapping the red buttercream (steps 4-6).
Place the muffin top layer on top of the buttercream layer. Press it down gently (step 7-8).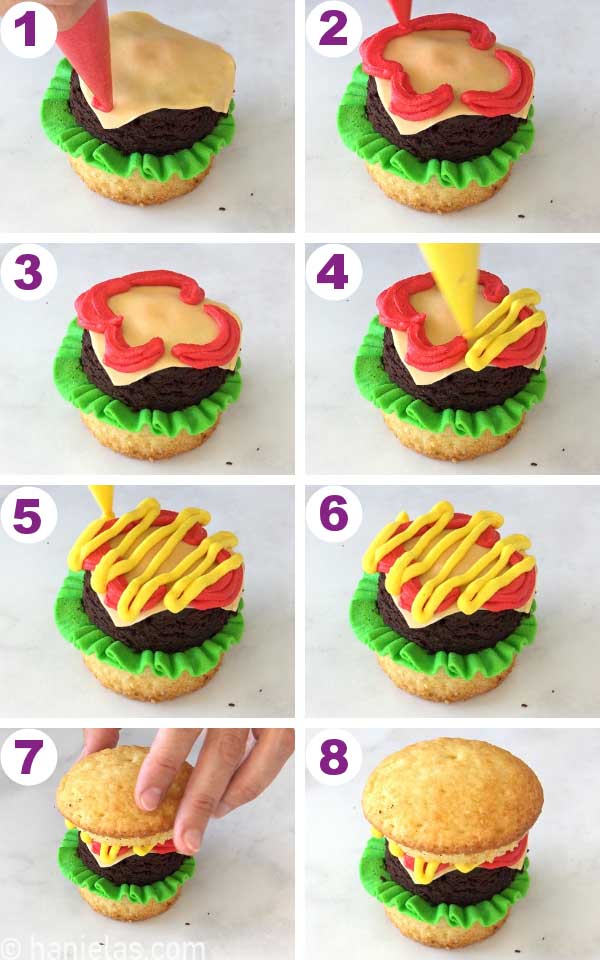 Lastly, brush the muffin top with some sugar water, sugar syrup, apricot jam, or a little bit of chocolate syrup. Then sprinkle sesame seeds or white nonpareils or jimmy sprinkles on the top (steps 1-5).
That wasn't too hard, was it?! Aren't these hamburger cupcakes adorable!?
HOW TO MAKE COOKIE FRIES
Cookie fries couldn't be easier to make. Use your favorite Cookie Dough Recipe.
Roll the cookie dough to about 1/4 inch thick. Turn the rolled-out dough onto a parchment or a silicone mat. Trim the edges to form a square or a rectangle (steps 1-3).
With a pizza slicer cut the rectangle in half and cut long strips across (steps 4-6). Divide long pieces of cookie dough onto a parchment sheet (step 7). Bake at 350F (180C) for 8-10 minutes, until golden brown (step 8).
This next step is completely optional. Salt fries with granulated sugar. Mist hot baked cookie fries with water and generously dust with granulated sugar.
HOW TO SERVE HAMBURGER CUPCAKES AND COOKIE FRIES
If you can get your hands on hamburger boxes and some checkerboard deli tissue papers, use them to package or display burgers at your party.
TO MAKE HAMBURGER CUPCAKES YOU NEED
RECIPES
Brownie Recipe – use 9×9 inch pan or 9×13 for a thinner "brownie meat patty layer"
Vanilla Cupcake Recipe – I used my One Bowl Sponge Cake Recipe to make the cupcakes
TOOLS
Find all the tools in my Amazon Shop
Muffing Pan
Baking Sheet
Cupcake Liners
Piping Bags
Ruffle piping tip #070 – I used it to pipe green lettuce
Sesame Seeds
Gel Food Colors: leaf green, yellow, ivory and super read – I used Americolor brand food colors
Pastry Brush
Scissors
Round Cookie Cutter – to cut brownie rounds, around 1.5 to 2 inches in the diameter, depending on the size of your cupcakes
Rolling Pin
Pizza Wheel
Parchment Paper