Today I'm going to pair cranberries and red wine in a delicious recipe for Cranberry Wine Hand Pies. These flaky, bite-size pastries freeze well and they are great for parties or snacks. Let's make them together.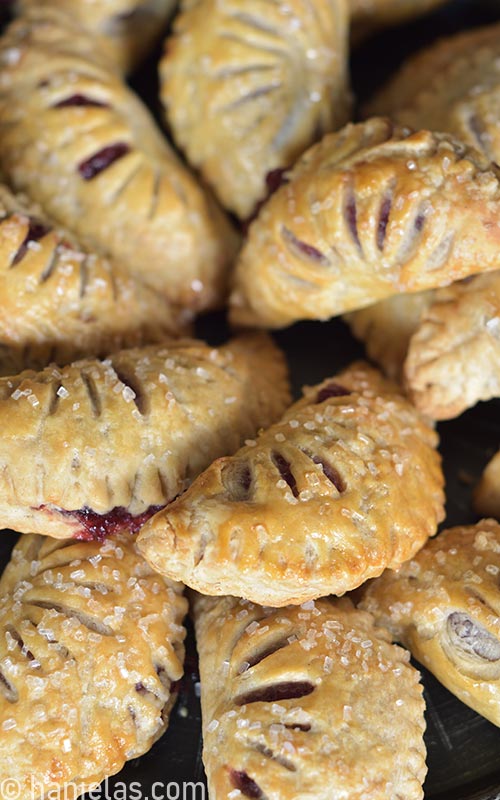 RECIPE FOR CRANBERRY WINE HAND PIES
Hand pies are like miniature pies you can eat on a go. In this recipe I used Pinot Noir, medium bodied wine from a Vivat Alfa Winery in Bucks County. You can definitely use a cheaper wine.
If you'd like to make this recipe without wine you definitely can. In place of wine use water or water in combination with little bit of lemon juice or white distilled vinegar or use orange juice to make the filling. You can find more about substitutions in the recipe card at the bottom of this post.
CAN YOU TASTE ALCOHOL IN THIS RECIPE?
No. Alcohol in the filling and pie dough cooks/bakes off.
CRANBERRY HAND PIES FILLING
Cranberries are naturally very bright in color and very tart in taste. To make a perfectly balanced filling I used sugar and Let's prepare easy and delicious cranberry wine filling.
You can start with fresh or frozen cranberries. Pour cranberries into a pot, add cinnamon sticks, sugar and red wine. I used Pinor Noir but you can use other red wines as well. For example cabernet sauvignon.
Cook on medium heat, bring to simmer, stirring occasionally until cranberries burst. Cook for 3-5 minutes an then take if off the heat. Allow to cool completely. Cranberries are high in pectin, as filling cools it will also thicken.
CAN I PREPARE FILLING AHEAD OF TIME?
Yes, absolutely. Store the filling in the fridge for up a week.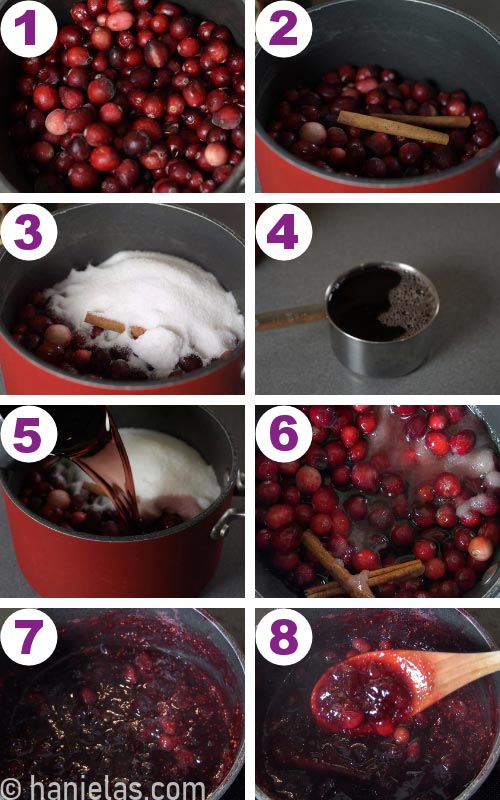 RED WINE PIE DOUGH
In this recipe I double up on wine. Not only I used it in my filling I also used it to make pie dough. If you don't want to use wine to make the pie dough use water instead.
In a bowl whisk together chilled red wine, chilled yogurt or sour cream and vanilla bean paste or vanilla extract.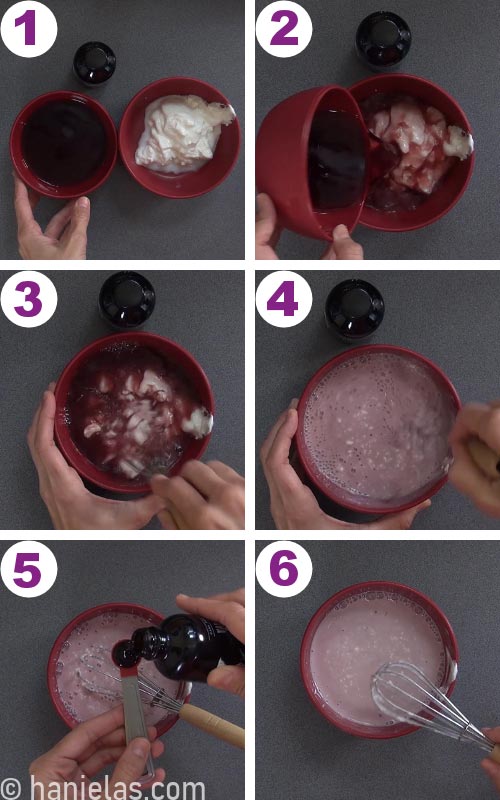 To make the pie dough first pulse flour, sugar salt and chilled diced butter in a food processor until butter is pea size. If you don't have a food processor you can use a fork, or a pastry blender.
TIP : Have you heard of Pastry Flour ? Pastry flour is a low protein flour, it's milled finer than all-purpose flour and it helps to produce fine, tender crusts. If you don't have pastry flour you can use all purpose flour, it's fine.
Slowly and while pulsing the food processor pour chilled wine mixture into the dry mixture. Pulse just till all the flour mixture it moisten throughout. Gather mixture into a ball. Flatten it into a disk, wrap into a food wrap and chill for at least 2 hours and up to overnight.
MAKE HAND PIES
Cut the disk in half. Wrap one half with food wrap and return to the fridge to chill. Roll out the other half of the dough on a lightly floured work surface to about 1/16″ thick (about 2mm). Cut out 3.5 inch rounds (9cm).
Transfer round onto a baking sheet lined with parchment or silicone baking mat and chill for 15-20 minutes.
TIP : I like to use a large baking silicone mat to roll out my cookie dough or pie dough.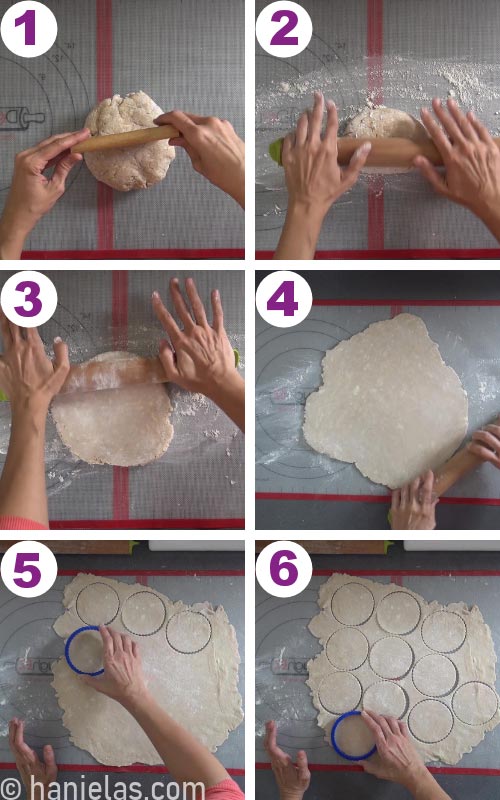 FILL CRANBERY WINE HAND PIES
Prepare egg wash : break an egg into small bowl, add 1tsp water and whisk well. Brush the edges with egg wash. Spoon 1 tablespoon of cooled filling onto each round. Lift up one side and fold it over to form a half moon pouch. Use your fingers to press the edges together.
Then use tines of the fork to crimp the edges. This not only adds a decorative touch it also completes the seal. Return to the fridge and chill for 20-30 minutes, (steps 1-3). Brush chilled hand pies with an egg wash, (steps 4-5). Sprinkle each pie with coarse sugar and cut short slits into the hand pie, this helps steam to escape during baking so the pies don't burst.
BAKE CRANBERRY WINE HAND PIES
Bake at 375F for 18-22 minutes, or longer if needed. Let cool before serving.
CAN I FREEZE HAND PIES?
These hand pies can be frozen. Allow them to cool completely. Freeze on a flat surface for 30 minutes until firm. Then layer hand pies into a freezer save container and freeze for up 3 months.
TO MAKE HOMEMADE CRANBERRY WINE HAND PIES YOU NEED
TOOLS
Get all the tools in my Amazon Shop
Silicone Rolling Mat
Rolling Pin
Round Cookie Cutters
Pastry Brush
Food Processor
MORE CRANBERRY RECIPES :
Cranberry Wine Hand Pies
This delicious recipe makes about 24 -28 Cranberry Wine Hand Pies.
Ingredients
Pie Dough
2 1 /2

cup

all purpose of pastry flour (350 grams)

1

cup

chilled and diced unsalted butter (226grams)

2

tbsp

granulated sugar

1/2

tsp

salt

1/2

cup

plain chilled yogurt or sour cream (120ml)

1/2

cup

chilled Pinot Noir or other red wine (120ml)

1/2

tsp

Vanilla Bean Paste, or Vanilla Extract
Cranberry Filling
12

oz

fresh or frozen cranberries (340grams)

1

cup

granulated sugar

2

sticks

cinnamon

3/4

cup

Pinot Noir

1

tbsp

orange zest (optional)
Instructions
Cranberry Filling
Into a pot pour fresh or frozen cranberries (12oz, 340grams), add granulated sugar (1 cup), cinnamon sticks (2), red wine (3/4 cup) and orange zest (1 tablespoon, optional). Stir well and bring mixture to simmer. Cook until cranberries burst. Cook 3-5 minutes. Remove from the heat and allow to cool. Mixture will thicken as it cools.
Pie Dough
Into a bowl pour chilled plain yogurt (1/2 cup, 120ml), red wine (1/2 cup, 120ml) and Vanilla Bean Paste/Vanilla Extract (1/2tsp). Whisk well till combined. Place bowl into the fridge while you prep dry ingredients.

Measure flour ( 2 and 1/2 cup, 350grams), granulated sugar (2 tablespoons), salt (1/2tsp) into a food processor bowl. Pulse quickly to combine. Then add chilled, diced butter ( 2 sticks/1 cup/ 226grams). Pulse food processor till butter is dispersed in the dry ingredients to in about pea size chunks.

Gradually, while pulsing pour wine-yogurt mixture into the flour-butter mixture and pulse until dough starts to come together. Gather the dough into a ball, flatten it to shape a disk. Wrap it in a plastic wrap and chill for 2 hours. Dough can be prepared up to 2 days ahead.

TIP : There should be small piece of butter visible in the dough.
Shape Hand Pies
Cut the pie dough in half. Return one half into the fridge to keep it chilled.

Dust the work surface with flour. Place one half of dough onto the floured surface and dust the top of the dough with a little flour, too. Roll out half of the dough to about 1/16" (1.5 to 2mm). Sometimes dough can get stuck to the work surface. Run a spatula underneath to release it.

TIP : Roll out dough between 2 sheets of parchment, food wrap or use a large silicone mat.

Cut out as many rounds as possible. Use 3" to 3.25inch round cookie cutter. Place rounds onto a baking sheet lined with a parchment or silicone baking pan. Gather scraps and re-roll. Chill for 15-20 minutes. Then repeat with the remaining half of the pie dough.

Spoon about 1 tablespoon of cranberry filling onto each round. Fold one half over, press the edges together. Then crimp the edges with a fork to seal the hand pies. Chill hand pies again for 20 minutes

TIP : Hand pies can be prepared ahead of time, They can be chilled for up to 2 hours before baking. Be sure loosely cover hand pies with a food wrap.
Egg Wash
Break an egg into a small dish, pour in 1 teaspoon of water. Whisk well. Brush each hand pie with an egg wash and dust with coarse sugar. Then score the top layer of the dough with a knife. You can either make an X or make several short cuts to make a pretty design.
Bake Hand Pies
Bake at 375F for 18-22minutes, or a little longer until golden brown. Cool on a baking sheet for 5 minutes. Then transfer hand pies onto a cooling rack. Use a small spatula to help pick up hand pies from the baking sheet. Hand pies can be frozen for up to 3 months.

TIP : Sometimes juices from the filling will ooze out of the hand pie. This is normal. These juices as hand pies cool can make them stick slightly to the parchment/baking mat. Use a cookie spatula to help release them if hand pies are stuck.
Notes
CAN I MAKE THIS PIE DOUGH WITHOUT WINE?
Absolutely, use chilled water instead.
CAN I FREEZE HAND PIES?
Yes, you can freeze these hand pies. Freeze them first on a baking sheet, then once frozen freeze them either in a freezer safe bag or a freezer safe container.
This post containsThis post contains Amazon affiliate links that earn me a small commission, at no cost to you. I only recommend products that I use and love. Learn more about my affiliate policy here.