Today I'm going to share with you a really delicious recipe for Oatmeal Cut Out Cookies. They are easy to make and can be decorated with icing just like sugar cookies!
In this updated post from from 2011 I'm sharing more variations of this delicious recipe.
When we think of decorated cookies we often think of sugar cookies. But decorated cookies are not limited to sugar, chocolate or gingerbread cookies. Have you tried Oatmeal Decorated Cookies? If you like oatmeal these these iced oatmeal cookies might be just for you!
OATMEAL CUT OUT COOKIES
I decorated these Watermelon Pinata Oatmeal Cookies with royal icing and chocolate covered sunflower seeds.
OATS
I'm a big fan of oats and I use them often. In this recipe I used rolled oats. You can use them straight from the box but for an extra flavor I like to toast them. Toasting brings out deliciously nutty flavor and gives them glowing golden color.
TOAST ROLLED OATS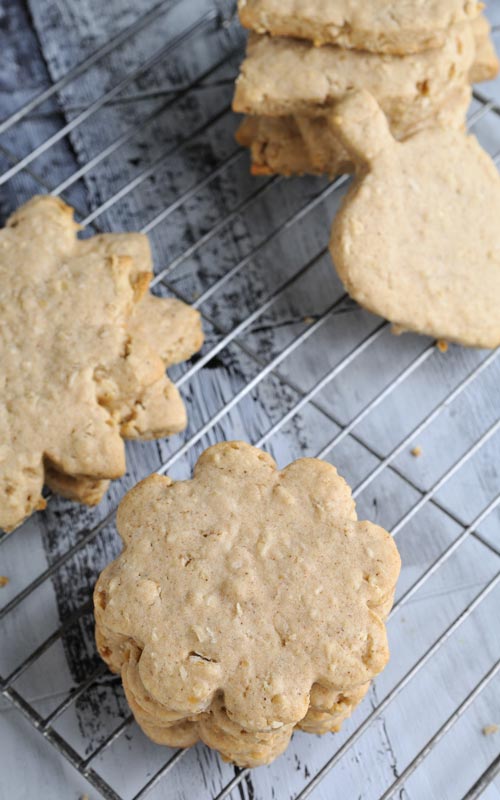 Spread rolled oats in an even layer on a baking sheet. Toast oats in the preheated oven at 350F for 10-15 minutes. Toss the oats halfway through. Then you'll need to let them cool for 20 minutes. Process them in the food processor until you have smaller pieces. Don't process oats for too long or they will turn into powder and you don't want that.
INGREDIENTS
Ingredients for oatmeal cut out cookie dough are super simple. And what's great is that you can also add chocolate chips, raisins or mini M&M.
DRY INGREDIENTS Along with toasted oats I also used all purpose flour, brown, granulated sugar, baking powder, cinnamon and salt.
WET INGREDIENTS . To make sure that dry ingredients hold together we also need some wet ingredients. I used unsalted room temperature butter, egg and Vanilla Extract. You can also use a blend of Vanilla and Almond Extract.
Sift flour, sugar, baking powder and salt. Then combine flour mix with roughly processed toasted rolled oats.
OATMEAL COOKIE DOUGH
Cream butter and both : brown and granulated sugar. Make sure to scrape the bowl few times. Cream butter with sugar for 5-7 minutes, until creamy and pale in color.

Whisk together egg and Vanilla Extract. Beat egg mixture into butter mixture until well combined.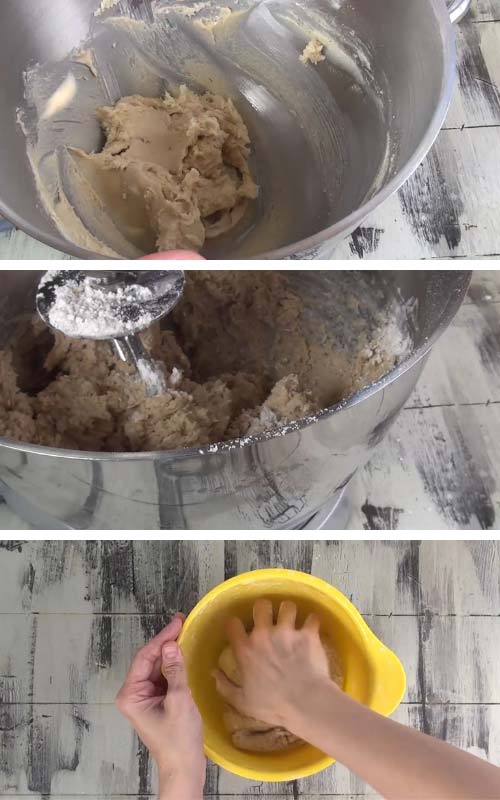 Lower the speed and gradually, in 3 additions beat in flour oat mixture. If you'd like to add mini chocolate chips, mini m&m candies, or raisins add them as last and stir the dough till just combined.
If the oatmeal dough appears too sticky add 1tbl flour and knead with your hands for 30 second, just until it comes together.
Then flatten the cookie dough it into a disk. Wrap it a plastic wrap and refrigerate for at least 2 hours. I prefer to chill it overnight if I can.
CUT OUT COOKIES
To roll out my cookies I use Dough EZ Rolling System. I've been using it for years. And honestly it has been along with the stand mixer one of my most used tools in the kitchen. I also love my knives. But that's another story, for another post.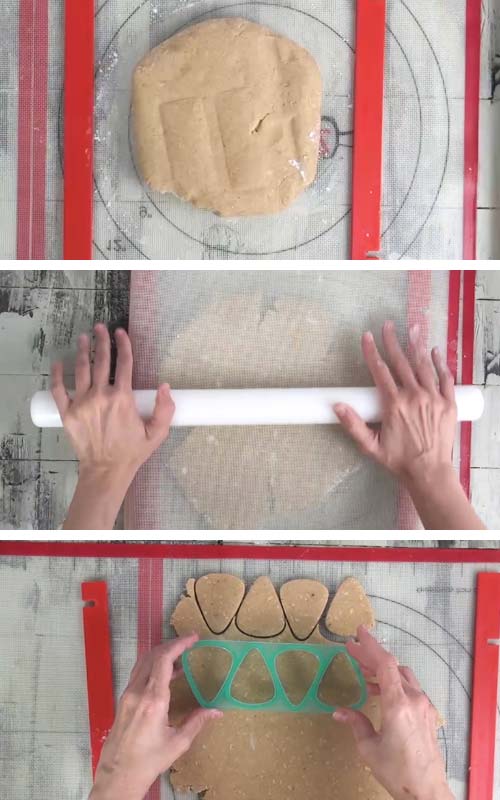 Lightly dust work surface with flour and roll the oatmeal cookie dough into 1/4 inch thick sheet.
Use 1/4 inch guides to roll the cookie dough into even thickness. Place cookie dough between rolling guides. And move rolling pin on the rolling guides. Cut out cookies and re-roll scraps.
What can I use for rolling guides? Well, if you don't have rolling guides you can use wood rods from the local hardware store. They sell them in different widths.
Cookie Cutter : to cut out oatmeal cookies I'd highly recommend using metal cutters or plastic cutters with a sharp edge. You need a sharp edge to cut through the oats bits.
I used a Triangle Cutter by Sweet Sugarbelle. I had to wiggle it a little bit to cut through oats and it worked! Transfer oatmeal cookies onto a baking sheet lined with a parchment.
BAKE
Bake cookies at 350 F for 10-12 minutes, until lightly golden around the edges. Let cool for 5 minutes. Then transfer baked cookies onto a cooling rack.
Baked cookies can be stored in an airtight container.
Oatmeal Cut Out Cookies
This recipe for Oatmeal Cut Out Cookies makes about 15 cookies, 1/4 thick and about 3 inches across. Cookies are great plain, drizzled with chocolate and you can also decorate cookies with royal icing, fondant or glaze.
Recipe adapted from King Arthur Flour Whole Grain Baking
Ingredients
1

cup

room temperature butter

(226grams)

1/2

cup

packed brown sugar

(110grams)

1/4

cup

granulated sugar

(50grams

1

egg

1

tbsp

vanilla extract

2 3/4

cup

all purpose flour

(415grams)

1

cup

old-fashioned rolled oats

(90grams)

1/2

tsp

salt

1

tsp

baking powder

2

tsp

cinnamon
Instructions
Into a large bowl sift all purpose flour ( 2 3/4cup), baking powder (1tsp), cinnamon (2tsp) and salt (1/2tsp).

Toast oats on a baking sheet in the preheated oven at 350F for 10-15 minutes. Tossing them around midway. Let cool. Process oats in the food processor until you have small bits of oats. Don't over process. Stir together flour mix and oats. Set aside.

Cream butter (1cup) with brown sugar (1/2cup packed) and granulated sugar (1/4cup), until pale and creamy, 5 -7 minutes.

Whisk together Vanilla Extract (1tbsp)and egg (1).

Gradually add egg mixture into butter mixture. Cream until smooth and well incorporated.

Gradually, in 3 additions, on low speed add flour mix.

Scrape the bowl, gather the dough together and knead a little, just till it comes together. Shape the dough into a disk.

Wrap the dough in a plastic wrap. Chill 2 hours and up to overnight.

Preheat oven 350 F.

Lightly dust work surface with flour. Roll the dough using Dough EZ rolling mat system or use 2 parchment papers and roll it out between those. Use 1/4 inch rolling guides on each side of the dough to ensure even thickness of the cookies. Cut out cookies. Preferably use a metal cutter or plastic cutter with a sharp edge. Press dough firmly with the cutter to cut out cookies.

Place cookies on a baking sheet lined with parchment paper.

Bake for 10 -12 minutes, until bottom is lightly golden and tops are little puffed. Remove cookies from the oven. Let cool on the baking sheet for 5 minutes. Then transfer cookies onto a cooling rack to cool completely.
Notes
Can I Decorate Oatmeal Cut Out Cookies
Yes, you can definitely decorate them with royal icing, fondant or glaze. 
These Oatmeal Cut Out Cookies can be also enjoyed plain or dipped/drizzled with chocolate.
Can I skip Cinnamon?
Sure, you can choose to omit cinnamon. If this is the case I'd suggest using 1tsp Vanilla Extract and 1tsp Almond Extract.
Other Flavors
Chocolate -If desired you can also add mini chocolate chips, add up to 1/2 cup mini chocolate chips to the recipe. Stir the chocolate chip as last into the batter.
Coffee – whisk coffee powder into the flour mix.
Candies – Add up to 1/2 cup mini chocolate m&ms into the batter.
TO MAKE OATMEAL CUT OUT COOKIES YOU NEED
PIN IT for later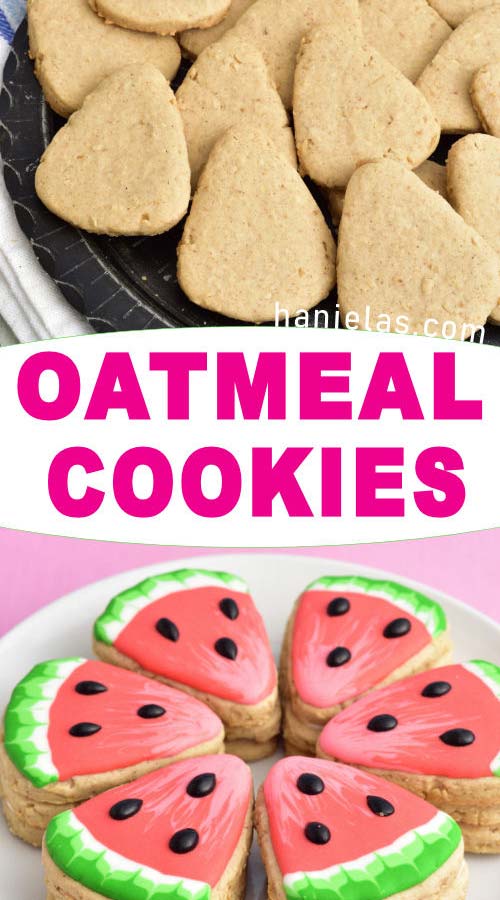 This post contains Amazon affiliate links that earn me a small commission, at no cost to you. I only recommend products that I use and love. Learn more about my affiliate policy here.