Roasted Chicken Green Bean Salad Sandwiches
What's great about roasted chicken green bean salad is that it can be made ahead of time. It's easy to put together using leftover or pre-cooked chicken. Salad is packed with flavors of savory chicken, crunchy green beans, creamy cooked homemade mayonnaise dressing.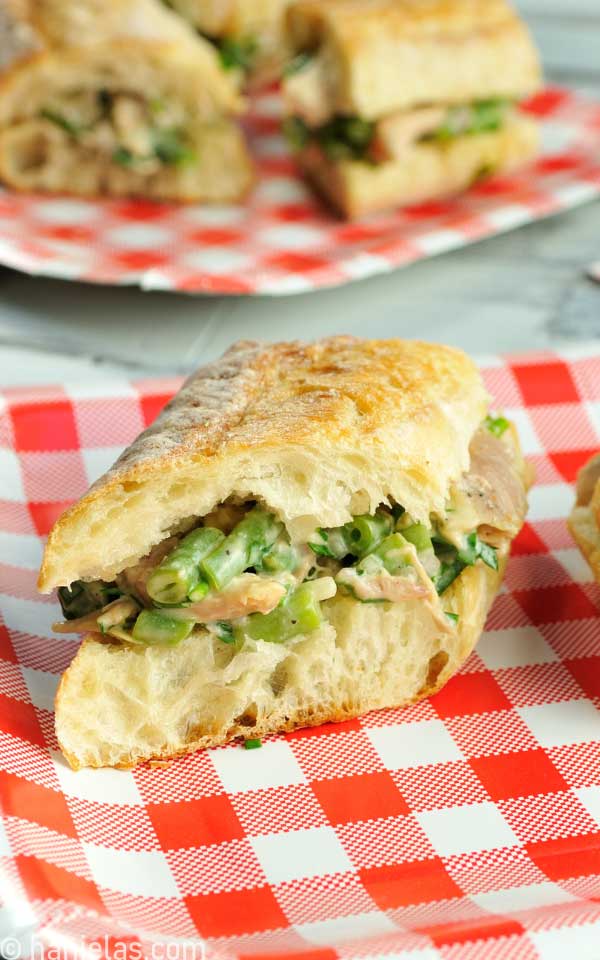 updated from 2013
ROASTED CHICKEN GREEN BEEN SALAD SANDWICHES
Salad sandwiches are a great for picnics and packed lunches.
WHAT YOU NEED TO MAKE CHICKEN GREEN BEAN SALAD
Leftover, pre-cooked, or freshly roasted chicken – I used thighs
Fresh green beans, washed, steamed, ends trimmed and chopped to about 1/2 -inch long pieces
Homemade Mayonnaise: egg, lemon juice, mustard, honey, olive oil
Shallots
Chives
Parsley
Salt
Pepper
ROASTED CHICKEN
To make this salad, you can prepare chicken at home – I like roasted chicken thighs. Roast them in the oven, let them cool, and then get the meat off the bone and cut it up into smaller pieces. That being said, you can also use pre-cooked or leftover chicken – it makes the making of the salad a lot quicker.
Also, salads are versatile, so if you don't have chicken, but you have turkey meat leftovers, use turkey meat instead.
HOMEMADE MAYONNAISE
This homemade mayonnaise recipe is super simple to make. I also use it to make the filling for the best-deviled eggs. It's so simple and quick to make. To prepare homemade mayonnaise, I employ the basic bain marie method to heat the egg to a safe temperature of 160F.
To prevent the egg from cooking, you need whisk it with lemon juice, mustard, and honey over a pot of slowly simmering water in a heat-safe bowl. Steam from the simmering water heats the mixture gradually, without cooking the egg. Once the mixture gets hot to touch, you can check the temperature with a candy thermometer. If you don't have a thermometer, continue cooking the mixture for another minute after it gets too hot to touch. I've tested this multiple times using the thermometer with readings well over 160F.
To finish it you need to whisk in olive oil and season it with salt and pepper.
SHALLOT, CHIVES AND PARSLEY
To add flavor complexity, texture and mild aroma, I use finely diced shallots, chives and parsley.
I prefer shallots over onions as they are not as aggressive as onions.
Chives are wonderful, they add so much to any dish. They are bright green and boast a combination of flavors of mild onion and hint of garlic.
Parsley is a long favorite of mine and I use it whenever possible.
CHICKEN GREEN BEAN SALAD
Combine all the filling ingredients in a large bowl, and gently toss the fillings with a cool mayonnaise. Chill the salad for one hour before serving.
SALAD SANDWICHES
You can use bread, baguettes, or even pita bread to make sandwiches.
If you plan on taking these sandwiches to a picnic in the heat of the summer, it's a good idea to pack them with small ice packs. You don't want to leave any salad in the heat for hours.
TRY THESE DELICIOUS RECIPES – great for picnics or lunch boxes
Roasted Chicken Green Bean Salad Sandwiches
The recipe makes 6 baguette style sandwiches
Ingredients
Chicken
5

chicken thighs

1/2

tsp

sweet paprika

1/2

tsp

olive oil

salt and black pepper to season
Homemade Mayonnaise Dressing
1

large egg

1

tbsp

dijon mustard

1

tbsp

lemon juice

1/2

tsp

honey

1/2

cup

mild olive oil or vegetable oil

pinch of fresh ground pepper

1/2

tsp

salt
Salad
1/2

pound

green beans – ends trimmed, steamed till fork tender, then cooled in ice water to stop the cooking and preserve the green color.

1

shallot, finely diced

finely diced

3

tbsp

parsley, chopped

chopped

3

tbsp

chives, chopped

chopped

kosher salt

fresh ground pepper

fresh lemon juice as need to taste

2

large baguettes or bread of your choice
Instructions
Roast Chicken
Preheat oven to 425F.

Brush the ovenproof dish with a little bit of oil—season 5 chicken thighs with salt, pepper, and paprika. Place chicken into the oven-proof dish—Roast for 45 minutes or until golden brown and cooked through.

Remove from the oven and let cool slightly. Pick the meat of the bones and set it aside to cool. Cover it so it doesn't crust/dry out.
Homemade Mayonnaise Dressing
In a heat-proof bowl, combine 1 egg, 1 tablespoon of mustard, 1 tablespoon of lemon juice, and 1/2 teaspoon of honey. Whisk together. Set the bowl over the pan of simmering water. Whisk constantly until the mixture is hot. Once it's hot, cook for 1 more minute while constantly whisking.

Remove the bowl from the heat and gradually, while whisking pour in 1/2 cup (120 ml) olive oil. The mixture will thicken. Set aside to cool; stir occasionally. Season with salt and ground pepper.
Salad
Roughly chop cooked chicken meat and 1/2 lb of steamed, cooled beans into about 1/2-inch pieces.

Combine meat, chopped shallot, green beans, parsley, chives, and cooled mayonnaise in a medium bowl, and gently stir. Taste, season with salt, pepper, and lemon juice as desired.

Chill salad for one hour.
Serve Green Bean Chicken Salad
Split the baguettes in half, stuff with the salad. Cut the baguette into sandwiches. Wrap in a plastic wrap, napkin or wax paper. These can be made one day ahead and stored in the fridge.

If you like the bread to be crunchy, toast the sliced bread and fill it with the salad on the day of serving.
This recipe was written on July 20, 2013, on May 30th, 2023 I updated this recipe with new photos, written text and a recipe card.