Peanut Butter Dip with Fresh Apples
If you are looking for a crowd-pleasing sweet dip that kids and adults will love, try this Peanut Butter Dip with fresh apples.
updated from 2011
PEANUT BUTTER DIP WITH FRESH APPLES
I made this delicious sweet dip for a friend's baby shower and everyone was raving about it. It is so easy to make and it can be made ahead of time. Have you tried it?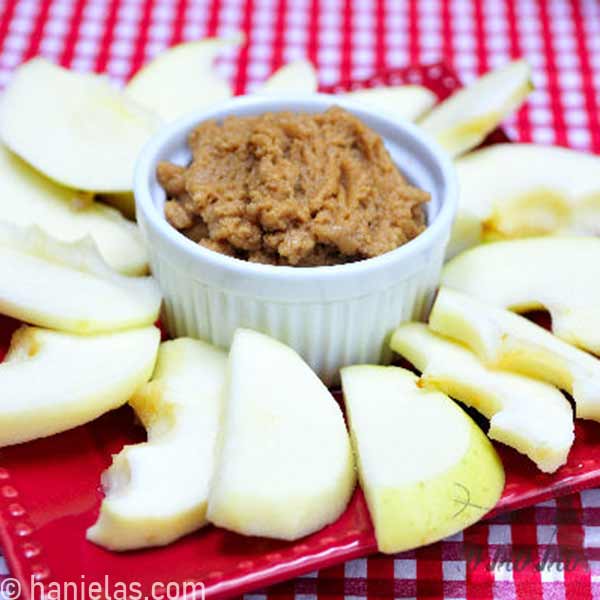 INGREDIENTS
The ingredients you need to make this easy dip recipe are simple. I bet most of them you have in your pantry at all times. I used smooth peanut butter in this recipe because that's what I prefer. If you like other kind use it instead. When choosing apples, stay away from McIntosh apples, when soaked in lemon water they get soft and kind of slushy.
Peanut Butter – I used smooth peanut butter
Cream Cheese
Brown Sugar
Vanilla Extract
Apples – use firm tart apples, avoid using McIntosh, as these get mushy.
PICNIC TAKE-ALONG SNACK
I love this recipe because you can pack it up and bring it along to a picnic. What's great is that you can prepare dip and store it in the fridge for up to 4 days. Or if you run out of time, you can prepare apples last minute. Toss apple slices with freshly squeezed lemon juice. Then spoon dip into a container with a lid and apples you can bring along in a Ziploc bag, and you are ready to go.
MORE SNACK IDEAS
Peanut Butter Dip with Fresh Apples
Ingredients
PEANUT BUTTER DIP WITH FRESH APPLES
½

cup

smooth peanut butter

½

cup

cream cheese

¼-½

cup

brown sugar

¼

tsp

Vanilla Extract
HOW TO PREPARE APPLES
3

Large apples ( don't use McIntosh apples, they get mushy)

2

cups

water (500 ml )

Juice of one large lemon

Paper Towel
Instructions
PEANUT BUTTER DIP
In a mixing bowl, with a hand-held mixer beat cream cheese (1/2 cup) until smooth. Add peanut butter (1/2 cup) and beat until fluffy and smooth. Beat in brown sugar and beat for 5 minutes until smooth. Lastly, beat in Vanilla Extract (1/4 teaspoon)

Scrape into an airtight bowl. Store in the fridge until ready to use.
PREPARE APPLES
Into a bowl, pour water (2 cups, 500ml) and lemon juice.

Wash apples. You can peel them if you'd like, but you don't have to.

Core the apples and slice them, immediately place all the slices into the lemon water; this will prevent the apples from getting brown. Let apples soak for 5 minutes.

Line a tray or a plate with a paper towel, remove apple slices from the lemon water, and place them onto the paper towel to drain. Place another piece of paper towel on the top and, pat dry the apples.
SERVE APPLES WITH PEANUT BUTTER DIP
For a picnic take-along style, spoon peanut butter dip into a jar. Add apples into another container or a Ziploc bag.
This post was originally published on October 3rd, 2011. On October 11th, 2022 I updated this post with new pictures and written text.