Broccoli & Onion Cornbread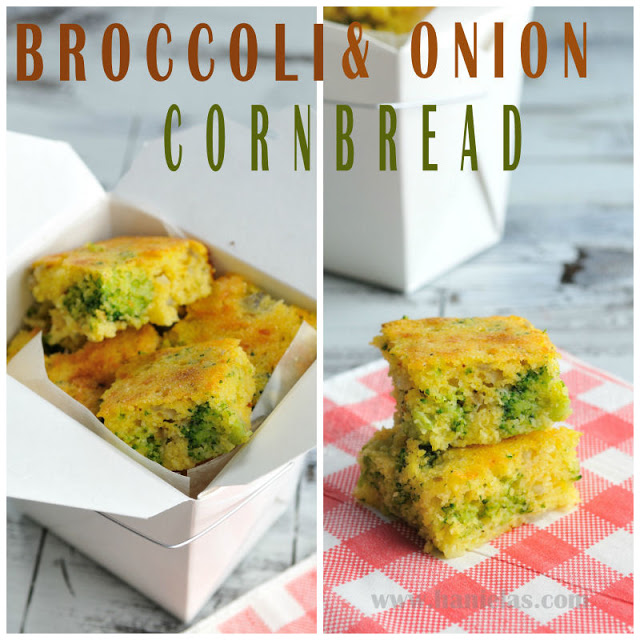 I was cleaning out  the freezer I found a bag of frozen broccoli from last year's garden crop. It got pushed in the back and I completely forgot about it.  Now, what to do with it?   I wanted to try something new, something different.  It gets old making the same dish over and over and I hate wasting food. I had to make something with it. I remembered I saw something with broccoli in the Food Network Magazine I had just bought few days before.
Cornbread recipe I found in the magazine looked really good, as I found out it  can be altered in different ways, adding carrots, tomatoes, corn, bacon, dry fruits, scallions, kale, peppers, sausage, nuts, zucchini, pickled peppers. Combinations are endless , really.
Cornbread base is  the same but you can switch up the mix-ins as you like. I love pairing broccoli with onion so I decided to try it. I also added little bit of nutmeg. Broccoli and nutmeg really pair well together. You should try it next time, or prepare my
Broccoli Nutmeg
.
Broccoli Onion Cornbread
1 1/2 cups yellow cornmeal
1/4 cup all purpose flour
2tbl granulated sugar
1tsp baking powder
1/2tsp baking soda
1/4tsp kosher salt
1/8tsp fresh ground pepper
1/4tsp freshly ground nutmeg
1egg
1cup milk
1cup low fat or fat free Greek Yogurt like Chobani
2tbl melted butter
1/2 cup chopped onion, sauteed in 1tsp olive oil until lightly golden brown, cooled to room temperature
1 cup broccoli florets, steamed until fork tender, roughly chopped and cooled to room temperature
1/2 cup Parmesan cheese
Preheat oven to 400F.

Grease 9 inch square pan, line the pan with parchment paper for easier release, leaving some loose parchment hanging over the sides,  set aside.

In a large bowl combine together cornmeal, flour, sugar, baking powder, baking soda, salt, fresh ground pepper, nutmeg, set aside.

In a bowl whisk together egg, milk, yogurt, melted butter, set aside.

Whisk wet ingredients into dry ingredients until combined.

Stir in sautéed onion, broccoli and cheese.

Pour into the prepared pan.

Bake for 25-30 minutes, until edges are lightly golden.

Remove from the oven, let cool in the pan for 15 minutes.

Loosen the edges with a knife,  and slice.

These can be made ahead, and stored in the fridge. Bring to room temperature before serving.
Cornbread counts as great picnic food, you can make it ahead of time, it tastes great and travels well. You can pack it into 
Take Out Containers
and bring it with you to your next picnic party, or share it with friends and neighbors. You'll be surprised how many will reach for the seconds.