Peanut Butter Thumbprint Cookies
I love this recipe for peanut butter thumbprint cookies. Cookie dough is super easy to put together, and you can use it to make traditional, unadulterated criss-cross cookies, thumbprint cookies, filled or unfilled, or famous blossom cookies.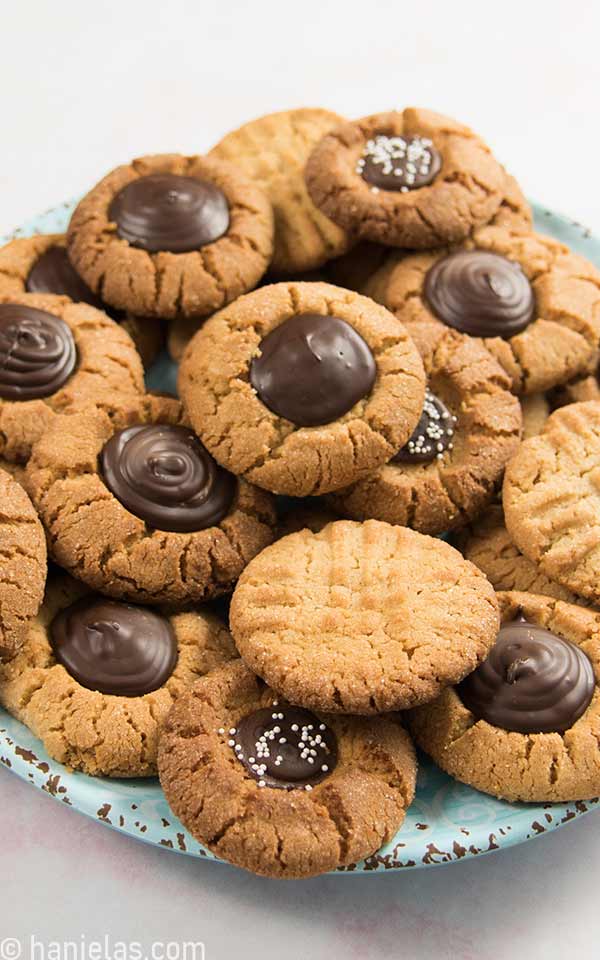 updated from 2010
HOW TO MAKE PEANUT BUTTER THUMBPRINT COOKIES
INGREDIENTS
Butter
Brown Sugar
Granulated Sugar
Smooth Peanut Butter
Egg
Vanilla Extract
Flour
Baking Soda
Salt
Vanilla Sugar or Granulated Sugar – Topping
Chocolate, Hershey Kisses, Fruit Preserve (I love using cherry)
MAKE PEANUT BUTTER COOKIE DOUGH
Before you get started, make sure all your ingredients are at room temperature.
Process is super simple. Cream butter and both sugars until well mixed, for about 5 minutes.
I use smooth peanut butter in this recipe, one whole egg and also Vanilla Extract for some extra flavor.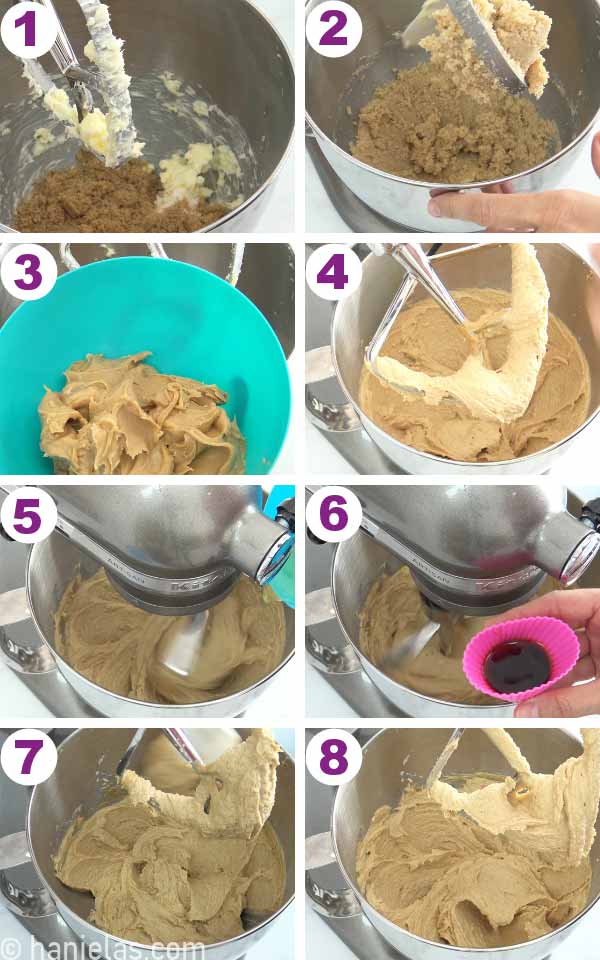 FLOUR MIX
In this recipe I use all-purpose flour, baking soda and salt. I use baking soda because it encourages spreading in cookies and makes cookies chewier.
Learn more about baking powder and baking soda (via myrecipes.com) and how to use them in cookie baking.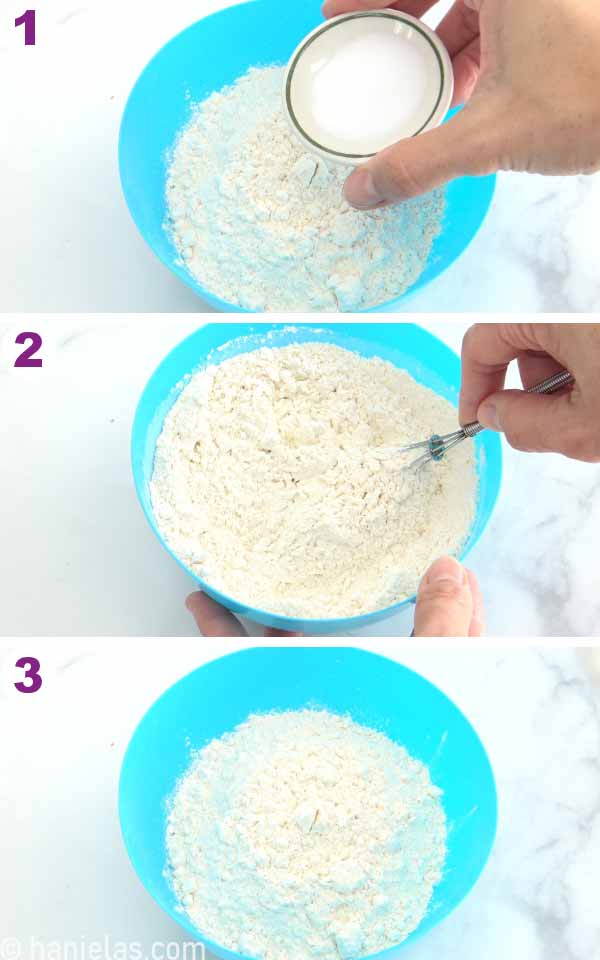 SOFT COOKIE DOUGH
This peanut butter cookie dough is soft. Don't be tempted to add more flour.
If you add too much flour it can cause your cookies to fall apart, and they become crumbly after baking.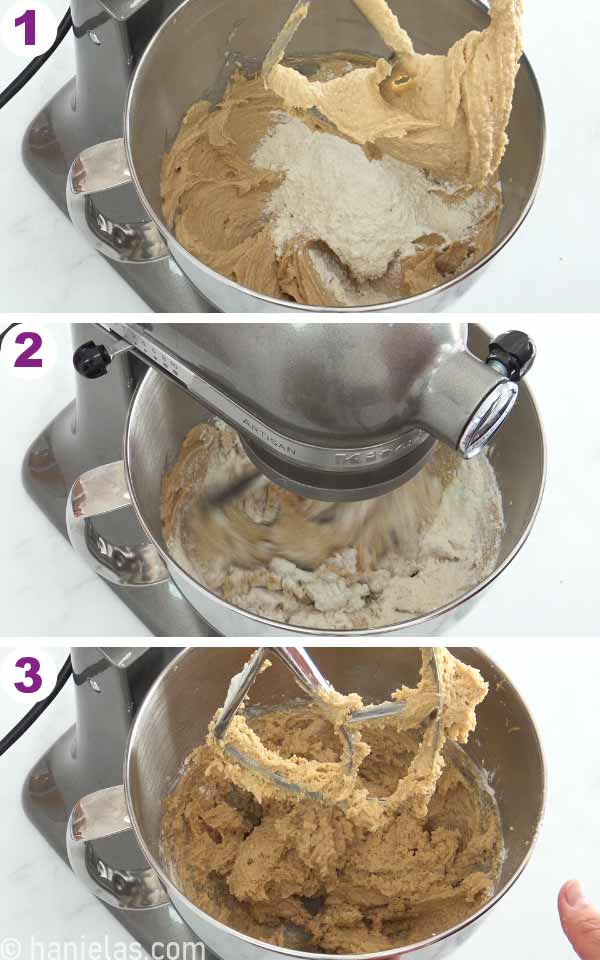 CHILL COOKIE DOUGH
Before you get to shape soft peanut butter cookie dough into ball you need to chill it.
Chill cookie dough, covered for at least 2 hours and up to overnight.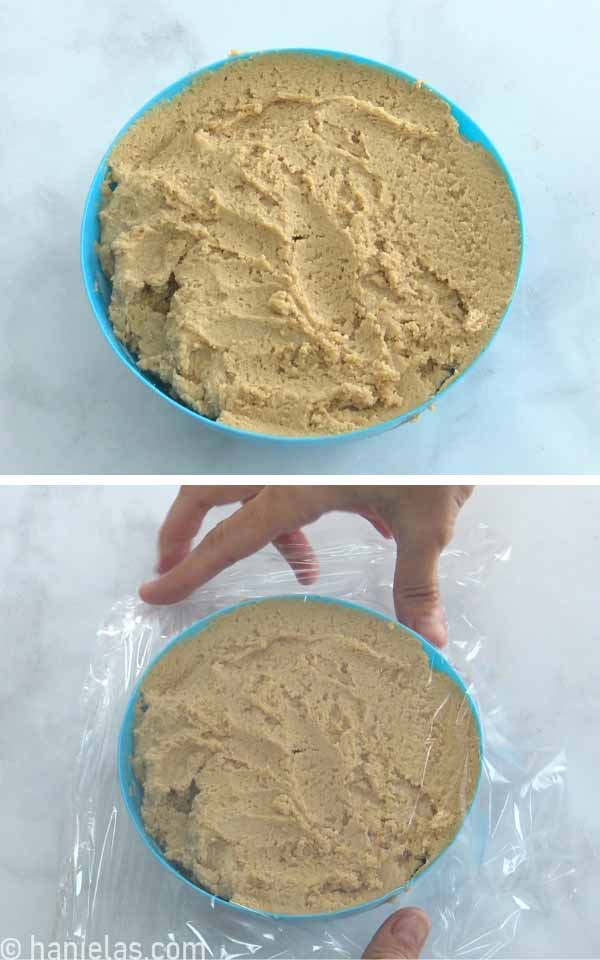 SHAPE COOKIE DOUGH
I use 1-inch cookie scoop to measure mounds of chilled cookie dough.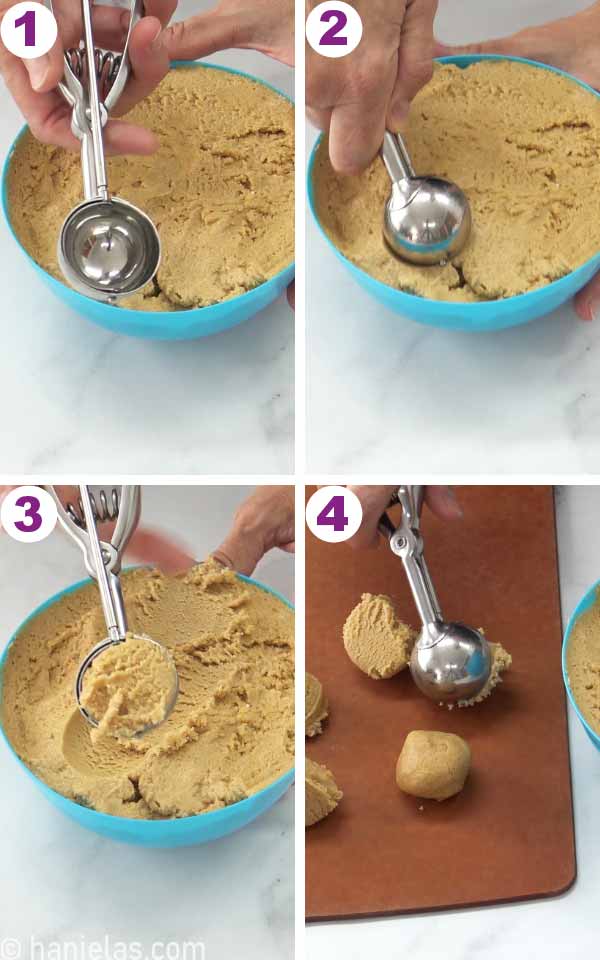 First, I drop even mounds of cookie dough onto a tray or cutting board. And after I'm done with all the cookie dough, I shape each piece of cookie dough into a ball.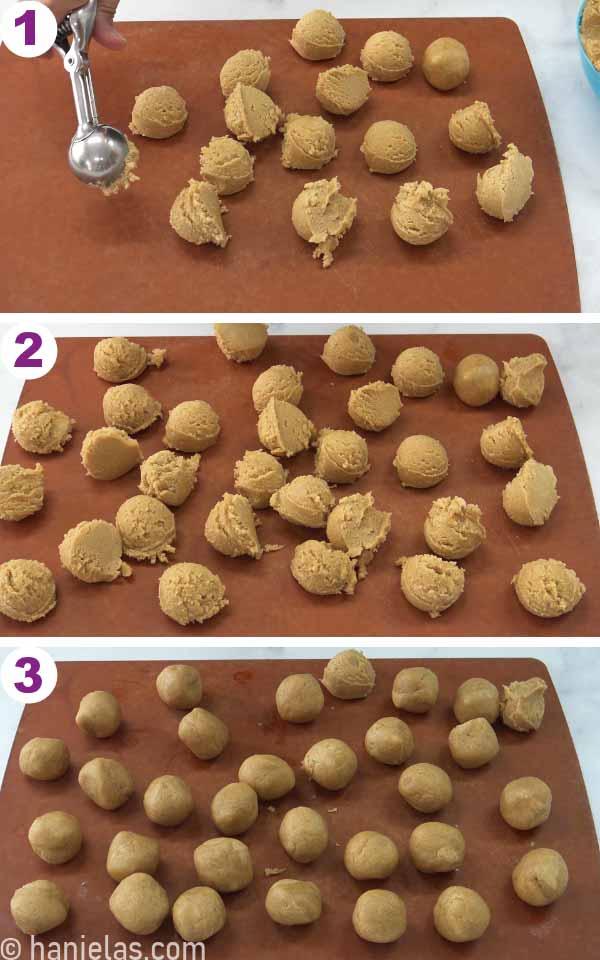 SUGAR COATING
I like to roll cookie balls in vanilla sugar before baking. If you don't have Vanilla sugar use granulated sugar instead.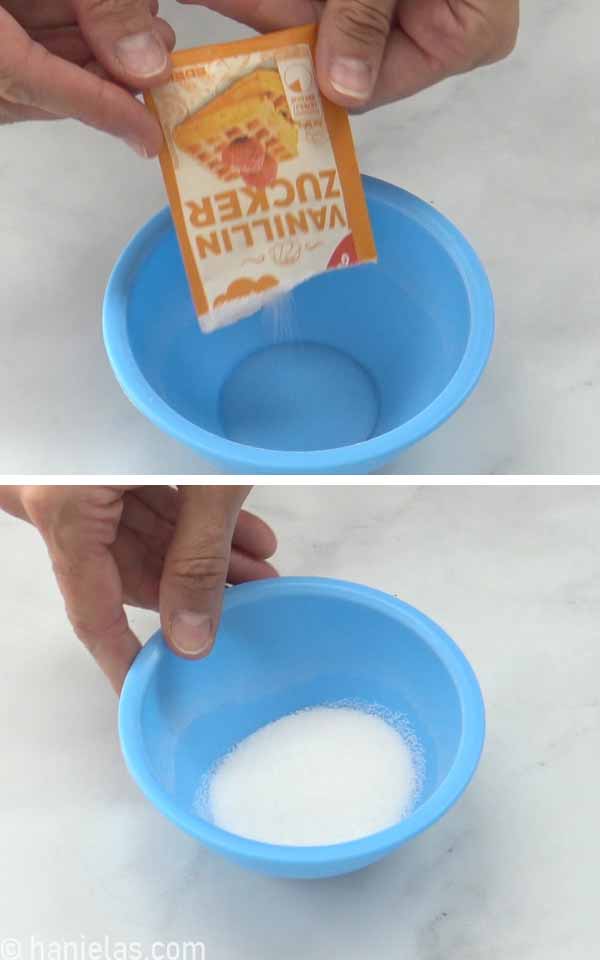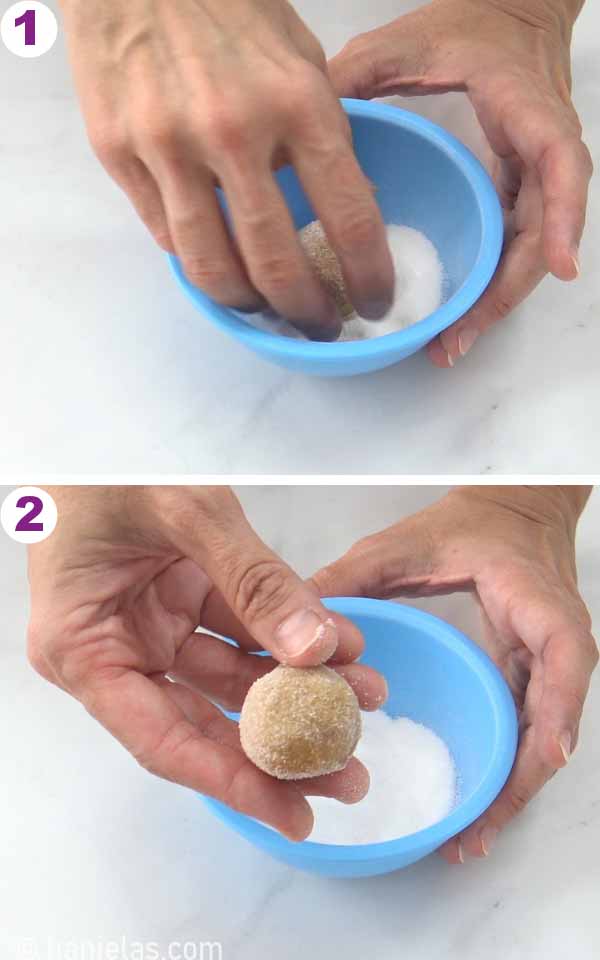 BAKE COOKIES
These peanut butter cookies spread a little during baking and so I want you space them out about 2 inches apart on a baking sheet lined with parchment or baking silicone mat.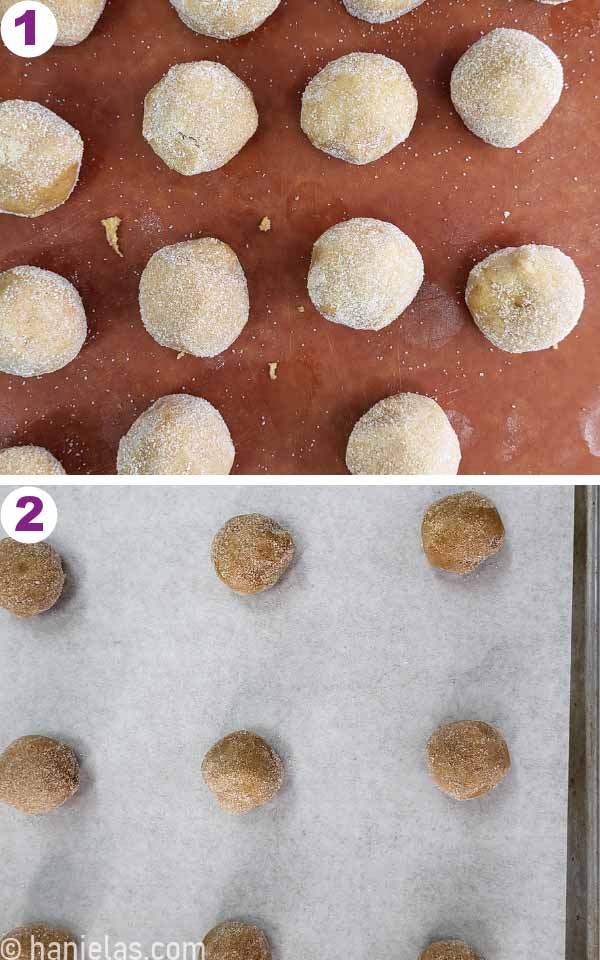 PEANUT BUTTER CRISS-CROSS COOKIES
Simple criss-cross cookies are easy to make. Dip a fork in Vanilla or granulated sugar. Press the cookie ball with a fork, and then repeat in the opposite direction. Bake as usual, until lightly golden brown around the edges.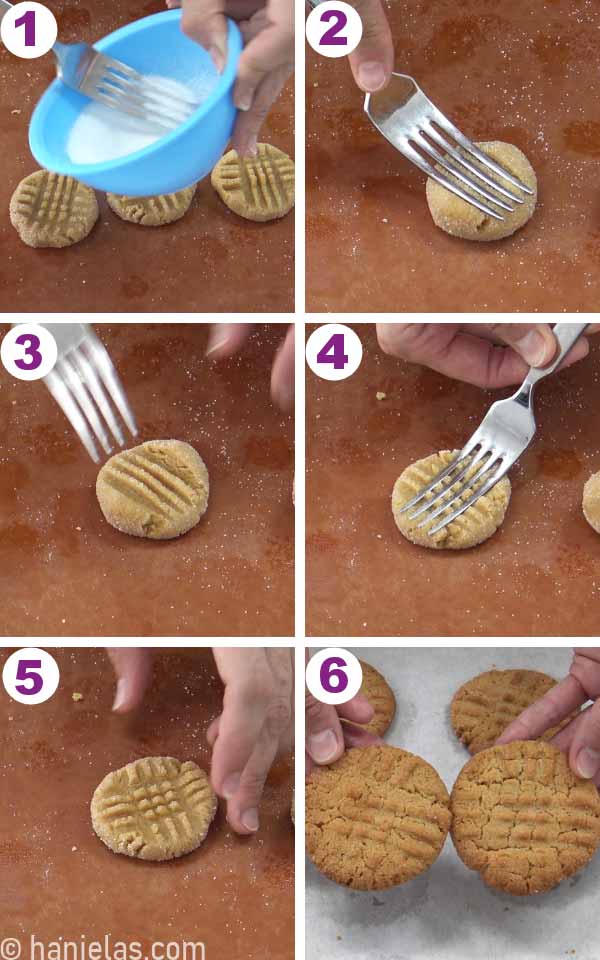 HOW TO MAKE THUMBPRINT COOKIES
I found an easy solution for perfect indentation in a cookie ball. A silicone wine stopper is what I use to make a perfectly round and wide indentation. I love it because it's fast to use, cookie dough doesn't stick, and I have yet to misplace it.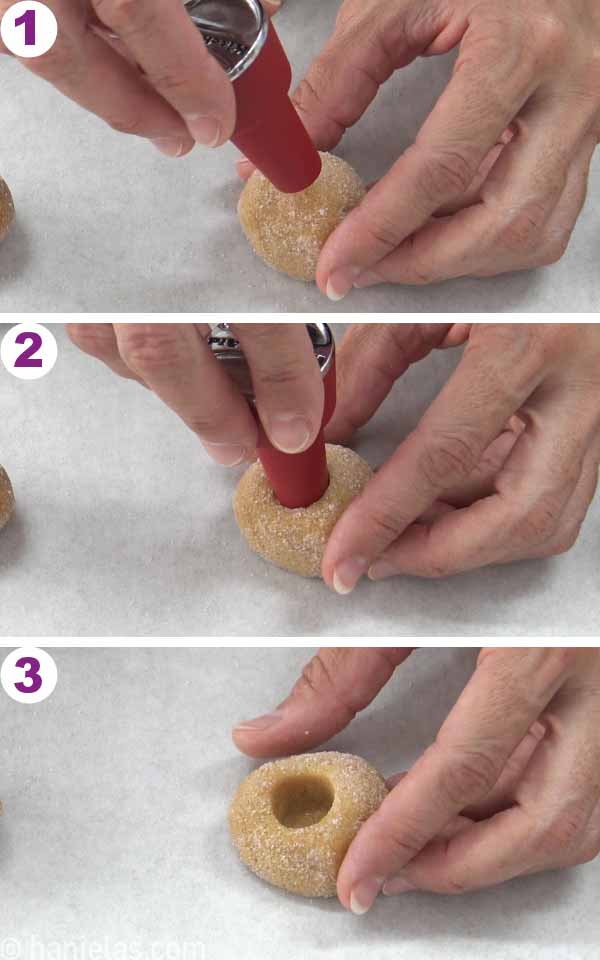 Bake the cookie in the preheated oven at 375F ( C)
Peanut butter cookies are easy to overbake. Bake the cookies until the edges are light golden brown. When cookies come out of the oven, they are soft. Be sure to let them cool on a baking sheet for 5 minutes and then transfer the cookies onto a cooling rack.
CAN I USE THIS RECIPE TO MAKE PEANUT BUTTER BLOSSOM COOKIES?
Absolutely. If you plan on using this peanut butter cookie recipe to make peanut butter blossom cookies, don't make indentations in the cookies before baking. Instead, bake the balls of cookies rolled in sugar. Once cookies are baked, immediately gently press the chocolate kiss in the middle of each cookie.
For chocolate peanut butter thumbprints, deposit the chocolate pieces (chocolate chips or chocolate disks) into the cookie "well' right after you take the cookies out of the oven. Allow the heat from the cookie to melt the chocolate so it sticks to the cookie.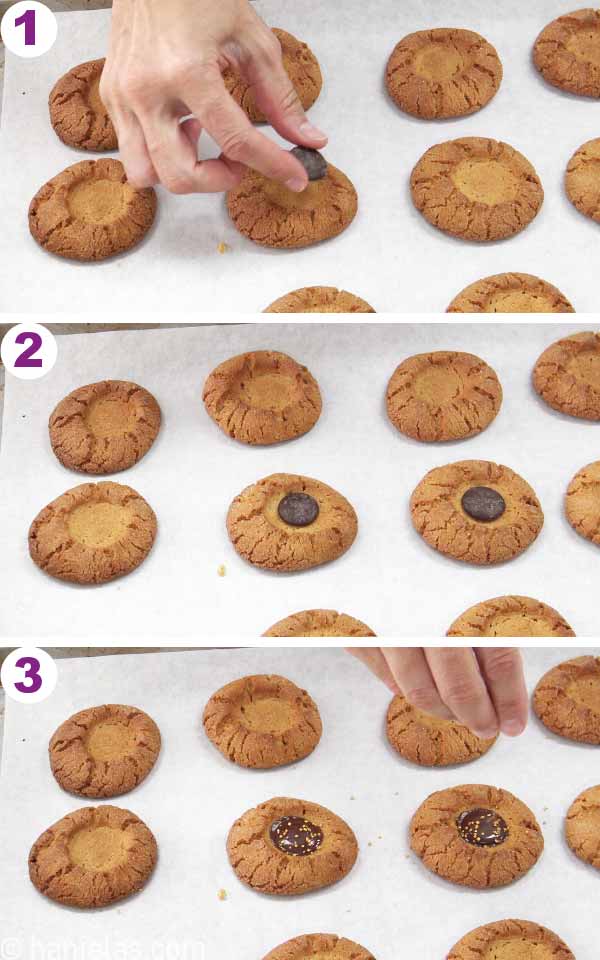 FILLED COOKIES
For this recipe variation, you need to let the cookies cool completely.
Here are some fillings ideas to get you inspired: jelly, preserves, Nutella, and ganache.
I like using cherry preserves, but other preserves will work, too.
You can use a piping bag or a spoon to add about ½ teaspoon of filling into each cookie cavity.
CHOCOLATE TOPPING
To make the chocolate topping, you have three options:
Melting Chocolate Wafer/Disk for dipping (compound chocolate) – no need to temper
Chocolate Chip, Chocolate Bar – melted with a little bit of Crisco or other shortenings.
Couverture Chocolate Dicks or good quality chocolate bar – melted and tempered
I melted good quality chocolate with a little Crisco (get all the details in the recipe card).
Spoon melted chocolate into a piping bag or a sandwich bag and pipe chocolate around the filling and over it, to completely seal it. Or use a spoon to spread chocolate over the filling. Allow chocolate to set before packaging and storing.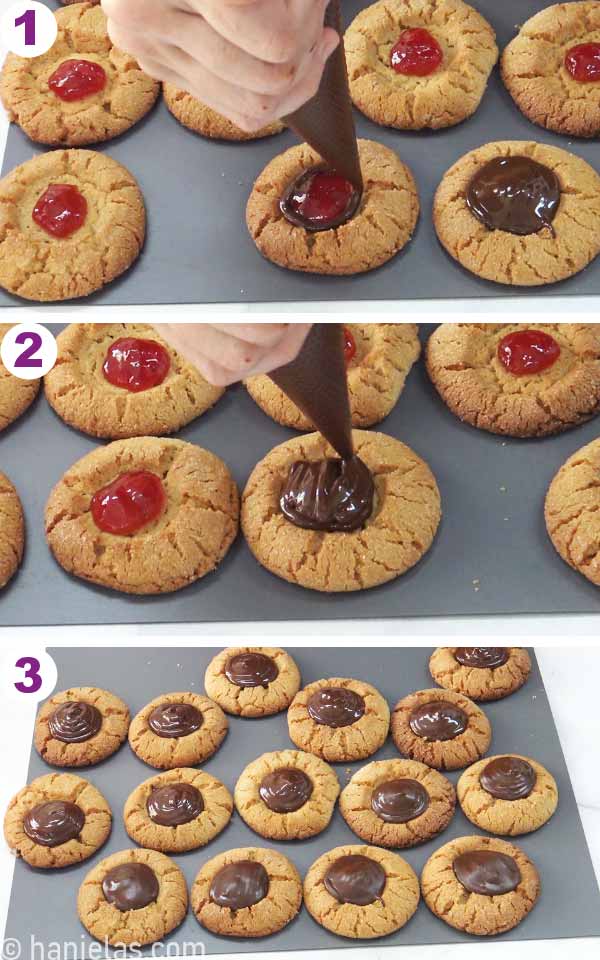 CAN PEANUT BUTTER THUMBPRINT COOKIES BE FROZEN?
Yes. You can freeze cookies in an airtight, freeze-safe container for up to 3 months. I often add layer of protection using food wrap. Line a freezer-safe container with food wrap, and let some overlap. Stack cookies inside. Seal the opening with food wrap and close the container with a lid.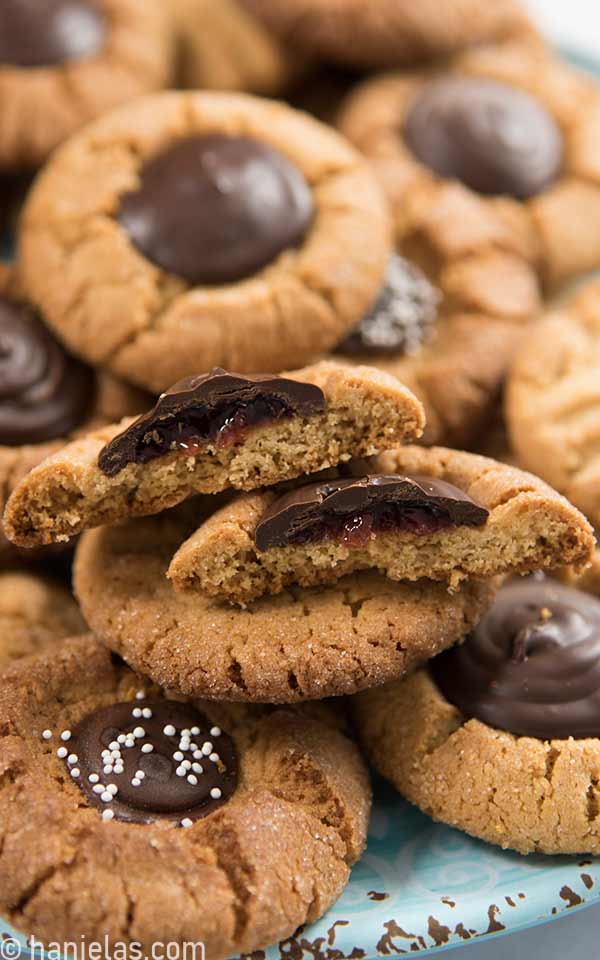 Did you make this recipe? Tag @hanielas on Instagram and hashtag it #hanielas
MORE DELICIOUS COOKIE RECIPES
Peanut Butter Thumbprint Cookies
The recipe makes 35 cookies. This recipe can be doubled and makes 70 cookies.
Ingredients
PEANUT BUTTER THUMBPRINT COOKIES
Cookie Dough
1

cup

all-purpose flour (143grams)

1

tsp

baking soda (5grams)

1/8

tsp

salt

1/2

cup

brown sugar, firmly packed (108grams)

1/3

cup

granulated sugar (70 grams)

1/2

cup

unsalted butter (1 stick, 113grams)

1

cup

smooth peanut butter (255 grams)

1

large egg

1

tsp

Vanilla Extract
Sugar Coating
3

tbsp

vanilla sugar or granulated sugar
Fillings
12

oz

Cherry Preserves (500grams), strained, use the cherry pieces for the filling

Nutella, Strawberry, Raspberry Jam
Chocolate Topping
3

oz

Dark Chocolate Chips or chopped chocolate (340grams)

3

oz

Milk Chocolate Chips or chopped chocolate (340 grams)

2

tbsp

Crisco
Instructions
PEANUT BUTTER THUMBPRINT COOKIES
Peanut Butter Cookie Dough
In a medium bowl, sift together flour, salt, and baking soda, and combine using a whisk. Make sure baking soda is well distributed in the flour.

In a bowl of your mixer, beat butter for 30 seconds, then add both sugars and beat until well combined, about 4 minutes, add all the peanut butter, and beat until smooth.

Add the eggs, scrape the bowl in the beating process, and add vanilla extract.

On low speed, add flour in 3 additions to your peanut butter mixture, and mix until incorporated.

Scrape the dough into a plastic container or another smaller bowl, seal and refrigerate overnight or for at least 1 hour. If in a hurry, place the dough to chill in the freezer until firm and not sticky.
Bake Cookies
Preheat oven to 375F (190C). Line baking sheet with parchment paper.

Take your cookie dough out of the fridge or freezer.

You want the cookie dough to be cold, it is easier to handle when it is cold, when it gets warm it will become sticky.

With a 1-inch cookie scoop, measure the cookie dough. Place mounds of cookie dough onto a plate. Then roll each piece of cookie dough to shape a ball. Coat each ball in vanilla or granulated sugar.

Transfer cookie dough balls onto a baking sheet, leaving about 2 inches between cookie balls. Calculate about 10-12 cookies per large baking sheet.

Spray a wooden spoon handle with a nonstick spray or grease it with a little oil and make an indentation in the middle of each cookie ball.

Alternatively, if you don't want to make thumbprint cookies, use a fork and make a criss-cross pattern with a fork.

Bake cookies until edges are golden brown, for about 10 to 12 minutes, rotate pans at half time.

Remove cookies from the oven, let them cool slightly on the baking sheet, transfer them onto a cooling rack and cool completely.

At this time, you can either freeze the cookies for later use or you can fill them and enjoy them right away.
Fill Cookies
Cherry or other Fruit Preserves – heat the cherry preserve until warm and fluid. Strain it thru a mesh sieve to separate the fruit from the juices. Place cherry pieces on the top of your baked cookies, where you see a little "pot hole" in the middle of the cookie.
Chocolate Topping
Place chocolate and Crisco in a heat-safe bowl (tempered glass or stainless steel). Put the bowl on top of the pot with simmering water. Don't let the simmering water touch the bottom of the chocolate bowl. Stirring, melt the chocolate.

Don't use damp utensils or bowls when working with chocolate any trace of water will ruin your chocolate.

Once the chocolate is melted, let it cool a little till the chocolate is "lava" consistency, you don't want it to be too runny or too thick.

Using one teaspoon, gently smooth out melted chocolate on top of the cherries you just placed on the baked peanut butter cookies. Let cool completely or place in the fridge for the chocolate to harden.

Store in an airtight container in the cool room, layered between pieces of wax paper.

Filled cookies will be good for about 3-4 weeks.
Notes
Can I freeze peanut butter cookies? – Yes, you can freeze cookies for up to 3 months.
This recipe was originally published on December 21st, 2010. On November 23rd, 2022, I updated this recipe with new step-by-step pictures and written instructions, and a video.