Cranberry Walnut Biscotti
Plain or dipped in chocolate these Cranberry Walnut Biscotti are delicious served with tea and coffee. I've been making them for 10 years and they are everyone's favorite!
updated post from 2012
HOW TO MAKE CRANBERRY WALNUT BISCOTTI
BISCOTTI COOKIE DOUGH
Prepare cranberry walnut cookie dough following the recipe in the recipe card. This cookie dough is soft. This is normal for a biscotti dough.
In this recipe I use dry cranberries but you can also use other dry fruits. This cookie base can adapt and be used for different biscotti variations. I like using cherries, crystallized ginger and apricot. And walnuts can be substituted with almond, pecans or pistachios.
SHAPE THE BISCOTTI LOGS AND BAKE
To bake biscotti I like to use a cookie sheet or half sheet baking pan. I can fit 2 logs on the cookie sheet. Making them about 14 inches long and 3 inches wide.
I use ¼ cup ice cream scoop to drop mounts of cookie dough onto a baking sheet lined with parchment. Then using a spatula dipped in water I shape the cookie dough into logs.
Bake at 350F for 25 minutes, until golden brown around the edges.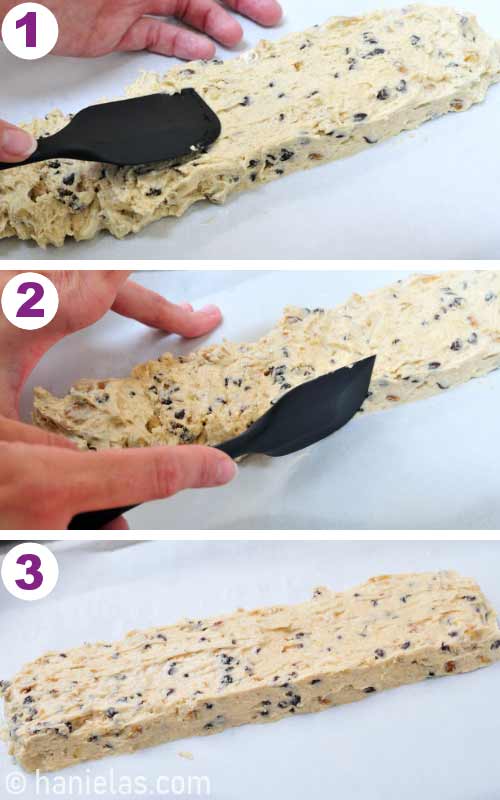 SECOND BAKE
Biscotti cookies are crunchy. And they get their name from double baking. Second bake is an important step in biscotti making. But if you prefer cookies without the crunch of traditional biscotti by all means skip the second baking.
Allow baked cookie logs to cool on a baking sheet for 10 minutes. Lower the oven temperature to 300F. Then slide the cutting board underneath the slightly cooled cookie log. With a serrated knife slice it diagonally or straight into ¾ inch thick pieces.
Then place each biscotti cut side down on the same baking sheet you baked the logs on. Bake for additional 10 minutes. Then flip the cookies and bake again for 10 minutes.
Allow to cool completely before dipping in chocolate.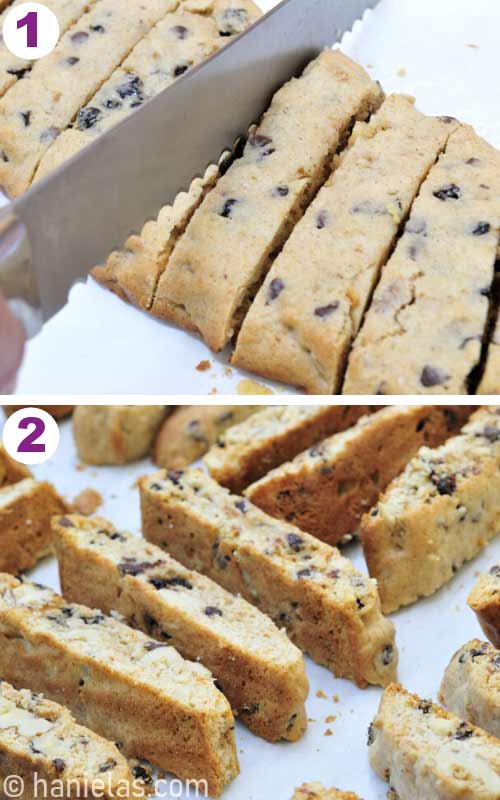 CHOCOLATE DIPPING
Though not necessary you can dip or drizzle biscotti with chocolate. You can use dark, milk even white chocolate. I like to use dark or semi-sweet chocolate. I used both, dark and white chocolate to make Wedding/Bridal Shower Biscotti.
Dip each biscotti into chocolate and place it onto a tray lined with wax paper or a baking sheet. Allow chocolate to set. You can speed it up by placing biscotti into the fridge for couple of minutes.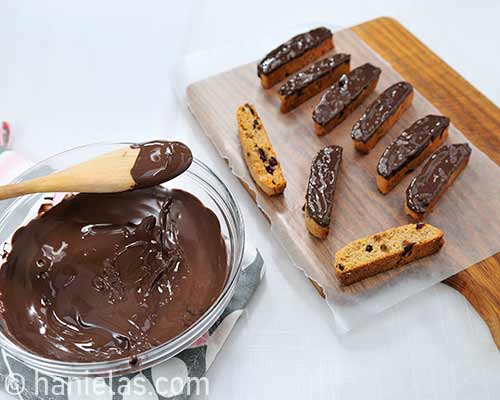 HOW LONG DO BISCOTTI KEEP ?
From my experience they keep for at least a month. Biscotti are perfect for gift giving because of their long shelf life. They also ship well.
Pair your edible gift with coffee, tea or go an extra mile and make Homemade Hot Chocolate Mix.
TO MAKE CRANBERRY WALNUT BISCOTTI YOU NEED
TOOLS
Get all the tools in my Amazon Shop
Baking Sheet
Spatula
Parchment
Cooling Rack
Mixer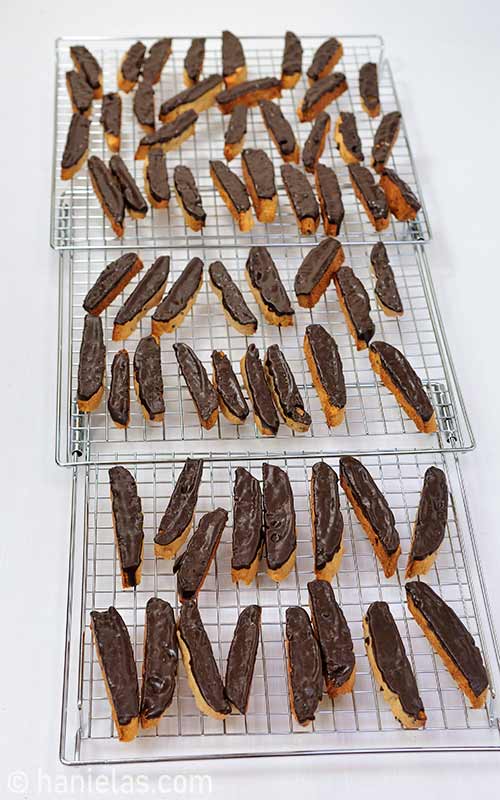 MORE CRANBERRY RECIPES :
Cranberry Walnut Biscotti
My favorite biscotti recipe. Makes 30 biscotti cookies.
2 cookies per person
Ingredients
CRANBERRY WALNUT BISCOTTI
1/2

cup

unsalted butter at room temperature

3/4

cup

granulated sugar

2

eggs at room temperature

1

tbsp

orange zest

2

tsp

Vanilla Extract

1 3/4

cup

all purpose flour

1/2

tsp

baking powder

1 1/2

tsp

cinnamon

1/4

tsp

salt

2/3

cup

dry cranberries

1

cup

Walnuts

1/4

cup

mini chocolate chips, or chopped chocolate
CHOCOLATE FOR DIPPING
8

oz

evenly chopped dark chocolate ( 226 grams)

(I used 2 bars of Baker's Premium Baking Chocolate -semi sweet)
Instructions
CRANBERRY WALNUT BISCOTTI COOKIE DOUGH
Preheat oven to 350 F. Line a baking sheet or cookie sheet with parchment paper or baking mat. Set aside.
TOAST WALNUTS
Spread walnuts (1 cup) onto a baking sheet in one layer. Toast at 350F for 8-10 minutes. tossing the walnuts halfway through. Allow to cool then chop walnuts on a cutting board.
BISCOTTI COOKIE DOUGH
Into a large bowl sift flour (1 cup and 3/4 cup), baking powder (1/2 tsp), salt (1/4 tsp) and ground cinnamon(1 tsp and 1/2 tsp).

You can use both, stand mixer or hand held mixer to make biscotti cookie dough.

In a bowl cream unsalted room temperature butter (1/2 cup, 113 grams) with granulated sugar (3/4 cup) until doubled in volume and pale in color, about 5 minutes.

Into the butter beat in eggs (2 eggs), one egg at a time. Beating well after each addition. Scrape down the bowl. Add Vanilla Extract (2 tsp) and orange zest (1 tbsp) and beat for 30 second until well blended.

Gradually, in 3 additions and on low speed add flour mix into the butter mix. Scrape down the bowl in between.

Lastly stir in chopped walnuts (1cup), dry cranberries ( 2/3cup) and mini chocolate chips or chopped chocolate (1/4cup). Biscotti cookie dough is soft. This is normal.
BAKE BISCOTTI
Divide cookie dough in half. With a large 1/4 cup cookie scoop drop cookie dough onto a baking sheet into 2 rows. Depending on the size of your baking sheet/pan make the log as long as the baking sheet. I like to use cookie sheet and you can also use half sheet baking pan.

My logs were about 14 inches long and 2 1/2-3 inches wide. You can use your hands to shape the logs or use a spatula dipped in water to shape and smooth the cookie dough into a log. Space the logs about 3 inches apart.

Bake until edges are golden for about 25-30 minutes, transfer baking sheets to a wire rack and let the logs cool for 10 minutes. Decrease oven temperature to 300F.
Second Baking
Carefully transfer slightly cooled cookie logs to a cutting board. Cut diagonally or straight with a serrated knife into 3/4 inch pieces.

TIP: Be sure to use both hands to transfer slightly cooled cookie log onto a cutting board. Or slide the cutting board underneath the log. Warm cookie log is prone to breaking if not handled with care.

Place cookies cut side down back on the baking sheet. Bake for additional 8-10 minutes. Then turn the cookies again and baked for 8-10 more minutes, until lightly golden around the edges.

Remove from the oven and let cool completely.
MELT CHOCOLATE
I like to use a quick tempering technique to melt chocolate. You can melt chocolate in the microwave or over a pot with simmering water.
Melt Chocolate in Microwave
Place 2/3 of chopped chocolate into a heat proof bowl. I like to use tempered glass bowl.

Start heating chocolate on 50% power in 2 – 30 second intervals. Stirring and agitating chocolate after each heating period.

Then decrease the heating time to 20 seconds and then to 10 seconds. Stirring and agitating chocolate after each heating period.It is important not to over heat the chocolate.

Once chocolate is melted stir in remaining 1/3 of chopped chocolate. Let sit for 30 seconds. Then stir until melted. Dip your cookies.
Melt Chocolate Over a Pot with Simmering Water
Place heat proof bowl with 2/3 of chopped chocolate over a pot with simmering water. Bottom of the pot must not touch the water.

Stirring melt the chocolate. Once melted remove from the heat source and stir in remaining 1/3 of chopped chocolate. Let sit for 30 second and then stir well until melted. Dip your cookies.

TIP : It's important that chocolate is chopped into small pieces of even size. No huge chunks please. It ensures even melting and can help prevent chocolate from scorching.
DIP COOKIES
Dip or drizzle chocolate over cookies. Place dipped cookies onto a tray and allow chocolate to set. Or stick them into the fridge for 5 minutes to speed up the process.

Store in an airtight container at room temperature for up to 4 weeks.
Notes
CAN I USE OTHER DRY FRUIT?
Absolutely. I've tried cherries, apricots, raisins. 
I DON'T HAVE WALNUTS CAN I USE OTHER NUTS?
Sure, you can. 
IS IT NECESSARY TO USE ORANGE ZEST?
It's not necessary, but it adds nice flavor. And it pairs nicely with cranberries.
HAVE YOU TRIED ADDING OATS TO THIS BISCOTTI RECIPE?
Yes, I have. I make these for a friend once a month. And I add 3/4 cup old fashioned oats with walnuts, cranberries and chopped chocolate. 
This post was originally published on April 9th, 2012. On February 1st, 2020 I updated this post with new photos and written text.
This post contains Amazon affiliate links that earn me a small commission, at no cost to you. I only recommend products that I use and love. Learn more about my affiliate policy here.