These decorated Ice Cream Sundae Cookies are as delicious as they look. I used fresh Strawberry Royal Icing to decorate. And if you are a hot fudge fan you'll enjoy delicious chocolate royal icing, too.
JUMP TO VIDEO|JUMP TO TOOLS AND RECIPES | PIN IT for later
HOW TO DECORATE STRAWBERRY ICE CREAM SUNDAE COOKIES
In the picture above you can see 3 Ice Cream Sundae design varieties. All are basically the same with very subtle differences. Bellow you'll find how to make ice cream sundae cookie with chocolate fudge and strawberries decorations.
FRESH STRAWBERRY ROYAL ICING
I love to flavor royal icing with fresh lemon juice, fruit purees, coffee, cocoa powder, spices and drink powders.
To make decorations for today's project and to ice part of the cookies I used fresh Strawberry Royal Icing. To make strawberry royal icing I used my Small Batch Royal Icing Recipe. In place of water I used fresh strawberry puree. You can find step by step recipe – Strawberry Royal Icing.
When you first make strawberry royal icing it will be light pink. To make it a bit deeper pink and red I colored it with super red gel food color by Americolor.
HOMEMADE SPRINKLES
Spread a thin layer or strawberry royal icing on a wax paper. Let it dry. Then peel off the wax paper. Break up dry icing into small pieces. Store royal icing sprinkles in an airtight container, until ready to use.
STRAWBERRY FRUIT ROYAL ICING TRANSFERS
COLORS AND CONSISTENCY :
Red – 20 second consistency
Yellow – piping consistency
Green – medium stiff
DECORATING STEPS :
Draw a small strawberry shape (hear shape) on a piece of paper. Place a piece of parchment or wax paper over it. Then with 20 second consistency red royal icing pipe the strawberry shape. Let it crust for an hour.
Next, with yellow royal icing pipe the seeds and let dry overnight. Once dry, remove strawberry from the parchment.
Fill a piping bag with medium stiff consistency green royal icing. Cut a small V shape on the piping bag. Pipe 3 small leaves on a parchment paper. Press strawberry onto the leaves. Let dry before removing from the parchment. Store strawberry royal icing transfers in an airtight container, until ready to use.
ICE CREAM SUNDAE COOKIE CUTTER
To make sugar cookies I used my Cut Out Sugar Cookie Recipe and this beautiful Ice Cream Sundae Cutter ( 5 inch across). It was given to me by my friend June. Thank you June.
If you are on fence if you should be getting yet another cookie cutter. Here is another fun design using this cutter : Mermaid Cookies.
ICE CREAM CONE DESIGN
COLOR AND CONSISTENCY :
Ivory – 15 second consistency, piping consistency
DECORATING STEPS :
With a brown edible marker and a card stock template trace the glass rim guide one a cookies.
Ice the top glass part (not the base) with ivory royal icing. Let crust well. Then with ivory piping consistency royal icing pipe the grid.
Lastly pipe a thick, uneven, wobbly line on the edges with piping consistency icing. Next, flood the base of the cookies with ivory 15 second consistency. Let dry.
AIRBRUSH ICE CREAM CONE
Now can airbrush the wobbly line and bottom seam with a brown airbrush color ( mixed with a touch of yellow airbrush color,)
STRAWBERRY ICE CREAM SUNDAE COOKIES
COLORS AND CONSISTENCY :
Light Pink (strawberry royal icing – 15 to 20 second consistency
DECORATING STEPS :
Divide top cookie into section. Ice the middle section with light pink royal icing. While icing is wet gently push in homemade sprinkles and strawberry royal icing decoration we made earlier. Let crust.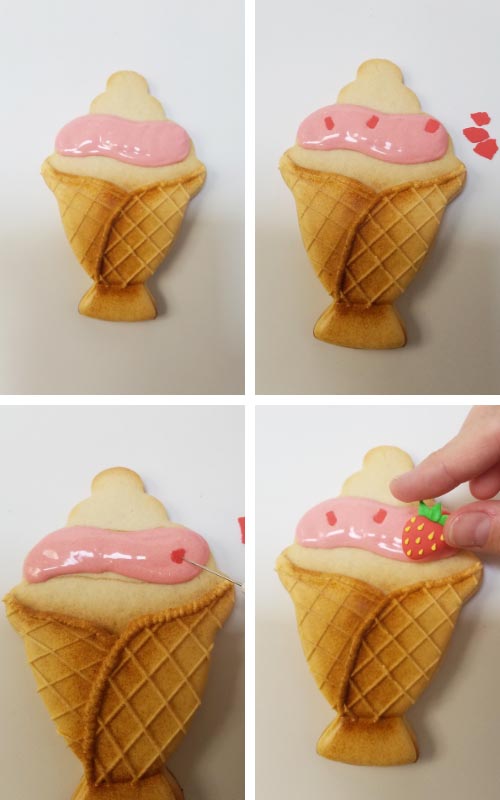 ROYAL ICING CHOCOLATE FUDGE
To make chocolate royal icing I use 1tbsp dark cocoa powder per 1 cup of stiff royal icing. Then I color icing with chocolate brown gel food coloring. To make dark brown icing I let the icing rest overnight. Resting intensifies color and it also helps to fight royal icing bleeding issues.
COLOR AND CONSISTENCY :
Dark Brown – 20 to 25 second consistency
DECORATING STEPS :
Be sure that middle pink section is crusted well before add hot fudge layer. Use tweezers to add rainbow sprinkles onto wet brown chocolate icing. Let crust.
Then continue with icing the bottom section with light pink royal icing. Lastly make a pretty swirl with white royal icing and a star tip.
WHIPPED CREAM SWIRL
COLOR AND CONSISTENCY :
White – stiff consistency
DECORATING STEPS :
Once brown hot fudge section is crusted pipe a pretty swirl on the top. Fit a piping bag with a star tip and fill with stiff royal icing. Insert royal icing strawberry transfer into the soft icing and let dry.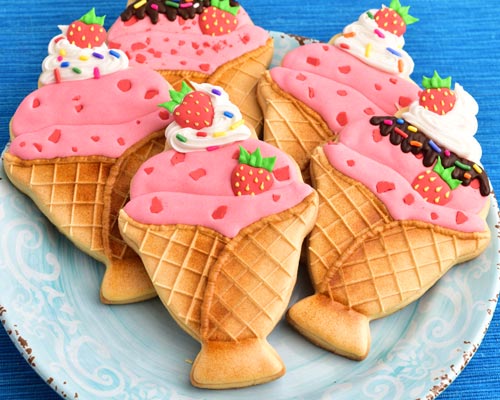 TO MAKE DECORATED ICE CREAM SUNDAE COOKIES YOU NEED
RECIPES
TOOLS
Parchment
USEFUL TUTORIALS
MORE ICE CREAM RECIPES :
PIN IT for later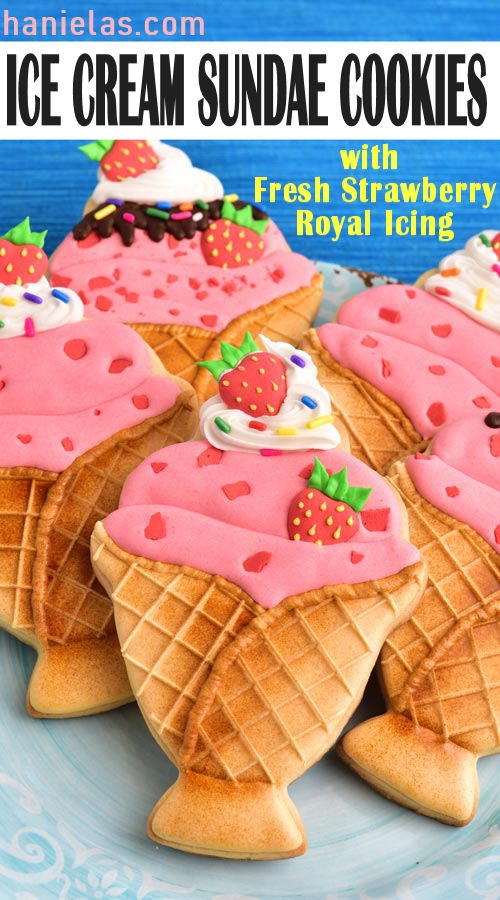 This post contains Amazon affiliate links that earn me a small commission, at no cost to you. I only recommend products that I use and love. Learn more about my affiliate policy here.