Alice in Wonderland Onesie Cookies, Piping Bows On Cookies Tutorial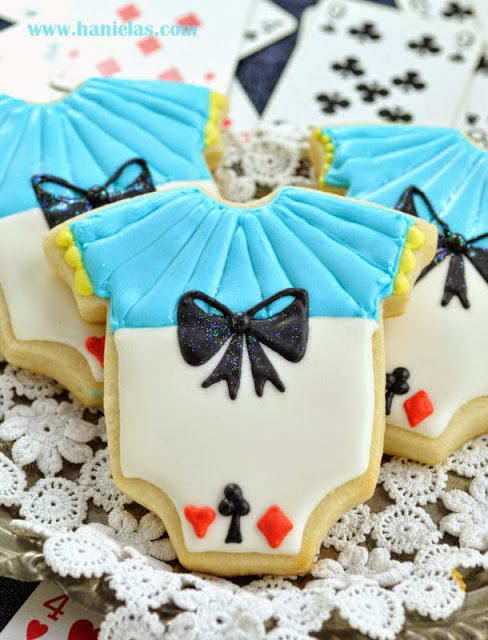 I made these last month, cookies were part of the set I made for a friend from Texas. They were for the baby shower for her neighbor. Theme of the shower was "Classic Children's Books". Since they didn't have any more specifics I decided to include several designs, one of them was Alice in Wonderland.
Design for these was drawn from several Alice in Wonderland costumes and drawings I saw online. I like to mix and match and so that is what I did here.
To make these cookie you need:
Onesie Cookie Cutter
Royal Icing
Food Colorings: Sky blue, black, yellow, super red
Sky Blue and Black – piping and 15 second consistency
White and yellow – 15 second consistency
Stainless Steel Needle Tool
As you notice top of the onesie is decorated with tufted design, you can see how this is done in my video tutorial below.
To make the bow I used a little paper template to help me make even loops. Using a stainless steel needle tool mark the corners on the template leaving a tiny little holes in the icing. These markers will serve as a guide when you pipe the loops with piping icing.
Fill with 15 second icing.
Wait till icing crusts over and add a large dot of icing in the center.

Using a Template to Pipe the Bow on Cookies
Alice in Wonderland Baby Onesie Cookie Video Tutorial