Ice Cream Wafer Sandwiches
Ice Cream Wafer Sandwiches are a must for the Summer.
I grew up on creamy vanilla ice cream wafer sandwiches. They are still one of my favorites. Ice Cream sandwiches are great for parties and gatherings. They don't require any serving plates or spoons. Easy-peasy. Use store bought ice cream or make your own.
Homemade ice cream sandwiches are nothing new under the sun. I've made them many times, ice cream is nestled between cookies or cakes. But today I'm using Tort Wafers.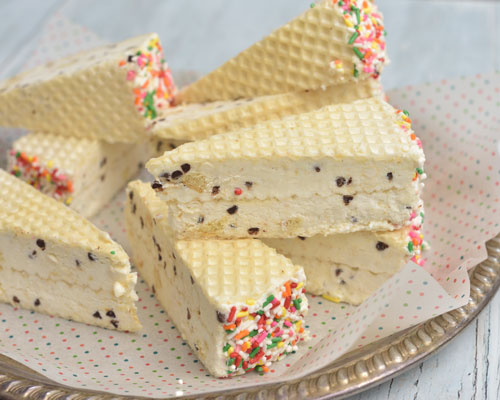 TORT WAFERS
I've seen tort wafer sold as rounds, squares and rectangles. Today I'm using round wafers. They are popular for cakes, variety of bars and you can also bake with them.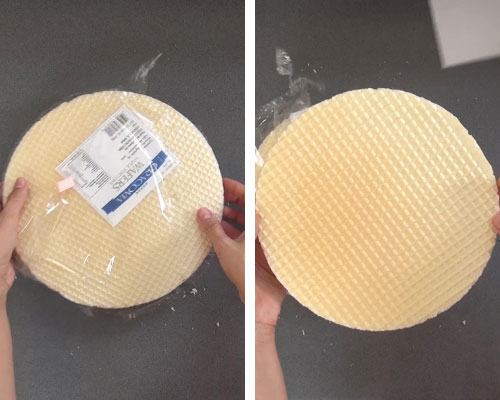 Tort Wafers are really popular in Europe, so If you are located in Europe you most likely have these available in the grocery store. If you are in the USA then I'd recommend you find a local Polish or Russian store.
I get wafers at a local Russian store and I have to say their selection is out of this world! They also sell them online, I'm going to include few links where to purchase them online at the end of the post.
I also use tort wafers to make Caramel Wafer Bars.
ICE CREAM
To make ice cream sandwiches I used an ice cream from a local dairy farm. They make the most amazing Graham Slam Ice Cream.
Let the ice cream soften a little, 10-20 minutes at room temperature or let it soften in the fridge. That works, too.
Spoon ice cream onto a wafer and spread it with a spatula. Place a piece of wax paper on the top. Flatten ice scoops cream into an even layer with the back of the measuring spoon or a rolling pin. Both work great.
SANDWICH
Peel off the wax paper and place another wafer on the top. Press it down with an even pressure. Be careful not to poke a hole in with your finger.
FREEZE AND CUT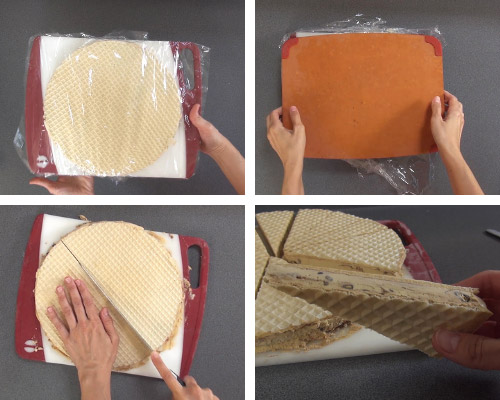 Cover the ice cream wafer sandwich with a plastic wrap and weigh it down with a cutting board. Freeze until firm, 3-4 hours should be sufficient.
Cut the ice cream wafer sandwiches with a sharp knife. Store them in an airtight container until ready to serve.
SERVING SUGGESTIONS
Drizzle ice cream wafer sandwiches with melted chocolate. Or dip the cut sides in sprinkles.
TO MAKE HOMEMADE ICE CREAM WAFER SANDWICHES YOU NEED
MORE ICE CREAM DESSERTS :
PIN IT for later
This post contains Amazon affiliate links that earn me a small commission, at no cost to you. I only recommend products that I use and love. Learn more about my affiliate policy here.