Upside Down Caramel Plum Cake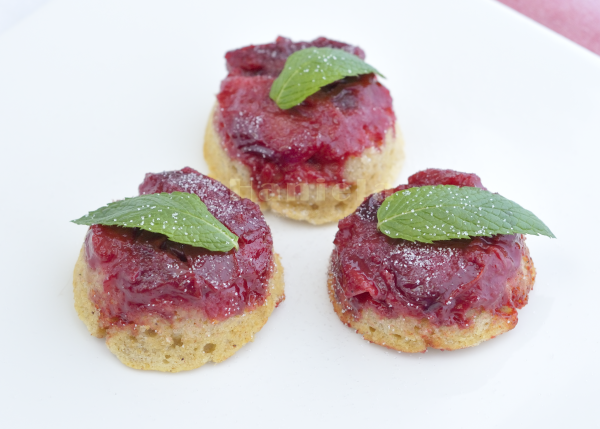 Once a week I go shopping to a local farmer's market to get my fruit, fresh milk, eggs and ice cream. Produce is wonderful there, I bought peaches, nectarines, apples, apricots, they also had beautiful giant purple-red plums and so I bought some of those too, thinking I'd make something with mascarpone cheese or my favorite poppy seed plum cake like my grandmother used to make. Actually I ended up searching for upside down cake recipes and I combined several I found to my liking. I'm a huge fan of oats and I add them to my recipes anytime I get a chance. This cake is made using
whole wheat pastry flour
, if you can't find this type of a flour you can certainly use whole wheat flour, I find the whole wheat flour a bit bitter for my taste so I use pastry flour instead.
Upside Down Caramel Plum Cake
Caramel Sauce
6tbl butter(85grams)
1/2cup packed brown sugar
1/2tbl honey
1/2tsp cinnamon
4-6 plums, depending on the size,4 large or 6 medium size, washed, pitted and cut into wedges
Preheat the oven to 350F
Butter a 9 inch cake pan.
In a sauce pan combine butter, sugar, honey and cinnamon, cook on low heat until butter melts and sugar and honey blends in, let the mixture cook, stirring until it forms a thick smooth sauce. Remove from heat.Pour the mixture into a 9 inch cake pan, on the top of it arrange plum wedges in overlapping circles.
Cake Batter
3/4cup whole wheat pastry flour
1/4cup ground almonds or walnuts
2 tsp baking powder
1tsp cinnamon
pinch of salt
1/2 cup brown sugar
1/4cup white sugar
4tbl quick or old fashion oats
3/4 cup plain fat free Greek Yogurt
2 eggs, separated
1tbl quick or old fashion oats
3tbl orange or grapefruit juice
1 tsp vanilla extract
1/4 cup oil
1/2tsp almond extract
In medium size bowl combine together flour, oats, almonds, baking powder, salt, sugars, set aside
In a large bowl combine yogurt, egg yolks, oats, juice, extracts and oil.
In a small bowl whip 2 egg whites with a pinch of salt until stiff but moist peaks are formed .
Fold the dry ingredients into wet ingredients until well combined, fold in the egg whites.
Pour the mixture on top of the plums.Bake for 50- 60 minutes, until golden brown and a toothpick comes out clean. Let the cake rest in the pan for 30 minutes, run a knife around the sides to loosen the cake and then invert it onto a cake plate, let sit with the cake pan on the top of it for additional 5 minutes, after that carefully lift off the cake pan and enjoy the beautiful view of your upside down plum cake. It is quite pretty.
Serve at room temperature. You can serve it with heavy cream but I really enjoyed it alone as well.
This cake is super moist and very addictive.