Strawberry Chocolate Ice Cream Torte
Our friends were coming for dinner on Saturday and I decided to surprise them with an unusual frozen dessert. I made the strawberry puree several days before, was secretly munching on it too. Don't tell anyone, okay!
Well anyhow dessert was a hit, it is all gone, and that is what I like to see.
I hope you give it a try as it is totally worth it, there is little bit of work involved but really totally worth it, you'll be reaching for a second piece before you know it.
Serves 8
Strawberry Puree
1 kg (7 cups) washed and hulled strawberries
about 1 cup honey(depending on how sweet your fruit is)
juice of one lemon
1/4 cup orange liqueur(if making for kids, omit alcohol)
Cake
Yellow Sponge Cake or lady fingers,(use your favorite sponge cake or even a cake from a box)-Haniela's Favorite Sponge Cake
I used an egg white free yellow sponge cake from Cake Bible, as one of our friends is allergic to egg whites
Filling
2 1/2 – 3 cups of Fruit Puree(prepared beforehand)
1 package of cream cheese (generous 1cup),226grams -room temperature
1cup whipping heavy cream
1/2 cup chocolate/50-60grams
Strawberry Puree
Stirring occasionally cook washed and hulled strawberries with honey, until they are falling apart, they should be very soft, add Orange Liqueur and cook for another 5 minutes. Remove from heat. Let cool to room temperature and then using a food processor or a blender, make a puree. Press the puree through a fine strainer to remove most of the seeds. You don't have to do this if you are fine with all the seeds. I wanted to get a really smooth texture of the puree. I used a wide spatula to pressed the puree through.Store in the refrigerator in an airtight container until ready to use.Can be made 2 days ahead of time.
Cake
Make Sponge Cake,use your favorite recipe. Recipe for sponge cake I use the most can be found
here
Butter and flour rectangle pan, 9×13 You will not use all the cake to make the torte.
I was thinking 1/2 the recipe but sponge cake is so good to munch on, I made it from the whole recipe.
Slice the cake into about 1/2 inch slices, these will be used to layer the torte later, store in the fridge covered with a foil until ready to use.Can be made a day before.
Filling
In a large mixing bowl, beat the cream cheese until soft. Gradually add prepared fruit puree, don't pour too much of the puree in at once. Once you mixed together cream cheese and puree, set the bowl aside.
Beat heavy whipping cream into soft peaks and fold in into the puree mixture. Taste, add powdered sugar if desired.
Pour the filling into a shallow container and freeze for 3 hours.You want the mixture to be still somewhat playable, not too firm, so you can spread it.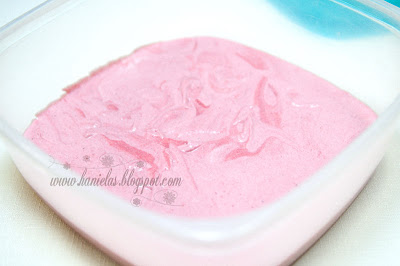 Pretty and Delicious
Layering the Torte
Take the filling out the freezer
Have your cake slices ready
Melt the chocolate over the pan of simmering water
-line a loaf pan with a plastic wrap
-layer bottom with prepared ice cream mixture
-layer cake slices
-spread melted chocolate on the top of the cake pieces
– repeat layering until your pan if filled, ending with the ice cream mixture
– fold the plastic wrap that is hanging over the sides of the pan
-give a pan a light tap and return to the freezer, best to leave it there overnight, until firm.
Serving Suggestion
Remove from the freezer about 20 minutes before serving and store in the fridge.
Peel the top plastic wrap off and invert onto a serving platter or a cutting board.
Using a knife cut slices and serve.
Enjoy

This dessert is really delicious, and can be made with variety of fruit as well. Possibilities are endless.
I enjoyed every little piece. Chocolate is a really nice addition to strawberry flavors, plus there is a nice crunch factor, rather unexpected with the ice cream.
Received high marks at the dinner.