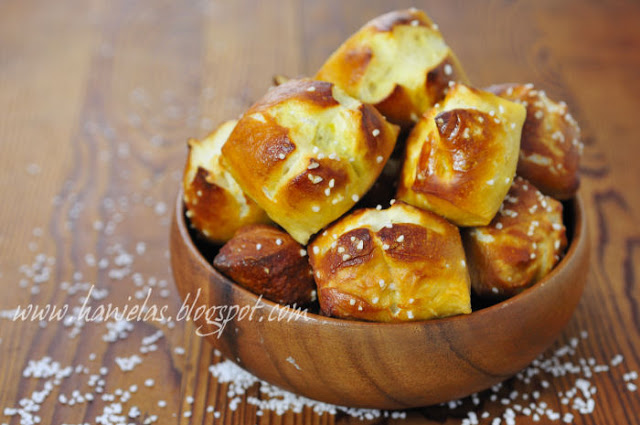 I've been ogling pictures of Pretzel Bites on Pinterest for several weeks, I love mini desserts and I'm also big into bite size appetizers, not only these delicious soft pretzels look appetizing(and they really are!) they are really easy to make too.In fact they are so easy to make I doubt you'll ever buy soft pretzels ever again.
In case this is your first time working with yeast, working with this dough is a special treat, I really can't think of the easiest yeast dough to work with, it is really forgiving.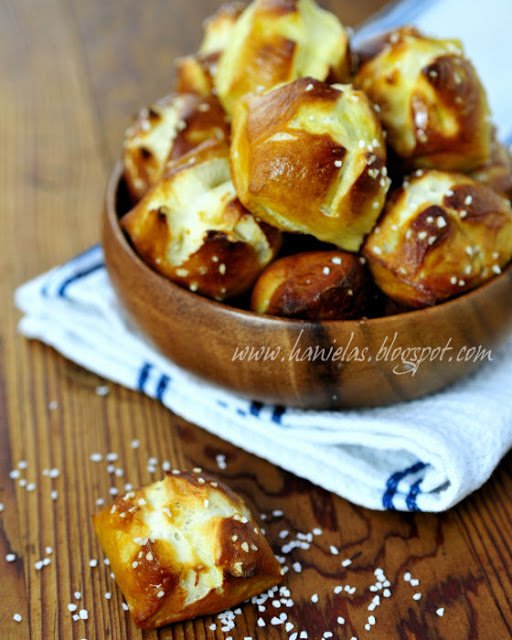 I made traditional soft pretzels many many times and so to make the Pretzel Bites I decided to use the same recipe I use for big twisted pretzels.
Make sure you get pretzel salt, it makes them really pop.
Soft Pretzel Bites
Yeast Dough
1 1/2 cup warm water
1tsp honey
1package dry yeast
2 cup all purpose flour
2 1/2 cup bread flour
1tbl kosher salt
6tbl melted butter
Baking Soda Solution
5cups water
1/3cup baking soda
Egg Wash for brushing
egg yolk
1tbl water
olive oil to coat the bowl
Toppings
pretzel salt
caraway seeds(optional)
Tools
pastry brush
board for rolling
parchment paper
kitchen scissors
slotted spoon

Make the Dough
Pour warm water into the bowl of your mixer, add honey and stir in yeast. Let stand for 5 minutes, until foamy. Make sure you use warm water, not hot. Hot water will kill the yeast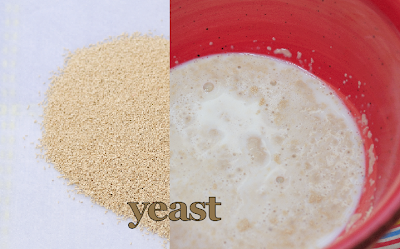 Add 2 cups of all purpose flour, 2 cups of bread flour, melted butter and salt into the bowl with yeast and knead , using a dough hook attachment. If dough is too sticky add additional 1/2 cup of bread flour. This dough when kneaded is somewhat on a dense side. Knead for 5 minutes, or until the dough comes into a smooth ball.
Lightly coat a large bowl with the oil and put the dough into the bowl.Cover the bowl with plastic wrap and let rise in a warm place for a hour.
Preheat oven to 450F
Forming the Pretzel Bites
Invert the dough onto a clean work surface(DO NOT USE ADDITIONAL FLOUR), cut dough into 6-8 sections and using palms of your hands roll the dough and form long ropes.
Using a pizza cutter or a knife cut the ropes into small pieces.
Dipping in Baking Soda Solution
(don't skip this step, I've tried it without and pretzels were not as good. Baking soda is the agent that will make your Pretzels turn into that nicely brown/golden color)
Make the egg wash : mix together water and egg yolk, set aside
Have pastry brush, slotted spoon, pretzel salt, kitchen scissors, and baking sheet ready
Bring 5 cups of water to boil, add 1/3 cup baking soda.
Put about 5 pieces of pretzel dough into the simmering solution and let cook for 30 seconds. Remove pieces with slotted spoon and place them on baking sheet, continue with remaining dough.
Once done, brush each piece with egg wash, sprinkle with salt and using scissor cut + into the each pretzel piece. Gently transfer pieces onto a clean baking sheet lined with parchment paper. Bake for 9-10 minutes or until golden brown on the outside.
Once you take them out of the oven, transfer baked Pretzel Bites onto a cooling rack, though I can guarantee you will be very much tempted to eat one straight from the oven, I recommend letting them cool for just a few minutes.