Soft Apple Cider Caramels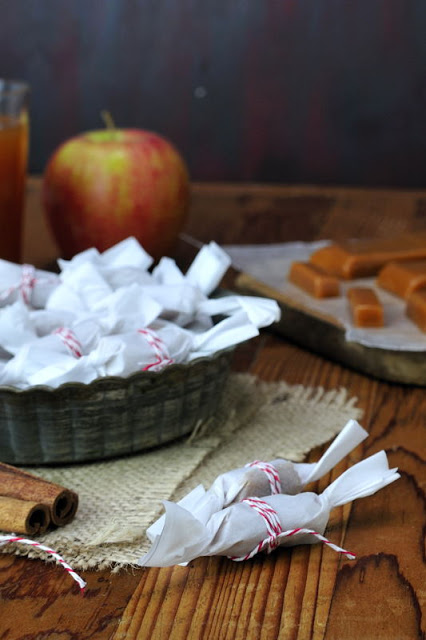 When a friend hands you a copy of Food and Wine Magazine(December issue, 2012) with already marked pages of recipes for you to make, you don't hesitate. You grab the magazine and you run. So I did. I ran to my kitchen.
These caramels were made with a deliciously addictive apple cider from local Solebury Orchards.
I've been avoiding apple cider for a decade. Yes I know, that is a long time! Being "spoiled" by homemade apple cider by my grandparents, it is hard to justify what I once knew as a kid, but I think I finally found the match.
Apple Cider Caramels
1 quart apple cider
1 1/2 cup heavy cream
1/4 cup sweetened condensed milk
2 cups sugar
1/4 cup+2tbl corn syrup
2 1/2 tbl water
1/2 tsp kosher salt
1/2 cup cold unsalted butter, diced
1tsp cinnamon
In a sauce pan bring apple cider to boil, reduce to simmer and cook, stirring occasionally until reduced to 1/2 cup, this may take anywhere from 30 minutes to an hour.Once reduced, pour the apple cider reduction through the fine sieve into a bowl, set aside.
Line a 8″x8″ rimmed pan with foil and spray with a nonstick spray, set aside.
In a sauce pan combine together heavy cream and condensed milk, stir well, bring to simmer over medium heat, reduce heat to low and keep the mixture warm.
In another sauce pan combine together reduced apple cider, corn syrup,water, sugar, salt and bring the mixture to boil, stirring, simmer until sugar dissolves. Then take the butter and carefully whisk the butter into the mixture, stir until it melts and is incorporated into the mixture. Gradually add warm heavy cream mixture and whisk until combined.
Cook this mixture over moderately low heat. Attach candy thermometer to the pan and monitor the temperature, stirring frequently, until temperature reaches 245F. Stir in cinnamon and pour the caramel into a prepared pan, smooth it out and then let cool completely at room temperature then move it into the fridge, and chill overnight.
Put a parchment paper onto a cutting board, spray it with nonstick spray, invert caramel onto the parchment paper, peel the foil off.
Using a sharp knife, cut the caramel into desired squares or rectangles, you can do what ever you want. I ended up spraying the knife with nonstick spray for easier cutting.
After you cut the caramels, you can wrap each piece in parchment paper or a wax paper.
Store caramels in a cool place or refrigerate, for up to 2 weeks.