I've learned the hard way that store bought jams, preserves don't hold up in the heat of the oven, they run all over, and out of the pastries. Most of jams and preserves have agents like pectin, thickeners and when exposed to hear they become very fluid. To avoid a runny mess I make my own Peach Lekvar, I make it thick and it's delicious on a piece of bread but I mainly use it to make Moravian Kolache.
Consistency of Peach Lekvar is  similar to Plum Lekvar except they are peaches so flavor different.

Peach Lekvar
Ingredients
12

lb

peaches

(when in season and most flavorful)

4-5

cups

sugar

3

lemons

juice of


Peach Lekvar
12 lb peaches, get peaches when in season and most flavorful
4-5 cups sugar
Juice of 3 lemons
Wash, remove the stone and quarter the peaches, Cook with sugar until very soft. Remove skins using a food mill, process in the food processor. Cook in the skillet in 3 cups measures, cook on medium high heat, stirring often, more often as the mixture thickens. Use a mesh splatter as needed. Make sure to scrape the sides of the skillet frequently to avoid mixture burning. You can however cook it all in one pot but it takes a log longer than this method. I like lekvar to be very thick so I cook it down until when you run the spoon through it it take 10 seconds or longer for the lines to come back together. Then scrape it out of the skillet into a clean bowl, and repeat. Once you are finished you can can the peach lekvar, process jars in the water bath for 10 minutes.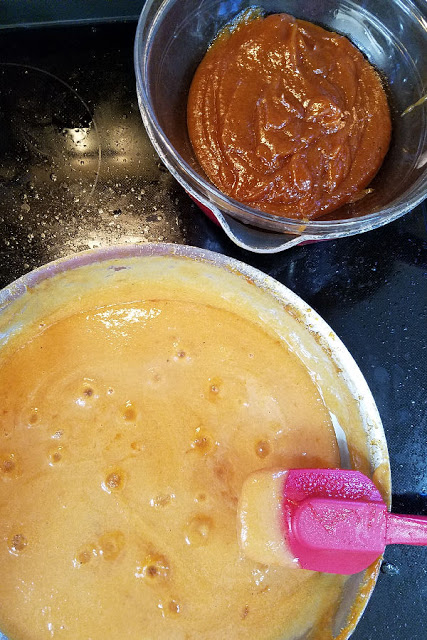 Mixture changed color, it becomes darker as it thickens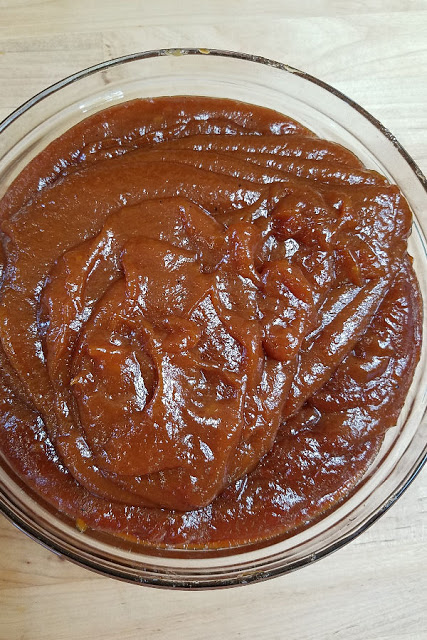 Ready to be canned. Yum.