Candy Cane Peppermint Patties
Homemade Peppermint Patties are super easy to make no-bake minty treats. Popular among children and adults alike they feature creamy, sweet minty filling coated in a thin dark chocolate layer. Today I'll show how to make a Christmas version-Candy Cane Peppermint Patties, packed with minty flavor and with a colorful surprise inside.
updated from December 2011
HOW TO MAKE HOMEMADE CANDY CANE PEPPERMINT PATTIES
I make peppermint patties every year, and everyone loves them. This year I made a double batch, and it looks like I'm running low already!!!
CANDY CANE PEPPERMINT PATTIES INGREDIENTS
Powdered Sugar
Corn Syrup or Invert Sugar Syrup
Shortening or Butter
Water
Peppermint Extract or Concentrated Peppermint Oil
Dark Chocolate
Concentrated Red Gel Food Coloring
PREPARE PEPPERMINT FILLING
This recipe couldn't be any simpler. Into a bowl of your mixer, pour powdered sugar, corn syrup, or invert sugar syrup, water, Crisco or butter, and peppermint extract. Beat with a paddle attachment until filling forms a soft white dough.
TIP: Oil-based flavorings are very strong. If using peppermint oil, use only a few drops; taste and add more if desired.
Divide minty filling in half and color one half with red gel food coloring. Wear gloves to prevent staining your hands.
Roll out both white and red filling between wax paper or parchment until about 1/16 inch thick.
HOW TO CREATE CANDY CANE PEPPERMINT PATTIES FILLING
Peel off top of the wax paper from white and red filling. Lift wax paper with white filling and turn it upside down onto a clear food wrap. Then onto the white layer place the red layer.
To roll a minty filling into a log shape, lift the end of the plastic wrap and slowly roll the filling layers into a log. If the log is too long cut it in half. Wrap each log into a clear food wrap and freeze for 30 minutes or until firm.
SLICE CANDY CANE PEPPERMINT PATTIES
Slice firm logs into ¼ inch to 5/16 inch slices. If candy cane peppermint slices become soft, chill them until firm.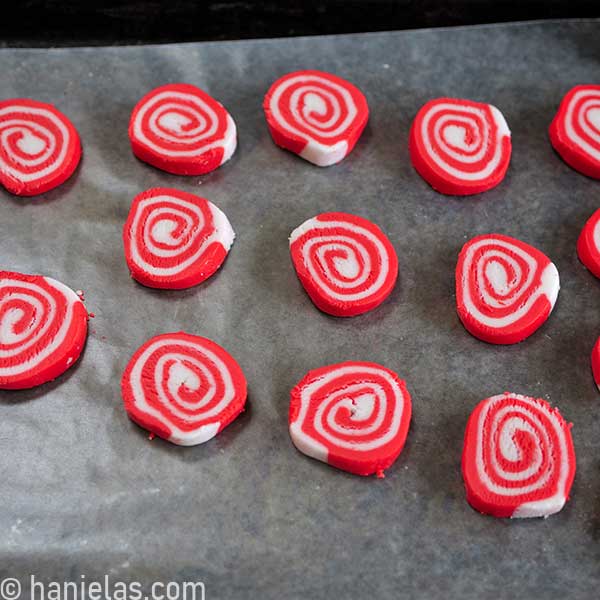 DIP PEPPERMINT PATTIES IN CHOCOLATE
Use tempered dark chocolate or dark chocolate melting wafers to coat candy cane peppermint patties. Use a dipping fork to turn each mint patty in melted chocolate until coated. Then, with the patty sitting on the fork, tap the fork handle, remove excess chocolate, and let it drip back to the bowl.
Carefully set chocolate coated with chocolate onto a tray lined with parchment or wax paper. Refrigerate for 10 minutes until chocolate sets.
HOW TO STORE CANDY CANE MINT PATTIES?
Store homemade peppermint patties in an airtight container, layered between wax paper or parchment.
These party mint patties will be the talk of your Christmas party, be sure to make enough as they will disappear from the serving plate before you know it.
Homemade peppermint patties make for delicious gifts.
MORE DELICIOUS MINTY TREATS
Candy Cane Peppermint Patties
These festive Christmas Candy Cane Peppermint Patties are perfect for parties and edible gifts.
Ingredients
CANDY CANE PEPPERMINT PATTIES
5

cup

confectioners/powdered sugar, plus more for dusting

3

tbsp

light corn syrup or invert sugar syrup

3

tbsp

water

3

tbsp

shortening

1

tsp

pure peppermint extract

– I used mint extract and it worked well. If you have peppermint oil, you can also use that, but be careful, oils may have stronger flavors, use few drops.

20

ounces

tempered dark chocolate or dipping chocolate wafers

about 570grams tempered chocolate or dipping chocolate wafers

red concentrated gel food color

pinch of salt
Instructions
CANDY CANE PEPPERMINT PATTIES
Peppermint Filling
In a bowl of your stand mixer or with a handheld mixer beat together at medium speed: confectioners/powdered sugar (5cups) with corn syrup (3 tablespoons), water (3 tablespoons), peppermint extract (1 teaspoon), shortening (3 tablespoons), and a pinch of salt.

TIP: Use a paddle attachment if using a stand mixer.

Divide peppermint filling dough into half, color one half with red gel food color, and leave the second half uncolored.

Form each filling into a snake shape and then roll it out between 2 pieces of parchment paper or wax paper. Dust the bottom and top with more powdered sugar to prevent sticking.
Candy Cane Pattern
Line work surface with plastic wrap. Layer white and red peppermint layers.

Place a piece of wax paper on top of the layered peppermint layers and gently roll out layers with a rolling pin.

Lift up the end of plastic wrap and roll layered peppermint layers into a log shape. Wrap well in food wrap. If your log is too long, cut it in half. Chill in the freezer until firm, partly frozen is fine 30 + minutes.
Slice Candy Cane Peppermint Patties
Take a well-chilled candy cane from the freezer. Using a sharp knife cut small patties, place them on a tray lined with wax paper. If patties get soft, chill again until firm.
Coat with Dark Chocolate
Prepare the chocolate either by tempering it or using ready-to-use melting wafers.

Dip each peppermint round into the melted chocolate. Using a dipping fork turn the patty in the chocolate to coat it. Carefully, with the fork, lift the coated peppermint patty out, and gently shake off the excess. Tap the fork on the bowl with chocolate, let excess chocolate drip back into the bowl.

Place freshly coated patties onto the tray lined with wax paper. Once you are done with all the patties, put the tray into the fridge for 10 minutes for the chocolate to set.

Store mint patties in a cool place in an airtight container, layered, wax paper between each layer.
Notes
CAN I USE PEPPERMINT OIL IN PLACE OF EXTRACT? -Yes, you can use peppermint extract. Be mindful, oil extracts are usually highly concentrated. Use them sparingly, few drops if often sufficient. Taste before adding more.
HOW LONG DO PEPPERMINT PATTIES LAST? – These homemade peppermint candies are good for at least 2-3 weeks, stored in the fride.
WHERE SHOULD I STORE HOMEMADE PEPPERMINT PATTIES? – in a warm climate it's best to store them in an airtight container, in the fridge. I prefer to store them in the fridge, for up to 3 weeks.
This post was originally written and published on December 13, 2011. On December 6th, 2021 I updated this recipe with new photos and written text, and a printable recipe card.