Roasted Potato Garlic Asparagus Salad with Creamy Brown Butter Scallion Dressing
Potatoes. Bread and butter of my daily kitchen adventures. They are at the top of my list :"Best comfort foods ever".
When I was sick I'd ask my mom to make me boiled potatoes and fried eggs over easy. A perfect healing meal. Not much changed since that time. I still love potatoes and eggs over easy.
Naturally when I handpicked small red potatoes from the bin at a local farmer's market I was imagining something like this… roasted, warm, juicy, crunchy, creamy, savory with a bite of tomato sweetness …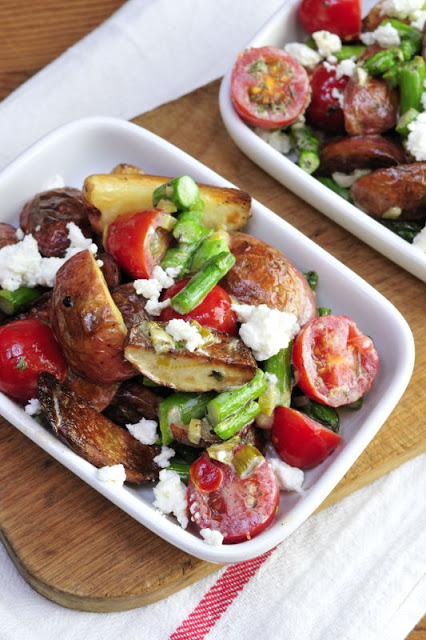 Roasted Potato Asparagus Salad with Warm Creamy Brown Butter Scallion Dressing ( 4 servings)
1 lb small red potatoes, washed, quartered with the skin
1 pound asparagus washed, ends broken off, sliced into 1 inch pieces
2 garlic cloves, diced
zest of one lemon
1 1/2 tbl + 1tsp olive oil
1cup cherry tomatoes, cut in half
1/2tsp dry basil salt pepper
kosher salt and pepper
1/2 tsp caraway seeds
Warm brown butter scallion dressing
4 scallions
1 1/2 tbl butter
3tbl red wine vinegar
1tsp dijon mustard
4 tbl heavy cream or half and half( you could also try and use sour cream)
salt, pepper to taste
Topping:
Place one baking sheet into the oven, on the middle rack.

Preheat oven to 450F, with the baking sheet inside.

In a medium sized pot bring about quart or so water to boil. Season water with 1 tsp salt and carway seeds.

Wash, scrub potatoes, quarter potatoes.

Add potatoes into the boiling water. Reduce to medium heat, cook for 3-4 minutes until parcooked, not cooked through.

Drain potatoes. Let cool slightly.

In a small dish stir together 1 1/2 tbl olive oil, add 1/4 to 1/2tsp kosher salt and 1/8 tsp black pepper.

Pour marinade over potatoes and stir well.

Using kitchen towel take hot baking sheet out of the oven, pour 1 tsp olive oil onto the hot sheet, add seasoned potatoes, spread in one layer, return baking sheet into the oven and roast for 10 minutes. Then set to broil and broil for additional 10 minutes, until golden brown. Stir once or twice for even browning.

In a small bowl, combine sliced asparagus, lemon zest, 1/4 tsp kosher salt, pinch of black pepper and diced garlic. In a skillet heat 1tsp olive oil, once heated reduce to medium low heat setting and then add sliced asparagus mixture. Cook, stirring for 5 minutes. Then transfer asparagus into a bowl and set aside. You want it to be crunchy not mushy.

Using the same skillet prepare dressing. Heat butter, add sliced scallions(including green parts), cook for 3 minutes or until butter starts to turn brownish, stirring, reduce to medium low heat setting, add red wine vinegar and mustard, stir well, taste, season with salt and pepper(as desired, approximately 1/8 tsp salt and several cranks of pepper mill), add heavy cream and cook for 2 more minutes. Remove from heat.

In a small dish stir together tomatoes and basil.

Take potatoes out of the oven once golden brown, drain them onto the paper towel, remove paper towel. In the bowl combine potatoes with asparagus, add dressing stir, and then add tomatoes.
Sprinkle farmer's cheese on the top.
Enjoy warm or at room temperature.
Roasted Potato Garlic Asparagus with Creamy Brown Butter Scallion Dressing