Homemade Graham Crackers are popular all year round. And they never last more than a few days in my house. I make them with Whole Wheat Pastry Flour, honey and cinnamon. They are scrumptious on their own but I also like to drizzle chocolate over them or use them to make favorite campfire s'mores.
HOMEMADE GRAHAM CRACKERS
Updated post from 2012.
WHOLE WHEAT PASTRY FLOUR
I make these popular crunchy graham cookies using Whole Wheat Pastry Flour.
What is Whole Wheat Pastry Flour? Whole wheat pastry flour is made from low protein white soft wheat berries. It is also more finely milled than Whole Wheat Flour (made from red hard wheat berries). Whole wheat pastry flour contains less gluten and more carbohydrates than Whole Wheat Flour. Thus resulting in tender, softer cookies, pastries, brownies and cakes. And it's my choice of flour when making graham crackers, too.
WHOLE GRAIN FLOUR SHELF LIFE AND STORAGE
As you may already know Whole Grain Flours contain wheat germ that contains oil. Over time this healthy oil goes bad. Basically it goes rancid and the smell and taste is unpleasant.
How to tell if flour is rancid?
You can tell when flour is rancid by smelling it. Flour generally has no distinct smell however if flour has turned rancid it has a sour smell. And it tastes a lot more bitter. It is best to toss rancid flour.
Can I make whole grain flour last longer?
To prolong life of Whole Grain Flours it is best to store them in the fridge or a freezer. And flour stored in the freezer can last up to 12 months. Learn more about Whole Grain Baking.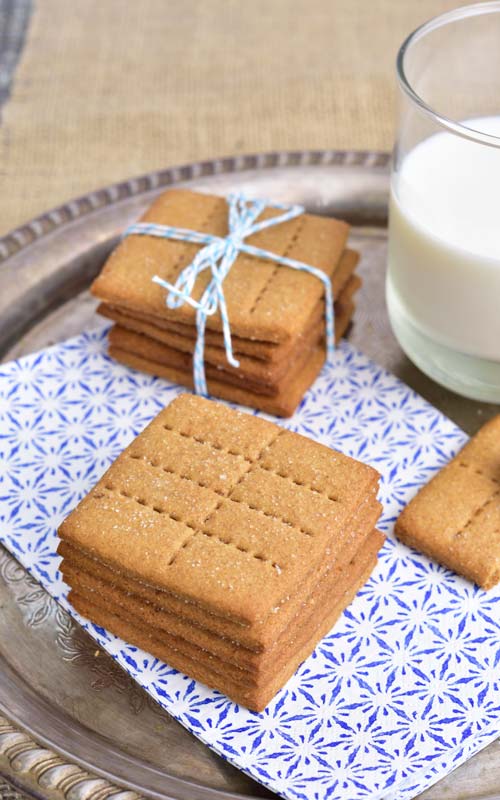 DRY AND WET INGREDIENTS
Dry Ingredients : in addition to Whole Wheat Pastry Flour I use other dry ingredients such as all purpose flour, brown sugar, baking powder, baking soda, salt and let's not forget Saigon Cinnamon.
Whole grain flours can absorb more liquid than white flours. I like to add these Wet Ingredients : orange juice, honey, milk and Vanilla Extract.
Why Orange Juice?
Orange juice mellows down slightly bitter taste of whole wheat flours. I first read about orange juice and its affects on whole wheat flour in the book King Arthur Flour Whole Grain Baking years ago.
MAKE THE DOUGH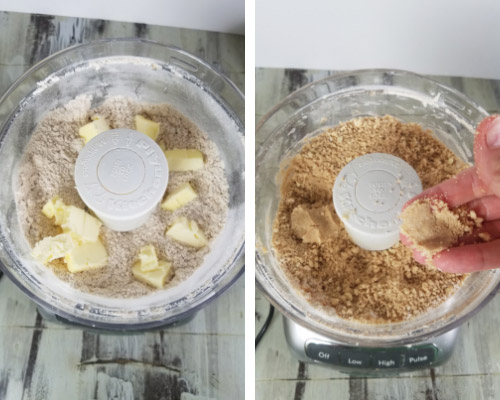 Combine together dry ingredients then add chilled butter and process it until coarse/cornmeal texture is reached.
Then add all the wet ingredients and process until mixture when pressed between fingers holds together.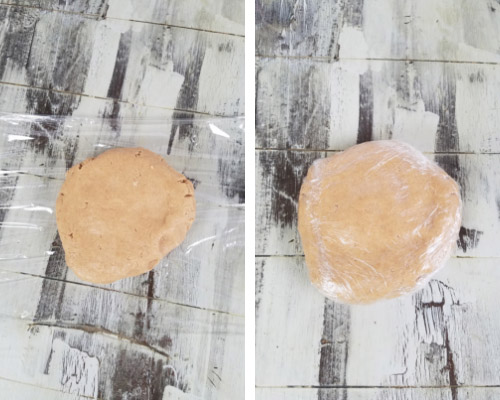 Dump the contents into a large bowl and gather the dough into a ball. Flatten it into a disk and wrap in a food wrap.
To hydrate the whole wheat pastry flour properly, refrigerate the dough for 30 minutes before using.
ROLL AND CUT THE COOKIES
Roll the graham crackers dough into 1/8 inch and cut out 2.5 x 2.5inch squares.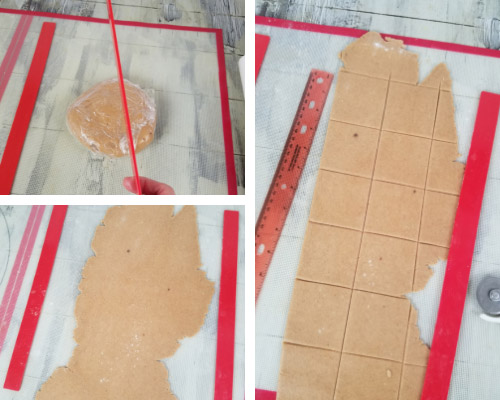 Yes, store bought graham crackers are shaped like squares. And that is what I made today. I used a ruler and divided rolled out dough into 2.5 x 2.5 inch sections. Pastry wheel comes handy for the ease of cutting.
But when you make your own homemade graham crackers there are no shape restrictions. You can cut out homemade graham crackers to any shape you'd like.
PRICK THE COOKIES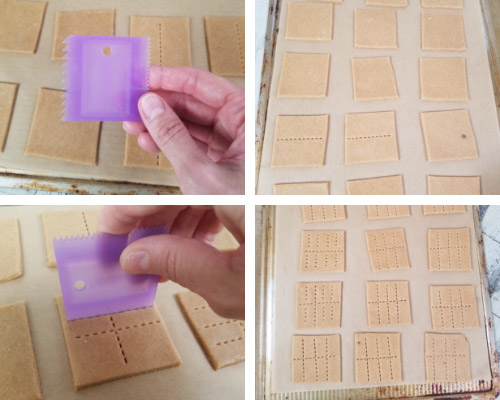 Normally I use a fork to prick the graham cookie dough but then I remembered my small decorating comb I used to make Chocolate Leaves. Look how easy and fast it is to prick the cookie dough with the decorating comb. I love multipurpose tools!
SPRINKLE WITH SUGAR
This step is optional. Just before I put the baking sheets into the oven I used a spray bottle and misted the graham crackers with little bit of water. Then I generously dusted them with granulated sugar.
BAKE GRAHAM CRACKERS
Into the oven they went at 350F, for about 12-14 minutes. Bake them until golden brown around the edges. If you make graham crackers thicker you'll need to bake them a little longer and vice versa.
DECORATE WITH CHOCOLATE
If desired you can drizzle melted chocolate over these honey sweet with a hint of cinnamon homemade graham crackers. Let the chocolate set before layering graham crackers into clear poly bags, or storing them in an airtight container.
TO MAKE HOMEMADE GRAHAM CRACKERS YOU NEED
Homemade Graham Crackers
Homemade Graham Crackers. Use these to make S'mores, enjoy them plain or dipped in chocolate.
Ingredients
1 3/4

cup

whole wheat pastry flour

(237grams)

1/3

cup

all purpose flour

(45grams)

1/3

cup

brown sugar, packed

(75grams)

3/4

tsp

baking powder

1/2

tsp

baking soda

1/2

tsp

salt

1

tsp

cinnamon

8

tbsp

unsalted butter

chilled, cut into cubes (115grams)

2

tbsp

milk

1

tbsp

freshly squeezed orange juice

1/4

cup

honey

(65grams)

1

tsp

vanilla extract
Instructions
In a medium bowl (or use a food processor*)combine Whole wheat pastry flour ( 1cup and 3/4cup), All purpose flour (1/3cup), brown sugar (1/3 cup, packed), baking powder (3/4tsp), baking soda (1/2tsp), cinnamon (1tsand salt (1/2tsp).

*If using a food processor, pulse to combine.

Add chilled butter cut up into cubes (8tbsp/1stick) and work the dough with your hands until it resembles cornmeal, set aside.

*If using food processor pulse until it resembles cornmeal.

In a small bowl combine together milk (2tbsp), orange juice (1tbsp), honey (1/4cup), Vanilla extract (1tsp).

Pour all the wet ingredients into the dry ingredients and stir all ingredients together with a wooden spoon then using your hands form the dough into ball, make a disk, wrap it in a plastic wrap and chill for 30 minutes.

*If using a food processor gradually pour liquid into the dry ingredients, while pulsing, until mixture is thoroughly moisten and when pressed with your fingers it holds together. Don't over mix it.

Roll the dough between 2 pieces of parchment paper or use a Dough EZ Rolling System. Dust the work surface lightly with flour. It's okay to roll it out thinly about 1/8 inch.

Either cut out shapes with a cookie cutter or use a ruler and divide rolled dough into even square/ rectangular pieces. Cut straight lines with a pastry wheel.

Transfer cookies onto a baking sheet lined with parchment. Cookies don't spread much, it's okay to space them out closely.

Use a fork to poke holes into the cookies. Or if you have a small decorating comb like I have use it instead of the fork.

Re-roll scraps.

Bake at 350F for 12 -14 minutes, or until golden brown, watch carefully so they don't burn. Thicker cookies need more baking time, thinned cookie will be done faster.

Let the cookies cool completely. Store cookies in an airtight container for up to 10 days.
Notes
CAN I USE WHOLE WHEAT FLOUR INSTEAD OF WHOLE WHEAT PASTRY FLOUR?
Yes you can, however I prefer to use Whole Wheat Pastry Flour. I find it less bitter than whole wheat flour.
WHY DO YOU USE ORANGE JUICE?
Orange juice helps to cut down on the bitterness of whole wheat flours. 
CAN I USE HOMEMADE GRAHAM CRACKERS TO MAKE GRAHAM CRACKER CRUST FOR A PIE?
Sure, follow your favorite recipe for graham cracker crust using baked homemade graham crackers.
CAN I USE THIS RECIPE TO MAKE HOMEMADE S'MORES?
Absolutely. I used to make Heart S'mores.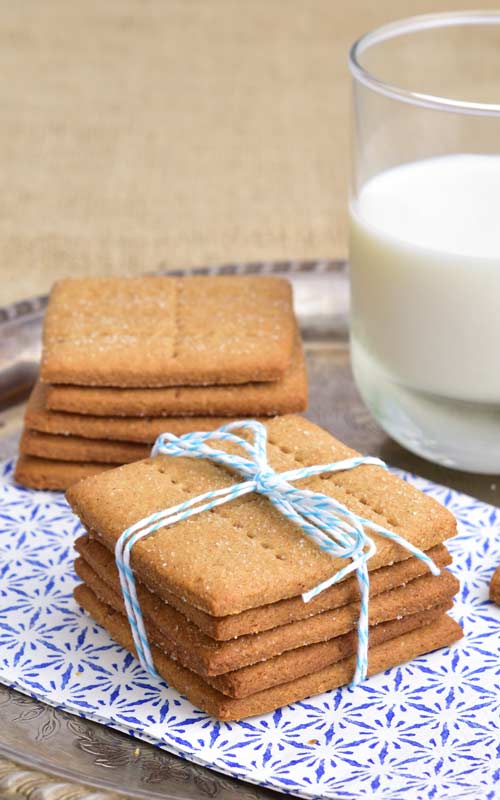 PIN IT for later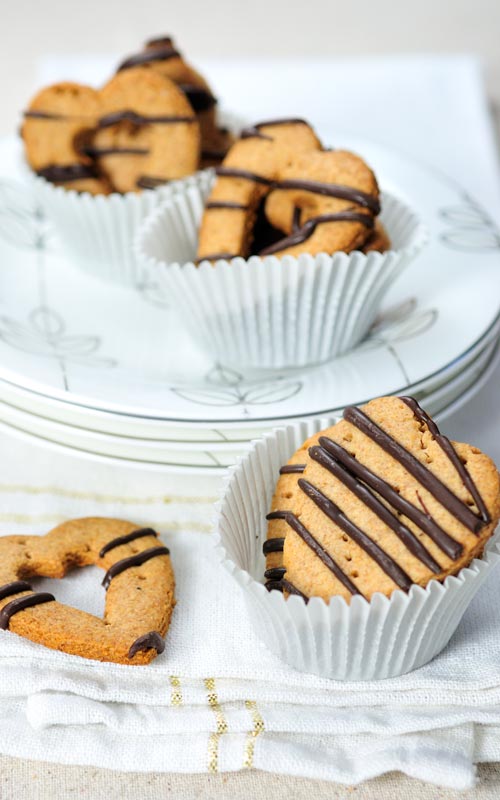 This recipe was 1st published in 2012, I updated this recipe in 2019 with new step by step photos, written text and a video.
This post containsThis post contains Amazon affiliate links that earn me a small commission, at no cost to you. I only recommend products that I use and love. Learn more about my affiliate policy here.