Cauliflower Asparagus Semolina Cakes
Cauliflower and asparagus make a perfect match in these scrumptious Cauliflower Asparagus Semolina Cakes. Combined with hearty brown rice, semolina and cheese, these savory crispy cauliflower cakes will surprise your taste buds.
updated from 2013
HOW TO MAKE CRISPY CAULIFLOWER ASPARAGUS SEMOLINA CAKES
COOK THE RICE
To cook brown rice on the stove, I use a ratio of 1:2. For example – for one cup of rice, I use 2 cups of water and 1/4 teaspoon salt. Follow the directions on the packaging.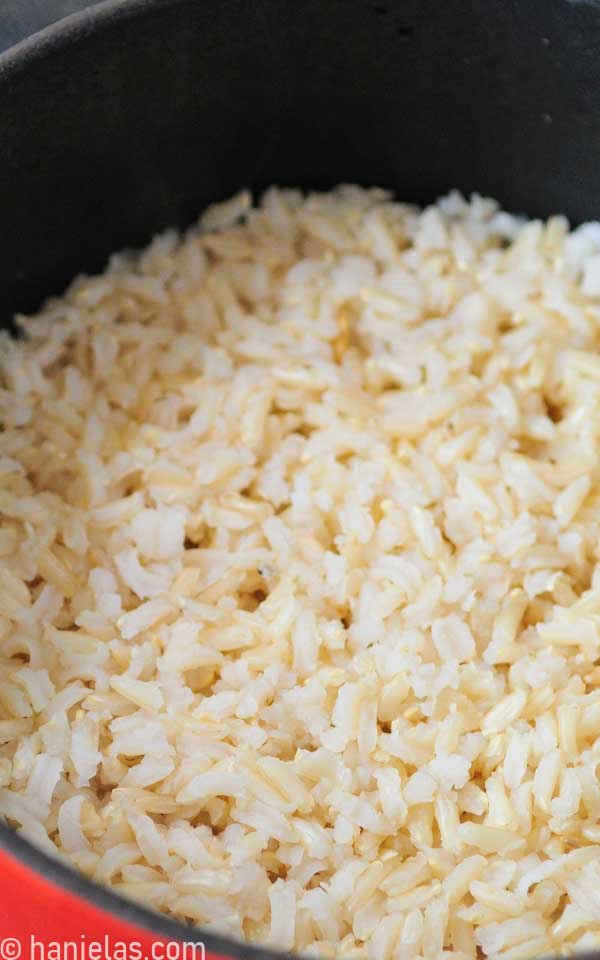 CAULIFLOWER FILLING
Cauliflower filling is super simple. Combine lightly sautéed sliced scallions and chopped cauliflower florets – season with salt and pepper. Cook until cauliflower is fork tender.
ASPARAGUS FILLING
I love asparagus in a salad as much as in a cookie or a cake. Intrigued?
The addition of asparagus filling in cauliflower cakes is optional. However, if you are like me and like the bite, then you'll appreciate the green color and the crunch asparagus brings to the table.
Wash the asparagus stalks well and trim the ends – the tough part. If you haven't done this before, you need to make the cut where the color of the stalk turns from white to green.
Then chop asparagus stalks to about ½ inch long or a little less. Sautee sliced asparagus for a minute; toss in chopped or pressed garlic and stir to combine and cook for another minute. You don't want the stalks to get soft; they should remain crisp with a bite.
COOKING CHEESY SEMOLINA
Cooked semolina along with rice and cheese make up the structure for cauliflower asparagus cakes.
What is Semolina? Semolina is a type of flour milled from durum wheat. Grades of semolina can range from coarse to fine. In this delicious recipe, you need a fine grade semolina – semolina flour. It's flour that is coarser than all-purpose flour. It's often used in pasta making. Learn more about true semolina from durum wheat (via Bobs Red Mill)
To prepare the semolina mixture, first, I cooked semolina in water, milk, and a touch of olive oil. Then I added chopped parsley, coarsely grated parmesan and cooked rice. After you stir everything to combine, taste the mixture and season it with salt and pepper.
MIXING THE INGREDIENTS – CAULIFLOWER CAKE MIXTURE
Use one whole egg to bind vegetable fillings and semolina mixture.
FORMING THE MIXTURE INTO CAKES PATTIES
To shape the cauliflower asparagus semolina cakes, I pressed the mixture into a baking sheet lined with wax paper to about one inch thick. Cover and chill the vegetable layer for several hours and up to overnight.
Cut chilled layer to about 2.5×2.5 inch squares.
BREADING THE CAKES
Before pan-frying vegetable cakes, you need to bread them. First, I dipped each patty into whisked egg whites and then coated them in breadcrumbs or a combination of breadcrumbs and quick-oats.
Here is what cauliflower cakes dipped in breadcrumbs look like.
And here you can see cakes coated with breadcrumbs and quick oats.
PAN-FRYING THE CAKES
In a large skillet, heat the oil and pan-fry each cake until golden, about 5 minutes on each side.
Place freshly pan-fried cakes on a dish lined with paper towels to soak up excess oil.
HOW TO SERVE CAULIFLOWER ASPARAGUS SEMOLINA CAKES
Cauliflower cakes can be served with a salad, as a side dish, appetizer, or main course.
Serve it along side roasted potatoes and cucumber salad (via Simply Recipes).
Appetizer: Make cauliflower cakes half the size and serve them on a platter with a dipping sauce: refreshing sour cream tartar sauce, hummus or tzatziki.
Italian flare: serve cakes with marinara sauce and pasta.
Vegetarian spread: along with cauliflower cakes serve roasted peppers, mushrooms or zucchini.
VEGETABLE CAKES SUCCESS TIPS
To boost the cauliflower flavor, try roasting it instead of steaming.
Use peas in place of asparagus.
Add some color with chopped roasted red pepper.
Substitute cauliflower for other cruciferous vegetables like Romanesco, broccoli, or make a medley.
Use leftover egg yolks from the breading to make cookies or mini tarts shells (they freeze well, too).
MORE VEGETABLE RECIPES
Cauliflower Asparagus Semolina Cakes
The recipe makes 9 large veggie cakes/patties.
Serving size: 2 patties
Ingredients
CAULIFLOWER ASPARAGUS SEMOLINA CAKES
Cauliflower Filling
1

tsp

olive oil

3

scallions, sliced, white and green part

1

small cauliflower, 3 cups roughly chopped cauliflower florets

1/4

tsp

salt

pinch of black pepper
Asparagus
1/2

tsp

olive oil

10

asparagus stalks, sliced

1

large garlic clove, diced

pinch of salt and pepper
Rice
1/2

cup

brown rice

1/8

tsp

salt

1

cup

water
Semolina
3/4

cup

water

1/2

cup

milk

1

tsp

olive oil

1/4

tsp

salt

8

tbsp

Semolina Flour

2

tbsp

chopped parsley

1/4

cup

coarsely shredded parmesan cheese

1

egg
Breading
3

egg whites

1

tbsp

water

1 1/2

cup

bread crumbs

1/2

cup

quick oats (optional)

pinch of salt and pepper to taste

additional olive oil
Instructions
Rice
In a small pan, stir 1/2 cup brown rice and 1 cup water, and add 1/8 tsp salt. Bring to a boil, cover, and cook for about 20 minutes, until tender. Remove the lid and set it aside.
Cauliflower Filling
Heat 1 tsp olive oil in the skillet, add three sliced scallions, sautee for a couple of minutes, then add all the cauliflower (3 cups chopped florets), season with a pinch of black pepper and 1/4 tsp salt, and stir. Cover on medium heat, stirring occasionally, and cook until tender.

Once the cauliflower is tender, spoon the cauliflower into another dish and set aside.
Asparagus
Add 1/2 tsp olive oil into the skillet (use the same skillet you used for cauliflower), add sliced asparagus (10 stalks), season with a pinch of pepper and salt, add diced garlic, and cook for one minute on medium-high, stirring. Remove from heat, and set aside.
Semolina
In a medium saucepan, bring 1/2 cup milk, 3/4 cup water, 1 teaspoon olive oil, and 1/4 tsp salt to boil. Watch it, it can boil over. Remove from heat, add 8 tablespoons of semolina, and stir, whisking until smooth. Return to heat, and cook until thick, 5-7 minutes, stirring constantly. Remove from the heat, and stir in 2 tablespoons of chopped parsley, 1/4 cup coarsely grated parmesan cheese and cooked brown rice. Taste, season with pepper and salt if desired. Set aside to cool slightly for about 10 minutes.

Into the semolina mixture, stir in 1 whole egg, add the asparagus and cauliflower mixture, and stir well.
Chilling
Spoon the thick mixture into a square baking pan lined with wax paper. Make the layer about 1 inch thick. Cover the pan with plastic wrap, and refrigerate for 2 hours or overnight.

Cut the chilled cake into squares, about 2½ by 2½-inch.
Breading
Whisk together 3 egg whites and 1 tbl of water, until foamy.

In a shallow dish, stir together 1½ cups breadcrumbs and 1/2 quick oats (if using), season breadcrumbs with a pinch of salt and pepper.

Using a spatula, lift the cakes from the baking pan, and dip them in the egg-white mixture. Use your hands to dip the cakes and turn them so they are fully coated with the egg white. Let the excess drip back into the egg white mixture, and then coat each patty in the breadcrumbs mixture. Transfer to a clean plate. Repeat.
Cook Cakes
In a large skillet, heat olive oil, about 3 tablespoons, Once hot, lower the temperature to medium. Carefully add cakes and cook for about 5 minutes on each side until golden brown. Use a silicone spatula and a turner to flip them over.

If needed, add additional oil between batches.

Once cooked, transfer the cakes onto a baking sheet lined with a paper towel to absorb oil.

Serve hot or lukewarm.

These savory cakes can be made ahead and reheated in the oven at 350 F for 10 minutes.
This recipe was published on April 1st, 2013. On March 27th, 2023, I updated this recipe with step-by-step pictures, written instructions and a recipe card.