Birthdays. Cakes. Gifts. Birthday Wish…and then there is an Asparagus Birthday Cake.
My neighbor Jim grows Asparagus in his garden, in fact just yesterday he brought me a bunch of freshly picked stalks. How great is that!
My decision to make Jim a very special Asparagus Birthday Cake was highly influenced by the fact that ever since he planted this delicious spring vegetable, every year he awaits the first signs of Spring, looking for the very first asparagus stalks breaking the ground and unmistakably announcing arrival of Spring.
While searching for inspiration , I came across Asparagus Cake by Sweetapolita and I used her technique to create asparagus stalks. It was easier than I thought. I didn't have petal dust so I used food colors and painted stalks using vodka and food gel colors. Also as you notice on the top of the cake I optioned for dirt(grated chocolate) and some asparagus stalks breaking the dirt. We joked that I should have planted those in Jim's Garden to fool him. It would make for a good April 1st joke.
Fondant Asparagus Stalks
Fondant,tinted with leaf green food coloring gel, I used marshmallow fondant
nail scissors, I have pair I only use for food projects so please use a fresh pair
Vodka, or water
Food Gel Colors : leaf green, purple, moss green, red
Paper towel
Brushes
Tips:
Depending on the size of the cake you plan to make, make sure you make enough stalks to cover the circumference of the cake.
Measure to cut the stalks a little longer than you need them. Better to have more than not enough.
Have a damp towel on hand, you may need to wipe the scissors, they get a little sticky
Make the stalks ahead of time so they have enough time to dry sufficiently / or if use 1:1 marshmallow : gumpaste(gumpaste kneaded with fondant dries faster than fondant alone)
You can make stalks several days ahead with no problems
Once the surface of the stalks has dried a little you can start the painting process.
Use vodka/or water to dilute food gel colorings, brush excess in the paper towel, avoid using too much water/vodka, brush stalks with diluted moss food coloring, concentrating at the top and around the cut areas,then using touch of purple or combination of moss and purple add more color at the top
Continue until all the stalks are painted. Add a touch of red randomly to the tops. Let dry completely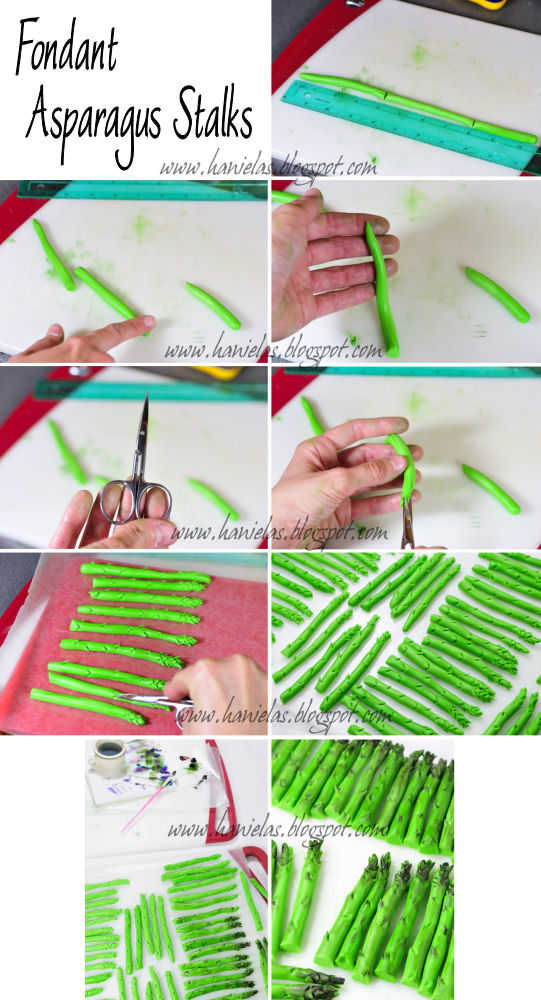 Cake Assembly
Have a cake ready( I made a delicious Peanut Butter and Jelly Cake and I will be sharing a recipe in a separate post), using icing tinted with leaf green ice the cake.
Cut the asparagus stalks to the desired height
Using the same color icing pipe icing onto the individual asparagus stalks and adhere them onto the iced cake
Continue until sides of the cake are covered with asparagus stalks
Cut 3 asparagus stalks tops and attach them to to the top of the cake

Adding Grated Chocolate "Dirt"
Grate bittersweet chocolate onto a wax paper or parchment paper
Gently lifting the wax paper with chocolate, fill the top of the cake with grated chocolate
Spread the chocolate gently with a brush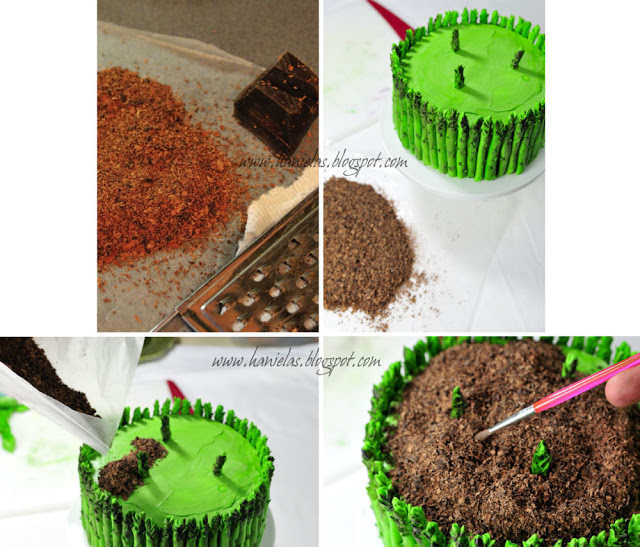 Funny story, I dropped off the cake over at the Jim's house and later that week his wife told me, how Jim blew the candle and with it also lot of grated chocolate from the top of the cake onto the table cloth. They both said it made the cake even more special