Cauliflower Cheese Souffle
Light and airy as a cloud, paired with natural savoriness with just the right amount of bite to it. That's how I would describe my easy-to-make Cauliflower cheese souffle, a meal, a side dish, and a snack in one.
updated form 2012
HOW TO MAKE CAULIFLOWER CHEESE SOUFFLE
Cauliflower cheese souffle is super simple to make. Chopped steamed cauliflower florets are tossed with a creamy cheesy egg sauce and aerated with light meringue. Mixture is poured into a prepared casserole dish and baked until set.
WHAT'S IN THE CAULIFLOWER CHEESE SOUFFLE
Cauliflower florets – steamed or cooked with water till fork tender
Flour
Milk
Yogurt or use milk
Cheese – parmesan or other shredded cheese
Onion
Garlic
Salt
Pepper
Paprika
Breadcrumbs
PREPARE CAULIFLOWER
Wash and cut a large cauliflower into florets (step 1). I like to steam my vegetables, and so to steam the cauliflower I employed a handy steamer folding basket. Pour water into a pot, place the basket on the bottom. Ensure the water is not higher than the basket (steps 2-3). Steam cauliflower florets until fork tender. Remove from the heat, let cool slightly for 5 minutes (steps 3-4), then carefully lift the steamer basket from the pot, set it on a counter or a tray, and let cool till you can handle steamed cauliflower. Chop cauliflower florets (5-6).
PREPARE THICK CREAMY CHEESE SAUSE/GREEK BECHAMEL SAUCE
In this recipe you can skip onion and garlic if you don't have any. I like using both for the flavor they add to the souffle.
Heat 1 tablespoon olive oil on medium-high heat, add diced onion, and saute until caramelized, for about 5 minutes. Then add diced garlic, and stir for about a minute (steps 1-3).
Continue cooking on medium heat; pour the remaining oil into the skillet, add flour, and stir vigorously to combine. Cook for about a minute to cook off the flour taste. Gradually stir in warm milk, and whisk until smooth. If you have an immersion blender, use it to break up any stubborn lumps (steps 1-6).
Remove from the heat and gradually whisk in egg yolks, yogurt, and cheese (steps 1-3). It is important not to add all the egg yolks at once. Whisk in one egg yolk at a time—season with salt and pepper (step 4). For extra flavor, use herbs like chives, cilantro, or parsley (steps 5-6).
MERINGUE
To make cauliflower souffle light and airy, I used meringue. Whip egg whites in a clean bowl until stiff peaks are formed. Don't make the meringue ahead of time; instead, prepare meringue right before you need it; since it doesn't contain any stabilizers, like cream of tartar, lemon juice or sugar, it will start to get watery pretty quickly.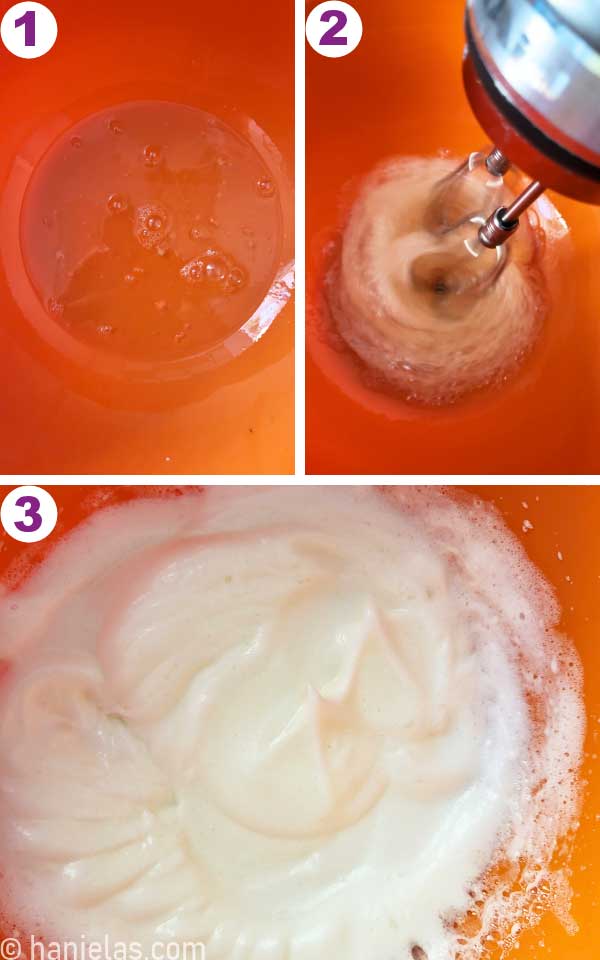 CAULIFLOWER CHEESE SOUFFLE
Here we have chopped cauliflower, creamy sauce, and meringue. Let's combine all these.
Pour creamy cheese sauce over cauliflower and gently combine. Taste and if needed season with salt, pepper and paprika.
Gradually fold the meringue into the cauliflower mixture. Use the folding method like when you make a sponge cake. The mixture will become light and aerated.
HOW TO PREPARE A CASSEROLE DISH
I used 9a x13 inch oven-safe glass dish. Coat the sides with olive oil and then dust it with breadcrumbs.
BAKE CAULIFLOWER SOUFFLE
Pour cauliflower mixture into a prepared baking dish. Smooth the mixture with a spatula. Bake in the preheated oven at 350F/180C, for 20-25 minutes, until lightly golden brown.
Allow to cool slightly before serving.
CAULIFLOWER CHEESE SOUFFLE SUCCESS TIPS
Chop steamed cauliflower florets into small pieces. You can use a food processor, but be sure to not puree cauliflower.
Use an immersion blender to get rid of lumps in a creamy sauce.
Beat egg whites into plain meringue just before using it. If you make it ahead of time, it breaks down quickly, and you'll have a puddle of liquid at the bottom of the bowl.
It's perfectly okay to skip onion and garlic, you can make a creamy sauce without them.
I used parmesan cheese, but you can use whatever you have.
Do you like to use more spices? Try using nutmeg, it pairs nicely with cauliflower. I use it in my Cauliflower Pea Soup.
What other vegetable would work with this recipe? I often add chopped roasted red pepper to the cauliflower base.
Snack idea – use a muffin pan to make individual cauliflower souffle muffins.
HOW TO SERVE CAULIFLOWER CHEESE SOUFFLE
I love the simple flavors of this light cauliflower dish. It makes for a great meal with a salad, side dish to a chicken, or a quick snack at room temperature.
MORE DELICIOUS CAULIFLOWER RECIPES
Cauliflower Cheese Souffle
Ingredients
CAULIFLOWER CHEESE SOUFFLE
2½

lb

large cauliflower head, florets separated, washed and steamed or cooked in water, until fork tender
Creamy Sauce
3

tbsp

olive oil

1

large garlic clove, finely diced

1/2

cup

diced onion, 1 small onion

4

tbsp

all-purpose flour

1¼

cup

milk

1/3

cup

light sour cream or Greek Yogurt

4

large eggs, separated egg yolks and egg whites

1/2

cup

Parmesan cheese, finely grated using a microplane (25 grams)

4

tbsp

freshly chopped chives

1/4

tsp

salt

1/8

tsp

ground pepper

1/8

tsp

red paprika (optional)
Coating for the Baking Dish
1

tbsp

olive oil

breadcrumbs
Instructions
CAULIFLOWER CHEESE SOUFFLE
Prepare Baking Dish
Oil either a muffin pan (you will need two 12-cavity muffing pans) or a large casserole dish (9×13 inch). Coat oiled dishes with plain breadcrumbs and set aside.
Prepare Cauliflower
Separate cauliflower into florets. Steam or cook in water until fork tender. Drain and let cool. Chop cooked cauliflower florets into small pieces and set aside in a large bowl.
Thick Cheese Sauce/Roux
Heat one tablespoon of olive oil on medium-high heat. Add diced onion (1/2 cup, one small onion), and cook, stirring, until caramelized, about 5 minutes. Then add diced garlic and cook on medium heat; cook for a minute.

Add the remaining 2 tablespoons of olive oil. Stir in 4 tablespoons of flour. Stir well to make the roux, and cook on medium heat for 1 minute.

Remove from heat and gradually whisk in the milk (1¼ cup milk), mixture will thicken, and continue stirring until smooth.

Whisk in 4 egg yolks, one at a time, and add sour cream (1/3 cup), finely grated parmesan cheese (1/2 cup, 25 grams), and chives ( 3 tablespoons).

Taste and season with and season with salt, pepper, and paprika.
Meringue from Egg Whites
In a clean bowl heat 4 egg whites until firm but moist peaks are formed.
Cauliflower Souffle Mixture
Pour egg yolk roux over chopped cauliflower, and stir well, until combined.

Then, gradually fold egg white meringue into the cauliflower mixture.
Bake
Pour or spoon the mixture into the prepared pans or a casserole dish.

Bake at 350F for 20-25 minutes or until golden brown. Let cool slightly. Serve warm or at room temperature.
This post was published on June 5th, 2012. On March 23rd, 2023 I updated this recipe wirh new step-by-step photos and written text.