Marinara Sauce/Pasta Sauce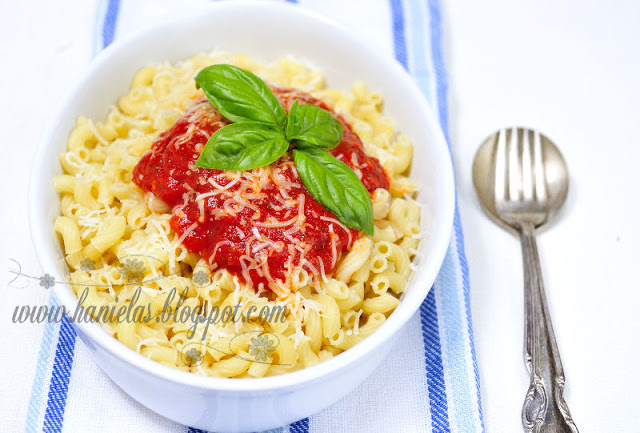 No matter how hard I try pasta always finds its way to my shopping cart. I'm drawn to that isle every time I'm in the store. I try to buy whole wheat pasta but today I cheated a little. You know what I love? Pasta, butter and parmesan cheese, throw in some cherry tomatoes and dinner is ready. Pasta is also good for you, it is a good source or iron, potassium and whole wheat pasta is a great source of dietary fiber, too.
Since we had a really nice
tomato crop
this year I decided to make some extra marinara sauce and I put some into jars for later use.
Process in boiling water, for 20 minutes.
Haniela's Marinara Sauce
2 quarts of processed tomatoes,( canned or if you have fresh ones even batter, just cut them in half and bring to boil until they are really super soft)- process these in the food processor or a blender and then run them through a mesh strainer, reserve the liquid-2quarts of liquid
1/4-1/2 cup olive oil
1large onion, finely diced
5 garlic cloves, chopped or pressed, I like garlic a lot, so use as desired by your taste
1pepper, red or green, finely chopped
2tbl dry basil
1tbl dry oregano
1tbl dry chives
2tbl brown sugar or honey
few red chili flakes, just a few not too much
1tbl or so salt
pepper to taste
Using a large non stick saucepan, heat the oil and add onion and garlic and saute on low heat for 5 minutes, add chopped pepper, and saute for another 5-10 minutes, stirring frequently.In the mean time heat your tomatoes(*directions above) and once they are hot, add them to to the onion garlic pepper mix and stir well until everything is combined, add all the herbs, salt pepper, sugar, season with pepper. Stir well, bring to boil and then reduce to simmer and cook for an hour or more, depends on how thick you like your marinara sauce, taste and season with more salt or pepper or add more sugar or honey if desired.If using a non stick pan, stir frequently to prevent burning.
You can either store the sauce for few weeks in the fridge or you can also put into the jars and process it in the water bath for 20 minutes.